Have you ever considered putting on your own outdoor movie party or wanted to plan an amazing celebration where friends, family, and neighbors can come over and watch a backyard movie for the night?
There are so many backyard movie party ideas on Google, but not many of them go into too much detail about everything that you will need. Most of them tend to concentrate on very simplistic information such as buy a projector, buy popcorn, put up a screen and so on – that's fine if you know about the technology, but not so much use if you are a beginner.
The aim of this guide is to supply you with 101 tips and ideas that will help you when it comes to planning your very own outdoor movie party. It should ensure that everything you would ever need or want to know is in one place for you to find, and I hope there's plenty in here which you might not have considered before.
Some are my own ideas developed from nearly two decades in running backyard movie nights, and others have been contributed by regular readers of the website.
The entire guide should take no longer than 10 minutes to read, and you can even print it off as your checklist for success when throwing or planning a backyard movie night.
Before we get into it, please note that it doesn't really deal with what you need to choose in terms of your technical set-up as this will vary from person to person – if you don't know what equipment you need, then go take a look at the recommended gear section.
1. Check the Weather Forecast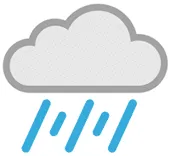 The most successful backyard movie parties and nights should be on a warm summer's day. If it's raining or really windy you aren't going to be having much fun. Wind will blow your screen around, and wet weather doesn't really mix too well with electrics (or your guests for that matter). A few days before the event, check the forthcoming weather forecast and continue to do so leading up to the night of the party so you don't get caught out.
2. Have a Contingency Plan Just in Case…
Even the best-laid plans can go awry. You might have checked the weather, but there's no accounting for what might happen. That's why it's so essential to have a contingency plan in place in case of unexpected weather conditions.
3. Set-Up a Gazebo or Awning
If you do experience some bad weather, then it pays to have somewhere for guests to take shelter. Even if the weather is fine and there are no signs of rain or wind, an awning can provide a great place to have food tables and some low lighting set-up, as it will add to the ambiance of the night.
4. Decide on Your Budget

If you already have everything you need from a technical perspective, then a backyard movie party could be a very cheap night, especially if you are inviting just a handful of guests. But costs can soon mount up if you are going to be buying a projector, screen, plus refreshments; so keep in mind what you can afford to spend. If money is an issue, you might want to take a look at this guide which shows you how you can buy all the gear you need for less than $400.
5. Don't Assume That Your Indoor Projector Will Work Outside
Many people planning an outdoor movie night assume that the equipment they already have for indoor use is going to immediately work outside. This isn't always the case. When you watch TV indoors you benefit from a closed and dark environment. It's never completely dark when watching movies outside due to ambient light sources such as houses, cars, street lights, and fire pits, or even the moon. You will need to buy a projector and screen set up that can offset this type of interference. Check out my recommended gear section to make a selection that will work best for you and your budget.
6. Have Back-Up Equipment in Case of Fault
Contingency plans for weather are one thing, but what happens if your equipment fails? For larger backyard movie events I have had some backup equipment in place, but this was for large events where I had in excess of fifty people attending. For larger events where you don't want anything to go wrong, it makes sense to have a backup plan in place just in case you need to switch out a projector or media player.
7. Arrange the Night on a Weekend
The best nights are ones where people don't have to leave early, with the optimum time being at the weekends! I once invited my neighbors over on a Wednesday night and the movie was constantly interrupted by guests having to leave halfway through. Come the end of the evening it was a bit like a ghost town… lesson learned, won't do that one again!
8. Create a Theme for the Party Night
Themed backyard movie nights offer a really great way in which you can get your guests into the mood. For example, if it's Back to the Future that's going to be playing, then your theme could be a fancy dress from that movie, with the kids creating their own DeLorean cardboard cars to sit in as chairs whilst watching the classic movie. Similarly, we've had a Jaws-themed night where people arrived in swimsuits.
9. Think About Décor and Decoration
Once you have a theme decided on, then why not decorate the outside to suit? For example, you're watching Born on the 4th of July, then it's stars and stripes banners and bunting. Perhaps you are going to watch Titanic, then nautical décor will go down a treat.
10. Create Your Own Custom Tickets or Invites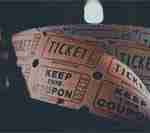 If you are inviting a lot of people, then one nice little touch is to design your own custom tickets or invites. This can be as simple as a flyer that includes information about the theme, or you can even buy realistic-looking ticket rolls on websites such as Amazon and eBay. If you do decide to do this, then you can get the kids at the party to be the ticket collectors – they will love this responsibility!
11. Send Invites Out Well in Advance
Give people plenty of notice that you are planning on throwing an outdoor movie party over the Summer. They might have commitments already or are starting to make plans. The worst thing you want is to go to all this trouble and have nobody to play the movie to!
12. Don't Invite the Wrong Mix of Guests
Some people mix like oil and water. Think about the type of people you are inviting to your party, and whether it's a really good mix or not. Whilst outdoor movie nights are great social events, will your mother-in-law get along with your old college friends once they have had a few beers? It might not be worth the trouble!
13. Measure Up Your Available Space
The amount of space you have in your backyard will determine how large a screen you can use, as well as the type of projector you buy. Measure up and plan where everything is going to go well in advance of the event, and then purchase the right set-up to suit the available space.
14. Ask Guests to Bring Their Own Blankets and Cushions
As part of the invite, ask your guests to bring their own blankets and cushions to sit on. It will save you a lot of washing (think of spilled drinks and grass stains) as well as the organization that you need to do to ensure everyone is comfortable.
15. Supply Ashtrays for the Smokers
If you have guests that smoke, then supply ashtrays or sand buckets for them to stub their cigarettes out into. There's nothing worse than waking up the morning after and having to clear up cigarette ends from your backyard or flower beds.
16. Get the Kids Involved and Participating
Kids are a big part of our backyard movie night, and I always try to get them as involved as possible. That can range from things such as them being the ticket collectors if we have designed bespoke invites, to being in charge of the popcorn machine. You can even get them to provide the entertainment if you decide to include an intermission or interlude halfway through the movie.
17. Enlist Some Help
No matter how big or small your outdoor movie night party, it's always good to have some help. I've already mentioned how you can get the kids involved, but don't be afraid to ask a friend to help with some tasks. If you have the budget you could even hire someone!
18. Buy a Red Carpet for Your Guests to Enter On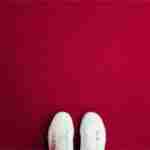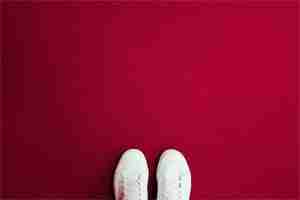 For a truly immersive outdoor movie night experience how about a red carpet? I bought a cheap one on Amazon for the guests to arrive on, leading down to the seating area. I even had my kids sat at the end in a cardboard ticket office so that they could collect the customized invites from our friends and family.
19. Plan a Date Night for a Loved One
You don't have to invite a ton of people to your outdoor movie night, it could be simply a private affair for you and a loved one as a date night. Nothing quite beats lying under the stars whilst watching a movie, romantic or otherwise. I recently put together a new blog post with romantic movie suggestions – hopefully, these will give you some inspiration for your planning.
20. Combine the Movie Night with a Celebration
We have often plan outdoor movie nights and parties as celebrations of other events. For example, when our eldest graduated from college we threw a party for him and his friends. Similarly, my wife and I put on a get-together to celebrate our wedding anniversary. Want to know more about how to plan your event? Then click here to read the essential guide to planning an outdoor movie night.
21. Use Strategically Placed Trash Cans
You would like to think that your guests have respect for your backyard. If your friends are anything like mine, then that's not always the case. But make things easier for them with strategically placed trash cans so they can dispose of food and drink properly without it being dropped on the floor.
22. Use Subtle Outdoor Lighting
Some lighting can enhance your movie night, as it can add to the atmosphere. Small lighting can also give your guests some much-needed guidance when trying to walk around in the dark. Don't use anything that took bright though as it will mean the movie's projected image could be affected. Small lanterns and string lights work perfectly.
23. Sketch Out a Seating Plan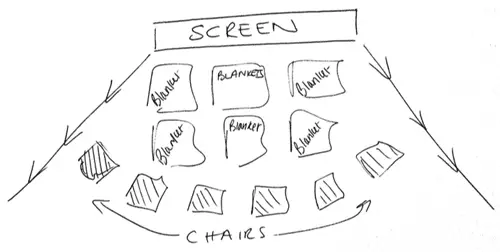 If you're planning on having large numbers attend, then it could be worth sketching out a seating plan so you know where everyone is going to sit and whether the visibility of the screen will work ok for everyone. For larger parties don't forget to have a corridor down the middle of the seating area to allow for access in and out.
24. Make Sure That You Have Chairs Set Out
Whilst the traditional notion of an outdoor movie night involves everyone lying down on the grass with blankets and cushions, I always make sure I have chairs set on the outer circle of the seating area. I do this because it's not actually that comfortable for most people to lie on the ground for long periods of time. I find that chairs are always very popular and help to prevent aching knees and joints. It also means some of the older guests will be most comfortable… typically it seems to be the kids that will stay as near to the screen as possible on the blankets right at the front, with the adults switching to the chairs.
25. Be Creative with Your Seating Arrangements
We've thrown movie nights outdoors where we create the unexpected with how the guests will be seated. I've already mentioned cardboard cars for the kids to create a drive-in feel, but other ideas can include inflatable swimming pools or hot tubs, deck chairs, or hay bales. Take a look at some more creative seating ideas in detail here.
26. Cut the Grass Back
If the grass has got long in your backyard, then who knows what might lurk in there! I always make sure that the grass is cut short before the night. It feels a lot nicer too when guests are sat down on their blankets and cushions.
27. Check for Cat or Dog Mess
We got a cat and a dog. I don't need to go into too much detail here, but my waking nightmare the day before outdoor movie night is that one of my friends might put their hand in something not too savory. Make sure you check (and check again) if you have animals or pets sharing your outdoor space.
28. Don't Forget the Extension Cables
Depending on the layout of your outdoor space, you might need extension cables to have all of your gear connected up. Don't forget to buy cables that are long enough to run from your power supply to your projector, speakers, screen (if inflatable with a blower or fan), and video media player.
29. Always Test Your Set-Up the Night Before
I like to do a test run of my set-up a day before the movie night. It has to be the exact conditions and arrangement that is going to be used on the actual party. Now obviously this is much more important if this is your first time, but even old hands at backyard movie nights should be regularly checking their equipment to make sure it's up and running correctly since it was last used.
30. Have Insect Repellent Handy
It's dark, you've got a bright light being emitted in your backyard, so guess who else is going to turn up? Yes, you might get some uninvited guests in the form of bugs and creepy crawlies. This is why I always recommend you have plenty of bug or insect spray on hand to get rid of them. An alternative can be citronella candles, which not only get rid of bugs but also look and smell great to your human guests.
31. Use Wireless Equipment Where Possible
Having loads of cables and wires isn't going to be conducive to a simple and easy to arrange a party. If you can, invest in wireless equipment to reduce cables to trip over, and ease of set-up. For example, I always use Bluetooth speakers as my sound source, it's so much easier.
32. Make a List of Everything You Need and Check It Constantly
This guide should help you to develop your own list of what you need to plan, and everything you might want to consider. There are so many variables involved in planning an outdoor movie party, so it makes sense to write your own plan or checklist down to make sure you've got everything covered. Whilst everything in this list won't be applicable or relevant to you, it should give you a great starting point for a checklist or plan.
33. Keep Electronics Away from the Pool
If you have a pool in your backyard, don't place any electronics near to it. You are just asking for an accident, especially with excited kids running around and adults whose minds might be on the movie rather than watching where they are going.
34. Set Up a Fire Pit or Camp Fire
An open outdoor fire always goes down really well with guests. If it's a little bit cold that night it can provide some much-needed warmth, lets you roast marshmallows, and if there's just the two of you, adds a lovely romantic feel to proceedings. If you want more ideas on how you throw a romantic outdoor movie night, then click here for some ideas I put together recently.
35. Turn Off Any Bright Lights Coming from Your House
Bright lights that are coming from your house could negatively impact how well your audience can see the projected image on the screen. Of course, this might not be the case if you are far away from the house or are using a projector with high lumens, but worth testing before your guests arrive or the night before as part of your set-up testing.
36. Consider Your Pets and Animals
If you are going to have people coming and going during the evening, then consider the impact this could have on your pets. If you have a dog, you might need to shut them in the house so there's no chance of them escaping through a gate if left open by a careless guest. At the very least, make everyone aware if you do keep animals, and any considerations they might need to take to ensure no mishaps.
37. Choose a Classic or Crowd-Pleasing Movie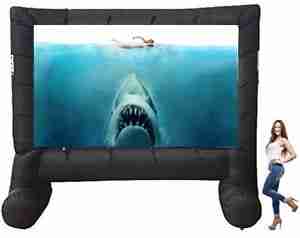 The best movies for playing at outdoor movie nights where you have a wide variety and number of guests are the classics that everyone knows or is familiar with. Backyard movie nights are a social event, and people will be talking and catching up with each other. Playing a movie that the guests don't necessarily have to pay 100% attention to, and one that everyone should already know will always work well. For ideas on what to watch, read my guide to the top 10 best movies to watch outside.
38. Choose the Right Type of Movie for Your Audience
Whilst a classic crowd-pleaser might work for a backyard movie party with a wide demographic of guests, you might need to tailor the movie choice depending on your audience. For example, if it's a date night a rom-com could work, or if it's mainly kids then something to suit them (and definitely not a horror movie!).
39. Think About Your Timings
Timing is everything when it comes to planning an outdoor movie night. Ideally, you want your guests to have time enough to arrive and get settled, but similarly, you don't want to be starting the movie too late so that it runs on for hours, especially if younger kids are in attendance. Check to see how long the movie lasts, and add in the other factors I talk about in this guide to planning the perfect party such as an interlude period, or after-party dancing, both of which I will come onto later down the list.
40. Use a Pre-Reel Before Dark
I ask my guests to arrive an hour before complete darkness, as it gives everyone a chance to talk and catch up, get themselves settled, and gives me time to play a pre-reel. My pre-reel is sometimes some kid cartoons or can simply be a DVD of fish swimming around an aquarium. Because it's not that easy to make out what's on the screen due to it not being completely dark, it tends to get the kids sat in one place in front of the screen trying to make out what it is they can see, plus keeps them entertained before the main event, whilst helping to build the atmosphere before the main event.
41. Wait Until it Gets Completely Dark Before Pressing Play
Wait until it gets dark to play the movie. Not only will the atmosphere start to build, but it also means your party guests will be able to see the screen properly. Cheaper outdoor movie projectors with low lumen ratings don't perform too well until it's completely pitch black. If you want to start playing the movie before it's completely dark, then look for an outdoor projector with at least 3,000 lumens. If you are not sure what lumens mean and how they could be important to you, then read my guide to lumens.
42. Have Enough Pairs of 3D Glasses if Playing a 3D Movie
If you are going to be showing a 3D movie, then make sure that you have enough pairs of 3D glasses so that nobody is left out! Those without glasses aren't going to enjoy the movie otherwise. Believe me, Avatar in 3D doesn't look good without the glasses on!
43. Take Plenty of Photos for Memories
With larger backyard movie parties you want something that is going to live on in the memory, and what better way to do that than by taking photos – especially if you have a themed night with fancy dress to celebrate the film you are watching!
44. Use an Intermission or Interlude
I have found that having a halfway point during the movie, where I pause things for a short while can really help the night progress and gives people a break that they will appreciate. Ultimately outdoor movie nights are a social event, and people love to talk and catch up. But by having an interlude you can let people stand up, stretch their legs, get refreshments, and take a little social break where they don't have to worry about talking or interrupting the movie whilst it's playing.
45. Plan Party Games
The intermission period is a great time to play some games to keep the kids (and adults) entertained. It also makes for a nice break from simply watching a movie and helps to increase the interaction between your guests.
46. Choose the Right Outdoor Projector to Suit You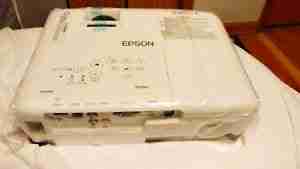 With so many products on the market, it's never been more confusing as to what you should buy. If you need help in deciding then I've put together a guide which helps you in choosing the right outdoor projector to suit you and your needs. Go read that guide here: Make Sure You Choose the Right Outdoor Movie Projector.
47. Know Your Gear Off By Heart
Outdoor movie projectors can be complicated, but most modern ones are easy to set up and have plug-and-play functionality. The complexity can arise when it comes to getting the most from your gear and connecting up speakers and media players to the projector properly. Read the guides that come with your set-up and get to know how the equipment works, and definitely have test runs before you invite anybody over for a backyard movie night. There are plenty of guides on this website on how to get the most from your chosen products.
48. Got a 3D Movie? Make Sure You Have a 3D Projector
If you want to watch a movie in 3D then make sure you have a 3D projector. Not all home and outdoor movie projectors come with 3D capability, so check to ensure that your projector can play this format to avoid massive disappointment! You can read more here about what you need to play 3D movies outside.
49. Buy a Full HD Projector if You Can
Modern movies are shot in an HD and widescreen format, so to get the most from your movie night, choose a movie projector that is full HD. It will also mean you won't get a pixelated or blurred image when projecting onto your screen.
50. Buy a Projector with a 16:9 Aspect Ratio
As most movies are shot in a widescreen format, it's also essential to make sure that the outdoor projector you buy is at a 16:9 aspect ratio. Check the specification to make sure before you buy.
51. Buy the Highest Lumen Rating That You Can Afford
Lumens are something that can confuse buyers of outdoor movie projectors, but thankfully I've put a guide together for you to help you better understand what to look for when choosing a projector. In simple terms though, the higher the lumens, the brighter the image so it could be the difference between starting your party earlier or later before nightfall. Lumens can also dictate how large your projected image is. So my advice, buy a projector with a high a lumen rating as you possibly can.
52. Have a Spare Bulb Just in Case
When you buy a projector, it will probably have an estimated time scale on how long the lamp or bulb life will be. Believe it or not, 30,000 hours of life isn't unusual, which equates to almost three and a half years of continuous play. But it's not always the case that they will last this long in reality, as they can burn out or become damaged. If you are serious about your backyard movie party nights, then it might pay to have a backup bulb just in case the worst happens. You can buy cheap replacement ones on Amazon.
53. Don't Use a Smartphone as a Projector
You would be amazed at the number of people who have tried to use a smartphone as a projector in their backyard. Yes, there are YouTube tutorials that show you how you can use a shoebox and magnifying glass to project smartphone images onto a wall, and whilst these are a great science experiment you can do with the kids, they simply won't work in an outdoor environment. The image will be micro-small, pixelated, and blurred… and you don't want that.
54. Don't Let Anyone Place Drinks Near Your Electrics
It's very tempting for guests to want to place their beer or soda glass on the projector table so take steps to reduce the chances of this happening to you. One tip I do is to place random items on the table around the projector (without restricting airflow) or media player so there's no room or flat surface for drinks to be placed down. That still doesn't put everyone off but is a good start.
55. Keep the BBQ or Fire Away from the Projector
Smoke and dust from a fire can play havoc with your projector. It's not just about the interference this will cause to the image being projected, but it can also damage your expensive equipment. This brings me onto…
56. Keep Your Outdoor Movie Projector Well Maintained and Clean
It is so important to keep your outdoor projector clean and properly maintained. When playing movies outside you expose your equipment to risks such as wind, pollen, and dust. Maintenance is essential, so get into a habit of regularly cleaning the filters and lens after each use. This will reduce the potential for lasting damage or overheating.
57. Don't Clean Your Projector Lens with a Cloth
Another maintenance tip is to clean the bulb and lens with lens tissues and a lens cleaning solution. If you use a cloth you run the risk of leaving small microscopic scratches on the lens, which can build up over time meaning you will need to buy a replacement.
58. Keep a Close Eye on Your Remote Control
It's easy to lose the remote control for your projector or movie screen whilst outdoors, having fun and enjoying the party, so keep a close eye on it. I actually have a utility belt that I clip it into. You might not want to go that far, but at very least make sure you don't let it out of your sight. You need it by your side at all times.
59. Don't Be Limited by Your DVD Selection
You don't have to watch movies via a DVD player these days. Modern outdoor movie projectors are compatible with a wide range of video and media playing devices. The types of devices you can play movies from through a projector include laptops, smartphones, tablets, hard disks, USB sticks, flash drives, and online streaming services.
60. Consider Streaming from Netflix or Amazon Prime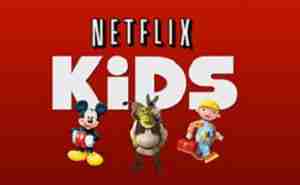 You could even stream movies from services such as Netflix or Amazon Prime, with some outdoor movie projectors even having Wi-Fi connectivity allowing you to do from a laptop or TV inside of your house – you will need a strong Wi-Fi signal in your backyard though, even if you decide to plug your streaming device straight into the projector.
61. Check that Your Projector is Compatible with Your Player
Most modern projectors will come with various connection ports such as VGA, HDMI, USB and more. Check to make sure that your media playing device, whether that's a DVD player, smartphone, tablet, laptop, or hard disc, is going to be able to connect correctly to your projector.
62. Don't Rely on Built-In Speakers That Come with Your Projector
Most outdoor movie projectors will come with built-in speakers, but don't expect these to be suitable for an outdoor movie party. If it's just the two of you, then they might suffice, but any outdoor environment where you have a large group of people, those built-in speakers simply won't cut it. You will need to set up additional speakers to really give your party the sound it deserves.
63. Cut Down on Cabling with Wi-Fi Speakers
Get rid of needless wires and trip hazards by using wireless speakers. Popular options currently are Bluetooth speakers that will cut down on the cabling needed at the party and mean you reduce the chances of people tripping over or damaging your equipment. You can also move them around easily to find the best spot for the best audio experience. I personally love the AOMAIS Bluetooth speakers (which are waterproof too). You can see the latest prices on Amazon if you want to find out more about them.
64. Be Aware of Noise Pollution Laws in Your Area
Check with your local legislation with regard to noise pollution. There could be certain laws in your local area about what time you will need to shut down music in your backyard, or there could even be decibel levels you need to keep to. You can download a free decibel testing app for your smartphone online for quick peace of mind check – just search Google for one.
65. Invest in a Decent Outdoor Projector Screen
You've already spent money on a decent projector, got a movie, sent the invites out, put together a sound system, arranged seatings, and organized food… so why would you not invest in a decent outdoor movie projector screen? The movie will only be as good as your projector and screen. If on a budget I recommend inflatable screens or standing ones, both of which you can buy cheaply. Take a look at these recommendations if you want some guidance on what's best to buy for your money.
66. Consider Building Your Own Outdoor Movie Screen
If you do want to build your own outdoor movie screen, then it's not actually that hard, but you will need a degree of DIY skill. I put together a guide recently on how you can build your own, including everything that you need and some tips to make the homemade movie screen work really well.
67. Go as Large as You Can with Your Movie Screen
Big is beautiful, at least it is with outdoor movie showings. The larger the screen you can buy, the better the experience in my view. How large your screen is will depend on a number of factors including your projector, how many lumens it is, and the space available in your backyard. See the wonder on your guests' faces as they arrive to see a huge screen – the anticipation will be worth it alone.
68. Fill the Screen with as Much Image as Possible
Make sure that you get as much screen space used up as possible for the biggest viewing experience. Adjust how close your projector is to the screen, adjust the focus, and adjust the zoom so that you use up all that size on the screen that you purchased.
69. Don't Forget to Tether Your Screen Securely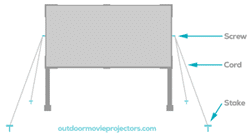 If you do decide to use an inflatable outdoor movie screen or opt instead for standing or hanging one, then make sure you tether it as securely as you possibly can to the ground or wall. All screens available to buy online will come with ties and pegs, so make sure it's really well secured to stop any wobbling or swaying in the wind… or worst-case scenarios it moving around whilst you are trying to watch the movie.
70. Don't Use a Bedsheet as Your Projector Screen
Whilst it might be tempting to try and save money by using a bedsheet as your outdoor movie screen, I don't advise it. It can be see-through, will blow in the wind, and will have creases in it, meaning the viewing experience is dramatically reduced. It seems pointless to spend money on a decent projector for your backyard movie parties if you are then just going to watch the film on a bedsheet. For the best possible experience, buy or build something that's fit for purpose.
71. If You Still Want to Use a Bedsheet Though…
If you do decide that you are going to use a bedsheet, and many people still do, just make sure that you do it right. This can include doubling it up, pulling it very tight, and using a darker bedsheet behind the lighter one at the front. Take a look at my advice on how you can get the most when using a bedsheet for your outdoor movie night.
72. Only Ever Use a Smooth Wall to Project Against
Perhaps you want to do away completely with a projector screen or bedsheet and just use an existing wall in your backyard. If you do decide that you are going to project against a wall instead of an actual screen, then make sure that the wall is smooth and free of any undulations, marks, or cracks. My advice is to also paint it in white or with silver-screen paint. By doing so you will get the best results possible. I put a short guide together on how you can prepare an exterior wall for projecting against.
73. Don't Project Against a Brightly Lit Background
If there are street lights behind your backyard or other light sources such as houses with lights on, then don't project into that direction. Lights behind your movie screen can have an adverse effect on how well your viewers can see the movie, so erect your projector and screen so that the projector beam points towards an area of the backyard with no other light sources behind it. By reducing the amount of light interference, you will get a far sharper and clearer image.
74. Buy an Outdoor Movie Screen that is at a 16:9 Ratio
Assuming that you have a widescreen 16:9 projector to show you an HD movie, you will also want to make sure that your screen is also a 16:9 ratio. This means you can show the film as it is intended to be watched, with no pillar box or letterbox borders top, bottom, or at the sides.
75. Cater for Different Food Preferences and Diets
If you have a large number of people coming to your backyard movie night, then make sure that all diets are catered for. Whilst many of your guests will appreciate BBQ food, it's not going to be well received by vegetarian or vegan diets, both of which are becoming more and more popular these days. When sending out the invites, make a note on there to ask for any dietary requirements if you can.
76. Have Healthy Snack Options Available
Whilst it might be tempting to only have popcorn, candy, burgers, and hot dogs as snacks, some guests or parents of children might prefer healthier options. To mitigate any issues over your food choices, have some healthy options available to cater for all tastes.
77. Use Paper Plates and Cups
Not only will you make tidying up a lot easier, using paper plates and cups also reduces the chances of any breakages and injury. Outdoor movie parties can be raucous events, with excitable kids (and adults) increasing the chances of things getting broken. Choose paper plates and you can save on a lot of cleaning up and potential hazards. Just make sure to recycle them afterward.
78. Keep Drinks Cooled with Ice
This idea is best reserved for a romantic backyard movie night but still works really well at parties with lots of guests. You could either have a small bucket of ice with champagne for a loved one or large bins with ice in to keep the beers and soft drinks cooled. It means your guest don't have to keep walking to the house or tables to get a cool drink.
79. Don't Forget the Popcorn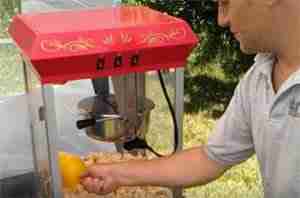 It wouldn't be an outdoor movie night party without popcorn. In order to make things a little more interesting, why not invest in a popcorn machine or maker, or design your own custom paper popcorn bags to add a level of authenticity? There's a great popcorn maker on Amazon at the moment which I recommend.
80. Keep the Food & Drink Coming
By keeping a constant supply of food, snacks, and drinks coming around it will save your guests from having to keep getting up and interrupting the movie-watching experience. Perhaps use some trays which you can carry around with snack selections and refreshments on?
81. Offer a Self-Serve Bar
The key to a stress-free party can be making your life as simple as possible. With that in mind, reduce the need for you to be continually topping people's drinks up by using a self-serve bar (or table). Have all the drinks set out in one place, and let guests pour their own. It will let you focus on the important parts of the night such as setting up the movie properly.
82. Set-Up Tables for Food
Having guests constantly have to go to the house or kitchen is going to interrupt the flow of your backyard movie night, and you might not actually want people going into your house constantly. Instead set up tables towards the rear of the viewing area where you can place all the food on them to make things a whole lot easier.
83. Invite Your Neighbors Over
Throwing a movie night outdoors comes with a lot of responsibility, and none more so to your neighbors. To lessen the chances of having any problems, I always invite my neighbors. This serves two purposes, it firstly gives them warning that there could be some noise, but also by inviting them, even if they don't come, I find it dramatically reduces the chances of them complaining. Must be a psychological Jedi mind-trick. Be a good neighbor, invite them, it works wonders honestly.
84. Be Aware of the Law and Your Legal Obligations
One of the most common questions I get to the website is whether it's illegal to show a movie in a backyard. No, it's not, but there are still legal implications that you need to be aware of. As a general rule of thumb, if the movie showing is for your friends and family, then you should be fine. I've written a longer guide to the law relating to backyard movie nights which you can read by clicking here.
85. Ensure the Safety of Your Guests
It's going to be dark and there will be high-spirited people in attendance. How you mitigate any safety issues is of paramount importance. Check for loose paving slabs, hoses, or sprinklers that are potential hazards, and make sure everything is as safe as it can be. If you do have a dog, it might also be worth warning your guests in case you have any friends who are scared of animals.
86. Make Guests Aware of the House Rules
You might not want people coming into the house and going upstairs. There might be a room you don't want them to open when looking for the washroom. If some of your guests are unfamiliar with your home, then it can be worth clearly labeling the way to the toilet, and marking doors with "do not enter" if you have had to put pets away for the night.
87. Don't Charge Admission to Friends, Family, or Neighbors
Unless it's a corporate event and you have the relevant permissions, don't charge an admission fee to your guests. This is a sure-fire way in which you will be breaking the law and takes you outside of the legal territory that blurs the lines between backyard movie nights and larger events.
88. Don't Get Drunk if You are the Party Organizer
If you've got a big outdoor movie party planned, then stay sober! Having guests over at your house, being responsible for their safety, and the smooth running of various pieces of technology requires a clear head. Don't be that guy (or gal).
89. Remember to Relax & Have Fun
Outdoor movies are about having fun. If you're stressed out and worried, that will soon transfer onto your guests. Try to relax and remember why you planned this night in the first place; it was to catch up with people, have a good time, celebrate an event, or bring your community together. If you're stressed, mistakes will happen. Relax and have fun and the rest should follow.
90. Have a Party Cut-Off Point
From the outset, have a party cut-off point in mind. Share this with your neighbors and guests so that everyone is aware of when the backyard movie party night is set to finish. By having this awareness in place, it should help you to set expectations and ensure that you don't have any awkward situations of trying to get rid of over-zealous or noisy guests from your backyard.
91. Camp Out in Your Backyard After the Movie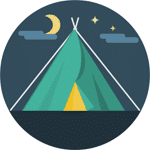 My kids love camping out after movie night. It makes for a much more adventurous event, and guests can even do it too providing you have the space available for them to pitch a tent. We once set up tents for all our guests, which also provided the area from which they watched the movie – with a campfire too! It was an amazing night enjoyed by all. You can also watch movies when on a camping trip – find out how.
92. Have a Disco Night After the Movie
You've already got speakers and a media player set-up, so why not take advantage of that and have a disco afterward? Simply clear some space in front of the screen and you are ready to go. Depending on your neighbor's situation this could be a truly memorable end to the party.
93. Don't Forget to Bring Your Equipment Indoors
However, tempting it might be, don't leave all your gear outside after the event. Yes, it's a pain to do so, but will prevent your expensive equipment from getting ruined or damp and will save you a lot of hassle in the long run. Whilst it is possible to watch and cleans your screen, it's not so easy with the projector or video media player!
94. Be Prepared for the Clean-Up Operation
Having a large number of people in your backyard is going to generate a lot of rubbish, so be prepared for a potential clean-up operation the next day once the sun comes up! I've had parties where I've not done this, and in the morning, it's looked like the aftermath of a rock music festival!
95. Tidy Up that Night to Avoid Next Day Hassles
Alternatively, try to get as much tidied up that night. There's nothing worse than waking up in the morning, looking outdoors, and seeing the carnage that you now need to deal with! Yes, it's a pain in the backside, but you will be happier you did so come the next day.
If you have been taking photos throughout the party, then share them and let the guests re-live the night on your social media channels! It helps the memories to live on and creates something that people will love to look back on with fondness.
97. Ask for Feedback from Your Friends and Family
One of the best ways in which you can learn how to make your next outdoor movie party better is by feedback. Ask your friends for feedback so they can tell you what they enjoyed, what the best bit was, or if there's anything you can do better. Asking for feedback was how I first came up with the idea of having an interlude in the middle of our movies, and it's something I now do every single time to great effect.
98. Don't Worry if Things Go Wrong, It's Half the Fun!
Backyard movie nights are about having fun, right? So, don't worry if little things go wrong here and there, it's only going to add to the amusement of the evening, and if anything will stand you in good stead for the next event that you put on. Throwing your own outdoor movie parties is a skill that becomes more and more refined the more you do it. Practice makes perfect.
99. But You Should Learn from Your Mistakes
If throwing events like this is something you are going to be taking seriously, then learn from the mistakes you made. After every backyard movie night, take stock of what you could better next time, whether that's your seating plan, interlude, or the set-up.
100. Start Planning Your Next Outdoor Movie Party
I hope your night is a massive success. I can almost guarantee that once you plan and throw one party, you will probably get the bug for doing so… it's time to start planning the next one using everything you have learned from your previous events or these tips!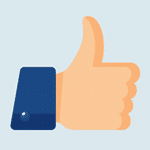 This type of content doesn't write itself, it took me a long time to put together information like this and compile it from other valuable contributors to the website (thanks guys, you know who you are!). Because of that, I would really appreciate it so much if you shared this post on your social media channels, or even gave it a mention on your own blog and website if you found it useful. You can see the social sharing buttons at the bottom of this post – thank you for reading and sharing!
What You Can Do Next?
If you have never put on a backyard movie night before, or want to improve upon the nights you have planned for the future, then I hope this has helped. For guidance on what you should buy and the products, I recommend go take a look at the following links.
The most valuable section of the website though should be the RECOMMENDED GEAR section. It has everything in it that you will need for all budgets, meaning no matter how much you want to spend, you should be able to get started relatively cheaply.