Movie-themed birthday parties are a treat for friends and family, and nothing beats the ambiance of a backyard movie night. With the right supplies and planning, you can organize a movie-themed birthday party in your backyard that your guests will never forget.  
An outdoor backyard cinema is a great idea, and you can set one up in under an hour. But to host a movie-themed birthday party, you'll need to plan a bit more.
Here is the list of essential supplies to transform your backyard into a movie theater for a birthday party. Your guests feel welcome, and your birthday party will stand out. 
The Essential Supplies List for a Movie Themed Birthday Party
Transforming the backyard into a movie theater is not difficult. If you are having a birthday party, this setup is the perfect reason to take the celebration outdoors with your friends and family. Here are the essential supplies you need for your outdoor event, so you don't miss anything. 
Invest in a Good Outdoor Projector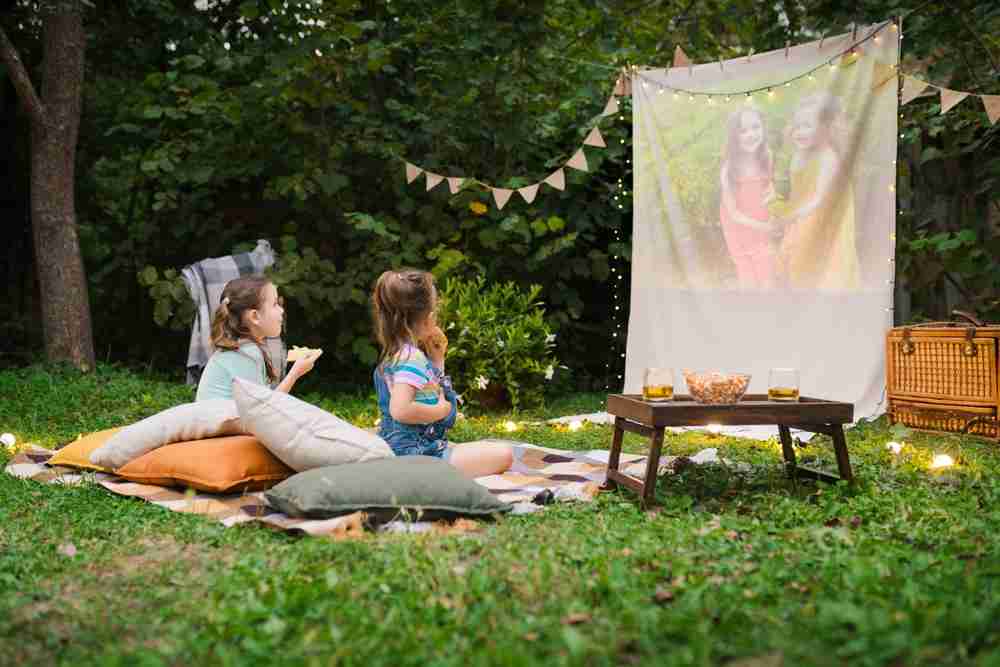 A good quality outdoor projector is essential to set up a movie theater in the backyard. You can't show a movie to your guests if you don't have one! We recommend buying a projector with a high lumen rating for an outdoor event for better image quality.
Make sure you buy a projector with multiple connectivity options so that you can use it with different devices. If you already have a projector, you should do a test run before the big day. Otherwise, you can find a great selection of projectors with their buying guides here. 
Outdoor Movie Screen
A good movie screen is another essential item on the list. Make sure you have a wrinkle-free screen that enhances the image quality and guests' experience of watching a movie. You can make an outdoor movie screen cheaply, but if you do not have enough time or want to skip the DIY part, you can choose between hanging, inflatable, or standing screens. 
For an outdoor cinema, we recommend a standing screen. It is hassle-free and does not require electricity. You can set it up quickly without much assistance. 
High-Quality Outdoor Speakers
Do not overlook the importance of a quality speaker. A decent sound system is essential to make your movie-themed birthday party worth remembering. Since it is an outdoor event, you must make sure your guests can hear everything, despite any ambient sound.
Before getting a speaker, know what connection types your outdoor projector has. Place the speakers in the right place so every guest understands the movie's dialogue. A good speaker is a one-time investment that can give you years of entertainment. 
Get a Cozy Blanket
If the temperature falls in the evening, it will probably be chilly outside when your guests gather for a birthday party. A firepit is great, but it might not keep all your guests warm if you have a big crowd. We recommend getting a few cozy blankets. If you get big blankets, your guests can share, and you won't have to buy too many.
Outdoor Chairs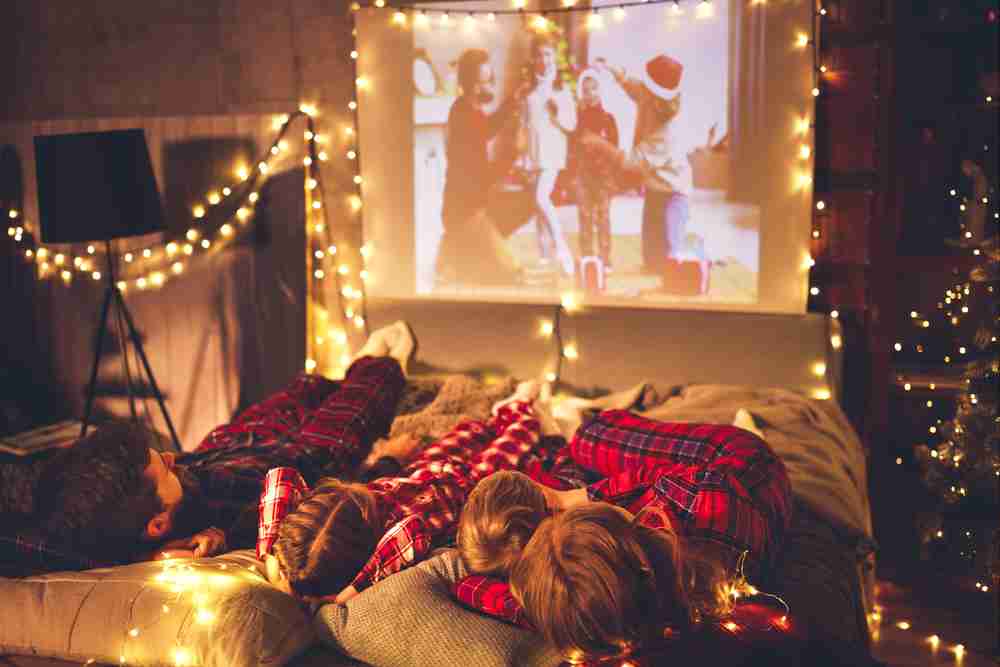 For seating, try sling chairs, outdoor loungers, recliners, or even pillows to keep your guests comfortable. Bringing out bulky sofas and chairs isn't necessary. Depending on your guest list, a movie-themed birthday party should have appropriate outdoor chairs. 
If you are expecting children, it is better to have a space where they can lie down as there is a chance they might fall asleep in the middle of the movie or even before it.
Shatterproof Dinnerware
While this part is totally up to you, we recommend getting shatterproof dinnerware if organizing an outdoor event, especially if you have any children attending. You do not want anything to go wrong. 
Shatterproof dinnerware does not require you to be extra cautious to avoid any mishap. Your guests can move freely, and you do not have to be constantly worried about your dishes. It's also significantly sturdier and more environmentally friendly than paper or plastic plates.
Snacks Are a Must
Is it a movie night without popcorn?
Now that you have made all the necessary arrangements, it is time for you to prepare snacks for your guests. Microwave popcorn is the best option if you have a big gathering, but a popcorn popper is a nice addition, too. Give each guest their own popcorn box and make party bags with candy to eat during the movie or to take home.
You can have an intermission for birthday cake or cupcakes or, if the event is adults-only, make it into a cocktail party, sipping your favorite drink while watching your favorite movie.
Proper Lighting
Lighting is tricky for an outdoor movie birthday party because you don't want it to be pitch black, but you also don't want too much light as it can detract from the experience. You might need an extra set of lights to ensure your guests have the best experience of watching a movie outdoors. 
You can use LED lights with a dimmer. When people arrive, you can keep the lights bright, but when it is time to watch the movie, you can dim the lights to set the ambiance. 
Movie Party Games
Do not start the movie right away. Keep your guests entertained with fun games until everyone arrives and everything is ready.
Since it is a birthday party with a movie theme, you can use movie party games and activities to keep the guests busy, especially if kids are present. Games are one of the easy ways to keep the fun going.
Don't Forget the Essential Party Supplies
Organizing a movie night party may seem like a lot, but with the right setup and supplies, you can have an outdoor movie birthday party without much hassle. You can also take this idea and tweak it for other occasions, too, like a bachelorette party, bridal shower, or even a 1st birthday party.
With our essential supplies list for an outdoor event, we ensure your outdoor birthday party is all about fun. Use this list of essential supplies, so you do not miss anything and organize everything smoothly, add some movie party decorations, and you're all set.