The outdoor space of any house is an extension of the living room and has become a favorite spot for families to hang out and relax. It is always satisfying to decorate your outdoor living space, but why stop there? Check out these practical outdoor TV setup ideas to really transform your outdoor space. 
If you are always looking for ways to get outdoors, make your outdoor space even more attractive by bringing a home theater system outside. Let's dive into some simple outdoor TV setup ideas for making your space even more complete. 
7 Cozy Outdoor TV Setup Ideas
The ultimate outdoor TV installation has comfortable seating and a large screen with a great sound system. With the wireless connections and HDMI cables, you no longer face connectivity issues. 
These practical outdoor tv setup ideas let you bring the party outside, or you can watch a game without saturating the indoor space.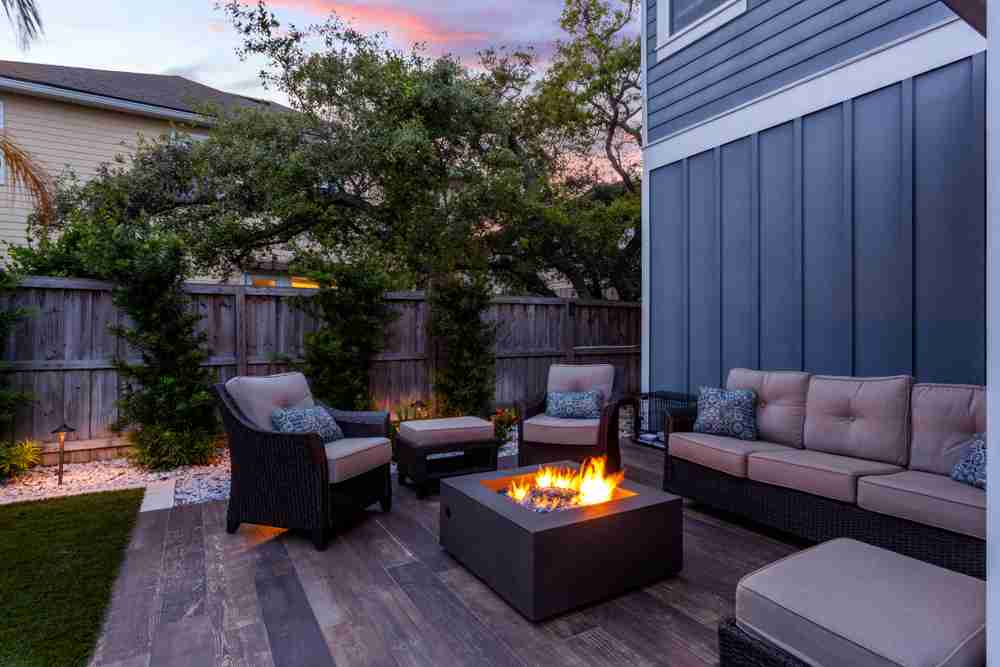 1. Gazebo with a TV 
Gazebos have become an essential outdoor spot to encourage social mingling and spend the warm summers relaxing outside. 
A gazebo also provides shade, and it is a great place to relax. Add a TV to this space for everyone to stick around or hang out longer. A TV outside in a gazebo translates into a comfortable and cozy space.  
2. Poolside Outdoor TV Setup
Having a pool in your backyard gives you many options to consider. Setting up a TV poolside is an excellent idea. You can either set up the TV right next to the pool or away from the pool if your patio area is separate. 
If you want to take the TV outside, consider setting it up at least 6 or 8 feet away from the pool. You need a gazebo or covering to mount and protect the TV. 
3. Fire Pit and TV
Do not spend cozy winter nights staying indoors. Having a fire pit in your backyard lets you enjoy the cold nights after the temperatures start to drop. Adding a TV to this setup gives you more reasons to stay outdoors for extended periods. 
With a TV outside in your backyard and a fireplace to keep you warm, you can enjoy a perfect date night. Moreover, those bbq nights will make everyone a part of the fun as you can include all your friends.
4. Bar with a TV
Having a TV in a bar is a great outdoor TV setup idea. If you already have an outdoor bar, why not add a TV and a sound system to keep your guests entertained? 
This convenient and practical option is easy to set up. You already have the necessary structure because you have a bar, so you do not have to worry about the weather. Just buy a TV and explore your mounting options. 
5. TV in an Outdoor Kitchen
A detached outdoor patio with a kitchen works best for this outdoor tv setup idea. If you have a big backyard, you can make the best use of the space. 
Bring the TV outside and mount it on the patio wall in your outdoor kitchen. A stone wall is best for this outdoor tv setup idea. If you already have a kitchen in your backyard, use the space for keeping a dining set and a TV.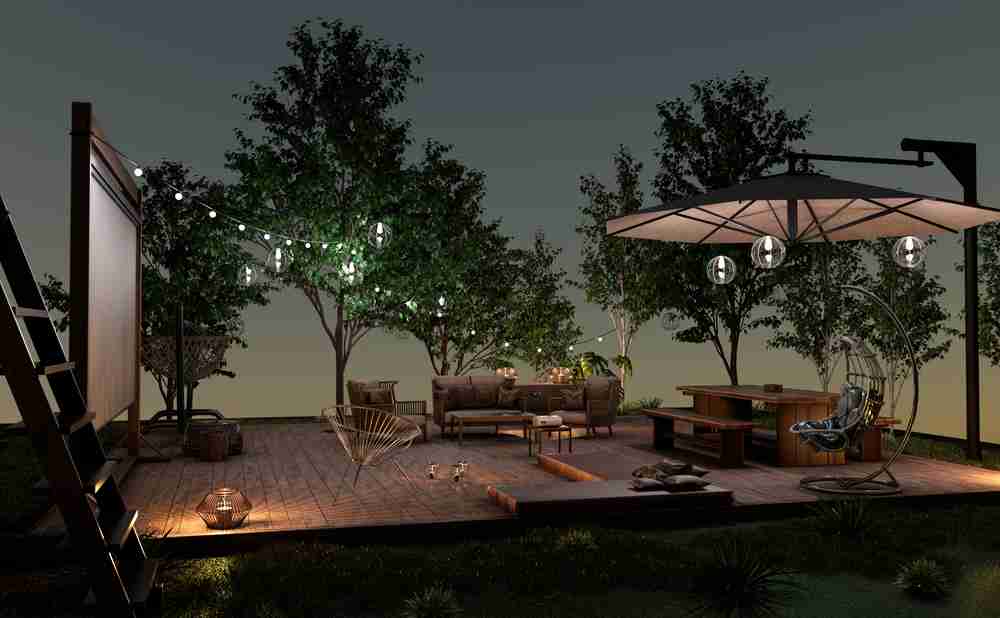 6. Use a Projector
Another cozy and cute outdoor television setup idea is using a projector outdoors. You do not have to worry about mounting and drilling a hole in the wall. It is one of the most practical and economical ways of setting up a TV for this look. 
If you have a portable projector, you just need a screen and take the show outside. Find a suitable place for keeping a screen and enjoy the night with your friends and family. To find the best material for an outdoor movie screen, check this guide. 
7. Awning Paired with a TV
If you do not like the idea of having a gazebo in your backyard or you have a small space, you can always get an awning installed outdoors. Pairing it with a TV can be one of the best outdoor TV setup ideas. You just need a good quality awning, patio chairs, and a TV. 
Things to Consider Before Setting Up a TV Outdoors
Before you install a TV outdoors, consider these things:
Protect the TV 
Before placing the TV outside, you must figure out how you're going to protect it from weather conditions, like rain and wind, by getting a cover or outdoor TV enclosure. You should have a plan for this before you set up the TV so you don't risk any damage.
Keep it Away from the pool
We recommend placing a TV under the shade by the poolside. Keep the TV far enough away from the pool to avoid possible complications.
Wireless Setup
When placing a TV outdoors, you should keep the connections wireless, so if kids are around, they are not exposed to any harm. 
Make sure you have the right tools and accessories before going for any of these outdoor TV setup ideas. 
Take the Fun Outside
With our outdoor tv setup ideas, you can make any outdoor space more beautiful and entertaining, really turning your outdoor space into an extension of your living room. Once you have set up the TV outside, you can have friends over and create an outdoor movie theater for more fun and hangouts.