If you want to know how to show a movie outside, then you are in the right place. This website is dedicated to all things relating to backyard movie night and outdoor movie parties, with a wealth of information designed to make things as simple as possible for you.
But let's just start off with the basics first as to what you are going to need to do if you want to know how do you show a movie outside.
Step 1: Decide Where You Are Going to Show a Movie Outside
Most people who visit this website will be planning on showing a movie outside at their own home, most of the time in their backyard. If that sounds like you, then you will need to make sure that you can supply power to the outside area where you want to watch the movie.
You might need to invest in some extension cables, but having said that, there are lots of products now which are wireless and come with rechargeable batteries.
The main consideration is to ensure that you have enough space. Most outdoor movie screens (which I will come onto shortly) available for the home market will be at least 8-foot-wide, so think about whether or not you have the space and access available.
You can read up for technical advice on how far away your screen should be away from your projector by reading my essential guide to planning an outdoor movie night.
Step 2: Build or Buy an Outdoor Movie Screen
Next up you will need to decide upon your screen. If you are in this for the long term, or simply want the best results, then you should invest in an outdoor movie screen. They aren't that expensive and can be picked up for less than $100.
Outdoor movie screens have a special material, which means movies will look crisp and sharp when being projected against.
There are two main types available to buy;
inflatable
or standing and hanging
On this website, you can find my own recommendations on both types.
I have a preference for the hanging and standing screens as they don't require electricity and can be left out in all weathers. If you are interested in buying one, then view my recommended screens for backyard movie parties.
But if you do want to build one yourself, then you can do that too! I have put together a blog post that shows how you can build one. Honestly though, once you have bought all the parts you need and spent the time doing so, it might be easier to simply buy a cheap one instead that will probably work better anyway.
The cheapest option is simply to hang a white bedsheet, but in truth, it won't work that well as it will blow around and have wrinkles in it. Plus, they can be very transparent meaning your movie won't display that well against the sheet.
You can find out more about my thoughts on why you shouldn't really use a bedsheet for outdoor or backyard movies by clicking here.
Step 3: Buy an Outdoor Movie Projector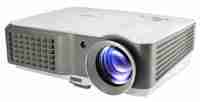 Once you have put your screen up, it's time to get a projector. If you aren't what you should buy, then again, I've put some guides together.
If you love your technology and want to know how everything works together then you could read this guide to choosing a projector.
However, backyard movie nights are simple really, and you don't need to really know too much. Instead, you could just dive straight into my recommended backyard projectors and choose something to suit your budget.
I only have a few recommendations in order to keep things simple, so you don't get overwhelmed with the massive range of choices available to buy online.
Step 4: Decide on Your Media Player or Storage Device
As well as the screen and projector, you will need something that holds or plays the video, movie, or live sports.
All of the modern outdoor movie projectors that I recommend on this website are compatible with a huge range of media playing devices. The types of things you can connect up to your projector include:
Laptop, Computer, PC, Mac
Hard disk, flash drive, USB stick, Amazon Firestick
Streaming services such as Netflix or Amazon Prime
DVD player, Blu-Ray player
iPhone, smartphone, Android phone
Most projectors will have a range of ports and connection types.
All you need to do is plug in your chosen media player and start projecting. It's very simple!
Step 5: Add Some Additional Sound
To really make it a night to remember you will need additional sound.
Whilst all projectors will have built-in speakers, these really don't work that well, and won't be loud enough for when you are outside or in the backyard.
What I recommend is that you add some additional speakers into the mix or something like a soundbar.
Your speakers can be plugged straight into the media player device or your projector and will give you a far better audio experience that everyone can hear clearly.
The best speakers for outdoor movies will be wireless Bluetooth and rechargeable ones. It means you won't have additional cables and wires creating hazards in your backyard and can place the sound source in the best place without worrying about how you are going to connect them up.
I have some preferred products, and you can take a look at the best speakers for outdoor movies elsewhere on my website. The speakers that I recommend are all wireless, rugged, and waterproof making them perfect for your backyard movie party.
Step 6: Set Everything Up and Invite People Over
Your projector and screen will have easy-to-follow instructions on how to set them up properly. I would advise that you do a test run first, possibly the night before when it's dark, so you don't have to try to figure it all out on an actual night.
Once you have all the gear set up and ready to go, then you can invite friends and family over.
Don't press play until the sun has set. Even the best movie projectors need to run in complete darkness for you to be able to see the image properly.
Not Sure What to Buy Still?
So that's how you can show a movie outside in very simple steps.
There is a wealth of information on this website for the finer details on things, for example, you might find the 101 Outdoor Movie Tips an interesting read. It contains 101 ideas and tactics you need to know if you want the party to run successfully.
And finally, if really don't want to spend too much time trying to figure what the best projector is with the best screen, and at a certain budget point, I've put together some outdoor movie and projector packages together which are arranged into various different price points.
By taking a look at my recommended packages, it takes away any guesswork, and simply gives you a projector and compatible screen to buy, and all at very reasonable prices.