So, you've purchased a new inflatable screen and are looking to set out and have a great time for your first outdoor movie night. While a screen meant for outdoor use is a lot of fun, you must take some time to set everything up correctly and safely so that everyone can have a great time at your event.
We've put together a list of some of the most common problems to watch out for when installing your giant inflatable movie screen, so you can kick back and enjoy your favorite movie instead of worrying.
1. An Improperly Secured Screen
One of the first and most important things to do once your inflatable movie screen is inflated and ready to go is to ensure that it's properly anchored to the ground. This will ensure that your portable projector screen doesn't make its exit before the show is over (or before it even begins)!
Most inflatable screens will come with ropes and anchors or yard stakes, much like the sort that comes with tents, making for an easy setup. Use these ropes to tether the top four corners on the front and back of the inflatable movie screen right to the ground. 
Check that the ropes are taut with no slack on any side and that they are firmly pegged into the ground. If you do not have any earth around that the pegs will sink into, try tying the ropes to your deck, fence, or another suitably heavy object.
Once your screen is secured correctly, you can be sure that even wind will not affect your outdoor viewing going off without a hitch. If your inflatable movie screen didn't come with secure ties, the SGT KNOTS California Truck Rope is a sturdy and reliable option to stabilize and anchor the unit. 
2. Overheating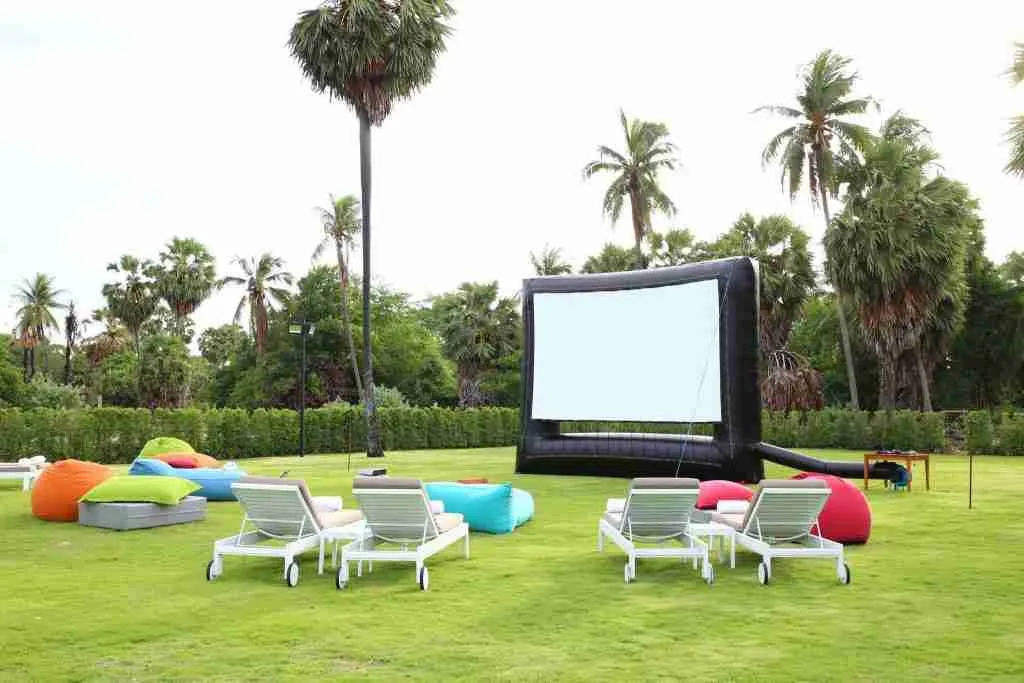 If you are enjoying your new screen during a sunny summer day viewing, there is a risk that the screen could overheat. Scary enough, this could cause a burn on the screen or even a fire, putting a serious damper on your outdoor party! The heat from the sun and the supporting material on the projection screen are often black and therefore are very heat absorbent. While this can contribute to a fire risk, the main risk is from prolonged use of the screen/projector or restricted airflow. 
Try to take breaks if you're having a movie marathon or shut off for commercial breaks during sporting events. Always do a walk around of the screen once it's been inflated to ensure that there is sufficient room for airflow, and the generator is not backed up too closely to any surrounding objects. If you want to make sure your guests don't inadvertently set something too close to the projection screen or pump, it's a great idea to set up some pylons or other markers around the areas people should keep clear. These mini pylons by Juvale are a great way to keep the space marked and clear without being too bulky. 
3. Water Damage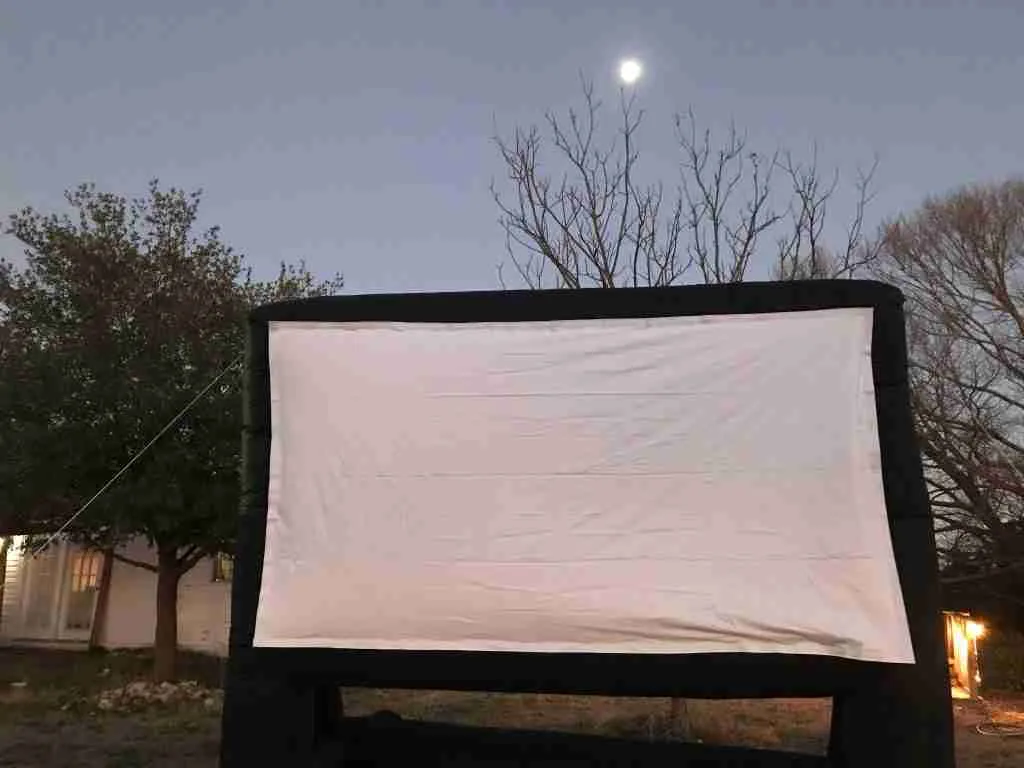 You want to make sure you can enjoy your new outdoor movie screen for many years to come, so making sure all the equipment stays clean and dry is essential. After a cozy evening viewing or a lovely pool party film festival, the first thing you may want to do is head inside to bed or to get out of the sun. However, leaving your equipment out can lead to damage from the elements such as rain, dew, spilled drinks, etc. 
This can not only take away from your viewing experience; it can both ruin your equipment and poses a safety risk. Anyone who then tries to work or move the electrical components could result in a nasty shock. Always unplug and pack up or bring in any electrical components after the show to make your projector screen last and ensure that your projectors and pumps always function their best. As a precaution against spilled drinks, pool splashes, and other unfortunate mishaps, set up a perimeter around the projection screen, speakers, and projectors to keep guests away from all the important electronics. 
For extra safety, especially if there is a pool or other body of water around your projector screen, it can be a good idea to set up a physical barrier around more sensitive or easily damaged equipment. A simple safety fence like the Tenax 2A060006 Guardian Economy Safety Fence can be secured with tape or a rope and can be purchased in rolls of up to 100 feet. 
4. Rips, Tears, and Damage
Due to the sheer nature of portable outdoor items like inflatable projector screens, it's possible that the fabric can rip or tear through many setups, teardowns, and just general use. It is especially important to watch out for your inflatable outdoor movie screen during events with open grills or flames, as there can be windblown sparks and flames that can not only create a tear in the material but can pose a fire hazard as well. 
As mentioned above, always do a walkaround of your outdoor projector screen once inflated to ensure that there are no sharp rocks, sticks, or debris in the area and to make sure that any fires or grills are located a safe distance away and preferably not upwind of your big screen. However, if you do end up with a small rip or tear, you don't need to toss the screen or buy a new one. Take a look at this guide on how to repair your outdoor projector screen if you encounter an issue. 
Final Thoughts
We've rounded up some of the most common and preventable safety problems that you can encounter, but if you would like a more comprehensive list of things to watch for, check out our article on the top 11 Safety Tips for Backyard Movie Parties & Events. 
Following these tips, any time you're using your outdoor movie projector screen will help you prepare for and take a proactive approach to safe inflatable screen use. This means you can make sure that every party guest always has a great time at your movie night or sporting event, and you can enjoy your outdoor theater with no unfortunate interruptions to your fun!