Planning a movie night without movie night decorations is a missed opportunity. Everyone is already looking forward to the event, so make sure you make their night memorable by taking extra effort to decorate your outdoor space right. 
For a good movie night, you need a projector, a screen, and good-quality speakers. However, to take it to the next level, invest in some fantastic party decorations to really bring the event to life. 
With our six fun and easy movie night decorations, your movie night will be the talk of the town. Let's take a look. 
6 Fun & Easy Movie Night Decorations
When you have guests coming over, you must keep in mind the space you have for decorating your backyard if you plan to show the movie outdoors. You still have to be careful with wired connections, so try as much as possible to have wireless connections outside to avoid any mishap. 
Once you have the equipment safely set up and ready to go, let's move on to the beautiful decorations and party ideas that can help you make the movie night worth remembering. 
Create a Theme for the Party Night
Choosing a theme for your movie night makes decorating easy because it gives you a little bit of direction. Decorate the space to align with the theme and bring it to life. 
There are a lot of options that you can choose from. Depending on the movie and the age of your guests, you can choose from a variety of party themes. Here are some suggestions:
Date night and movie
If you want to arrange a date night movie night for your partner or spouse, you need to set the ambiance. Get a cozy blanket to share, and use scented candles to set the mood. Make sure you have popcorn because no movie night is complete without it. 
Do not forget to select a good rom-com movie that you can enjoy with your partner, and light the fire pit if it's a little chilly outside.
Costume Night
Depending on your movie choice, you can ask your friends and family to dress up accordingly. Choose an animal theme, decade theme, horror theme, etc. If your kids love animated movies, dress up as the movie's characters. Your guests will love this fun idea. 
Have Subtle Outdoor Lighting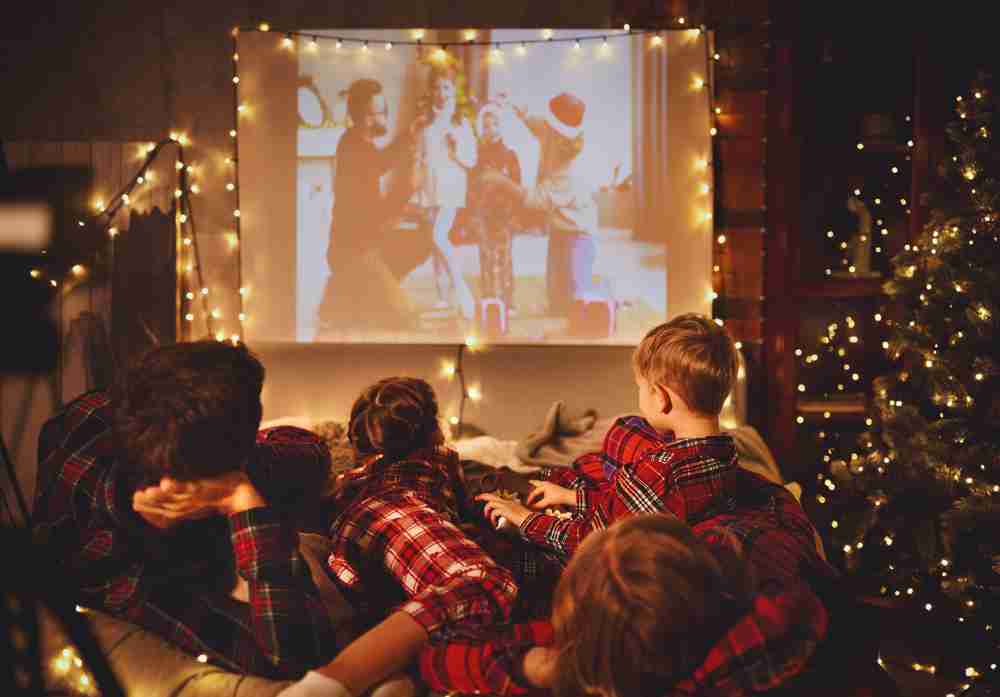 Lights are one of the most affordable movie night decorations. If you are setting things up outdoors, make sure you have good lighting, so your guests can move around without bumping into each other. 
For the perfect outdoor setup, you will need lights that change colors to suit the mood. Smart lights are your best option. You can control the brightness of the lights using an application or ask Alexa or Google Home. This way, you don't have to interrupt the show. 
LED strips or hanging lights are other subtle options. You can hang the lights over your deck or gazebo, but be very careful that it doesn't affect the image quality or distract from the screen.
Send Out Themed Invites
A movie night with friends and family is always exciting, and sending out themed invitations can help build more anticipation. Use this opportunity as a DIY project with your kids. You can find several templates available online. 
Sending out themed invites is quick and easy, and they are a fun way to stick with the movie night theme. Fill the invite with essential details, like movie name, time, venue, date, etc. You can also ask guests to bring the invitation back to the party and use it as a ticket for admission and draw door prizes to up the fun.
Red Carpet Entrance
The closest most of us come to a red carpet is sitting on our couches in sweatpants and watching it on TV. Well, who is stopping you from creating your red carpet-themed entrance? 
A red carpet entrance is a fun and quick movie night decoration. You can buy a red tablecloth from a party store or splurge on a red rug. Make sure you know the dimensions. Roll the carpet from your backyard door or gate to lead your guests to the screen area. 
This setup will help build anticipation for your movie night, and you'll know what it feels like to walk the red carpet at a Hollywood party.
Set Up the Food and Drinks Table
Get a good table cloth that does not slip and make a tower out of paper cups. Shop around and get balloons, decorative strings, and props that suit your theme. If your backyard movie night is also a birthday party, bridal shower, or family movie night, look for party decorations that go with these decor themes.
Have enough popcorn for your guests because it's not really a backyard movie night without popcorn. You can make finger food items, too, so your guests can eat quickly and put out a nice selection of candy. Remember to leave party bags, popcorn boxes, or containers so each guest can take some extra snacks home at the end of the night.
Balloon Entrance
A balloon entrance is a fun idea for decor that amps up the ambiance and make people feel like they're really arriving at an event. If you're feeling extra creative, you can try to bunch the balloons together to look like popcorn or movie candy.
You can make a balloon arch yourself, or you can always buy one online. Keep the balloon arch at the entrance where you can collect the tickets and lead the guests to the screen by walking on the red carpet. 
Plan Your Movie Night
A fun movie night is all about building anticipation and excitement. You can buy or make different movie night decorations to keep the excitement and fun intact. With these fun and easy movie night party ideas, you can make the event worth remembering. Check out these outdoor movie party tips to plan the best backyard movie party ever!