Anybody who owns an inflatable screen and projector knows that it is a great investment for your home. After all, what's better than having an outdoor movie theater right in your backyard? Whether you want to host parties for large groups in a park, play your family's weekly movie night in your backyard, or even take some entertainment with you on your next camping adventure, you can't go wrong with a quality inflatable screen and projector. 
When you're shopping for the setup that will best meet your needs, there are many things you'll want to factor into your decision. That's where we come in! We're here to guide you through and help you make the best purchase for your needs. Read on for five things to keep in mind while shopping for an inflatable screen and projector!
1. Screen Size
What you plan to use your new movie screen for will play a big part in the size of the projection surface you need. If you plan to set up in your backyard, for example, you will probably want a smaller projection screen so that there is still room to create a cozy viewing section while leaving room for other uses of the yard. If you're looking to set up in parks or campsites for larger viewings, then a big screen will, of course, serve you better. 
This may seem obvious, but with many sizes to consider, you should take your time to assess your needs and consider what would be best for you. When you're deciding on the outdoor projector screen you would like to purchase; you will find a recommended distance that the projector should sit away from the screen, as well as a measurement for screen size.
Before you start checking out products, use a measuring tape and measure the space where you want your projector to sit and the distance you have set aside as a viewing area to ensure that you will be able to put the projector at the ideal distance. This is referred to as the perfect projector throw ratio. 
You also want to make sure that once the inflatable movie screen is set up, you can comfortably walk around the full surrounding area of both the screen and the projector. This will ensure that you can fix any issues that may arise and secure the screen safely. This 14 ft screen by EasyGo Products is a very popular size for an average backyard setup.
2. Anchoring Your Screen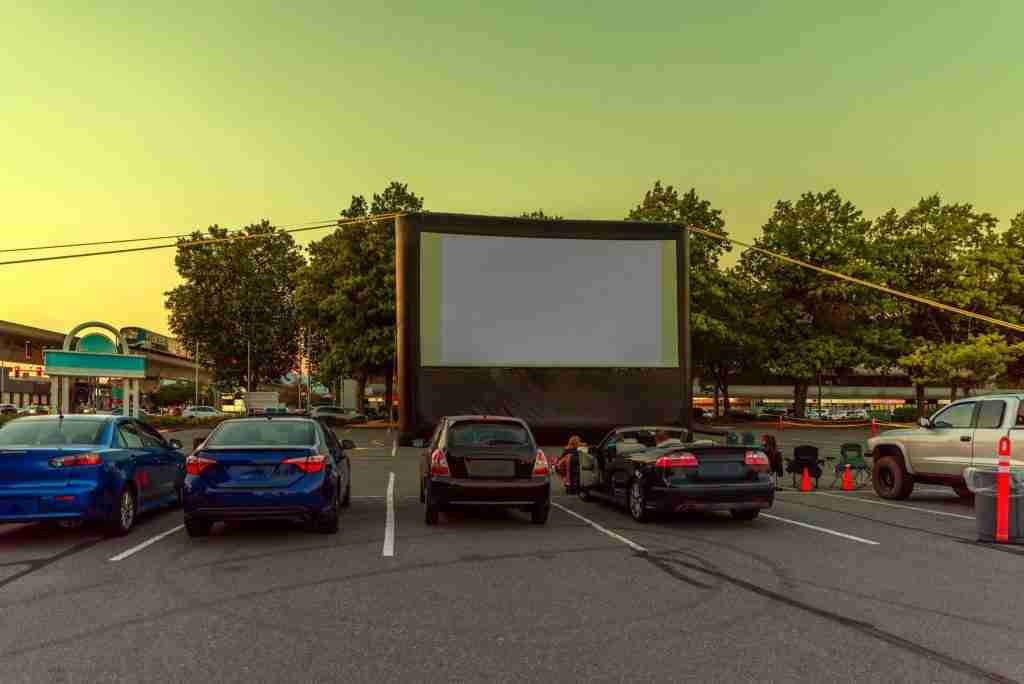 It would not be ideal to bring out your inflatable screen for a movie during a hurricane, of course. However, you may find some days that are otherwise perfect for an outdoor movie viewing may still have a little bit of wind, and you want to be prepared to ensure your inflatable projector screen doesn't go off on an adventure of its own. 
Make sure that your movie screen comes with similar accessories that you would get with a tent, such as a rope and yard stakes that anchor into the ground. It is best to anchor the inflatable projection screen with a taut rope on either side of the screen on both the front and the back. This allows for a secure set up no matter which direction the wind is coming from. It's important to ensure that a safe and enjoyable time is had by all when you host a showing in your backyard.
3. Adjusting to the Outdoors
When watching on an outdoor movie screen, you are going to experience things that you wouldn't have to account for with an indoor setup. While during the day you have noise and sunlight, at night there will be competing ambient sounds and lights such as headlights from passing cars, streetlights, backyard décor like string lights, etc. Make sure you have either a shelter you can set up under or that you have a nice dark space tucked away in your yard for ideal screen conditions. 
For setting up for daytime conditions, you can choose an outdoor movie projector with a higher lumen output (meaning it puts out a brighter image), among other things, to help get the most out of your backyard theater. A projector like the ViewSonic PG706HD with around 4000 lumens should do the trick for a nice clear image during daytime use. If you know you will only be watching at night, you can go with something in the range of 2500 or above lumens, like the ViewSonic 3800.
4. Cost
It usually goes without saying that while on the hunt for any new item, the cost is an important fact to consider. A larger projector screen will run you more money than a smaller one. Still, things like material, reflectivity, what comes with your screen, and outdoor projector can all affect the overall amount you'll have to spend on your setup. Having said this, there are great options out there for under $250.
If you know you'll be watching only at night; a lower lumen projector will save you some money but remember that it won't be a good choice for any daytime viewings, so you'll have to weigh the cost with the usage you have in mind for your inflatable projector screen and projector setup.
5. Accessories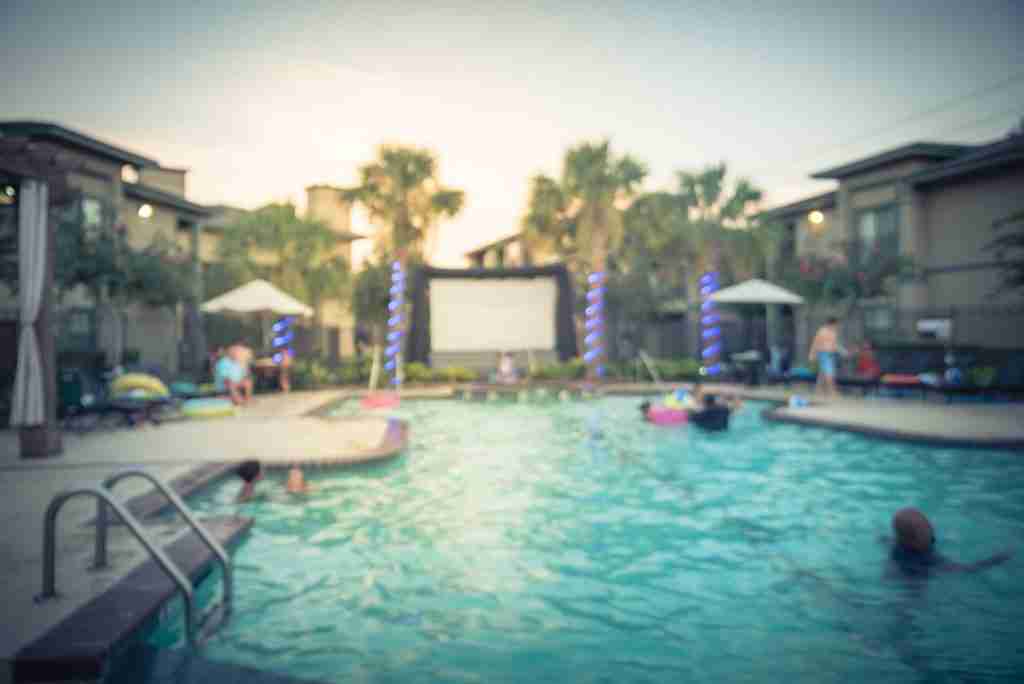 When setting up to view your favorite movie outside, inflatable screens and projectors differ from TVs in that they don't generally have a very high-quality built-in sound system. We don't have to tell you that this can put a damper on your home theater experience. You'll want to invest in a Bluetooth sound setup for the best enjoyment of your new outdoor theater. 
Something like a large portable speaker is a great choice for use in your backyard, and as a bonus, it's also usable for any other portable sound needs. The W-KING 60W Portable Loud Speaker is also an excellent option for portable sound for anyone on a tight budget. If you want a more permanent speaker setup, you can install smaller speakers in your yard or gazebo for a surround sound experience.
Final Thoughts
With all this info in mind, you're more than ready to get started on your hunt for a new outdoor inflatable screen and projector to enjoy with your family and friends. The options are endless, so take your time to find your best match and enjoy your favorite movie. And hey, for a real backyard movie night experience, why not consider purchasing a popcorn machine?