Movie nights are always a blast, but they can be even more fun when you create your own outdoor movie theater! 
This project is great for adults and families alike, and it's not as difficult as you might think.
All you need are some basic materials, many of which can be budget-friendly, and a bit of inspiration.
Before you know it, you'll be enjoying your favorite movies under the stars on the big screen!
In this article, we discuss the basics of how to create your own outdoor movie theater.
We cover everything from what materials you need to how to set up the perfect viewing experience. 
So whether you're looking to host a family movie night, movie date night, or make your weekend get-together more exciting, you're sure to discover some great inspiration for DIY movie night ideas at home!
Benefits of a DIY Outdoor Movie Theater
There are plenty of reasons to create your own outdoor movie theater. Here are just a few of the benefits:
Affordability
Creating your own outdoor movie theater can be surprisingly affordable, especially if you already have some materials on hand.
All you really need is a projector, an outdoor movie screen, candy, snacks, and some seating. Keep reading to find out which materials we recommend.
Fun and Memorable
This project is a lot of fun for both adults and kids. It's a great way to spend an evening or weekend with friends or family members, and it's sure to create some lasting memories.
Watching movies in a living room or movie theatre is very common and familiar. A backyard movie night is unique!
Versatility
You can use a DIY outdoor movie theater for a variety of purposes. You can watch movies, play video games, or even host a karaoke party.
The possibilities are endless! Your DIY outdoor movie theater may even become a staple for you and your family during weekends, warmer months, sleepovers, or other events.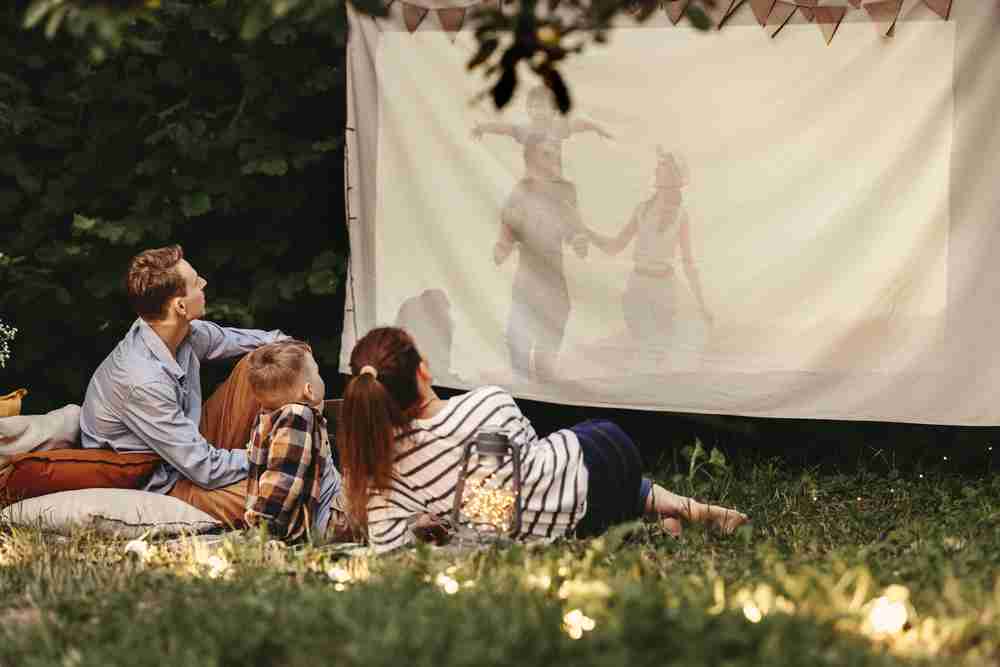 Creating Your DIY Outdoor Movie Theatre: What You'll Need
Now that you know the benefits of creating your own outdoor movie theater, let's take a look at the materials you need to get started:
A Projector
This is probably the most important item on the list. Any projector will do, but we recommend choosing one with a high lumens rating for better image quality. You can find a great selection of projectors on our website, or, check out the option below:
This mini-projector is a steal! It offers high-definition visuals and Wifi connectivity as well as HDMI, USB, and AV ports.
Because it is compatible with so many devices, it will make setting up your movie a breeze. The sound quality is also adequate for a small yard setting!
Screen
To view the projected image, you need a screen. It can be anything from a large piece of fabric to a dedicated projector screen.

Check out this Projector Screen with Stand
This projector screen comes with a durable frame, making it easy to set up your outdoor theatre without worrying about mounting your screen. It is large, durable, and allows for HD and 4K Ultra clarity.
Seating
Comfortable seating is essential! You can choose anything from camping chairs to bean bags to couches. Just make sure everyone has a comfortable place to sit! We recommend the following:
Intex Inflatable Ultra Lounge Chair With Cup Holder & Ottoman Set
If you're looking to jazz up your seating arrangement, these inflatable couches are inexpensive and can be easily stored and used time and time again!
Not only are they fun for movie nights, but you can also use them for camping trips or beach outings.
Optional Considerations
While seating and being able to play a movie is imperative, you should also consider things like speakers, especially if you live in a high-traffic area with lots of background noise! 
Another thing to think about is refreshments.
Having snacks handy is always great when watching movies! And, because you're at home, you can get creative.
Whether you pop popcorn over a campfire or make a platter of food in the kitchen, or set up a little concession stand by the big screen, the ideas are endless.
Finally, bring a soft cozy blanket and a pillow or two, and consider adding ambiance lighting (such as string lights or LED candles) if the area is dimly lit. You'll want to ensure everyone is safe and comfortable!
Setting Up Your Outdoor Movie Theater
Now that you have all the materials, it's time to set up your outdoor movie theater! Here are a few tips:
Choose an appropriate location
The best location for your outdoor movie theater will depend on the size of your screen and the amount of space you have available. Try to find a spot that is relatively flat and free of obstacles.
Set up the screen and projector
If you're using a fabric screen, it's best to set it up as close to the projector as possible to minimize the amount of image distortion.
If you're using a dedicated projector screen, set it up in the desired location and secure it in place with stakes or mount it!
Once the screen is in place, position the projector accordingly. Make sure it's pointing at the center of the screen and that you have enough distance between the projector and screen for optimal image quality.
Set up all other materials
Setup includes your seating as well as any snacks, lighting, and blankets you choose to add to the event!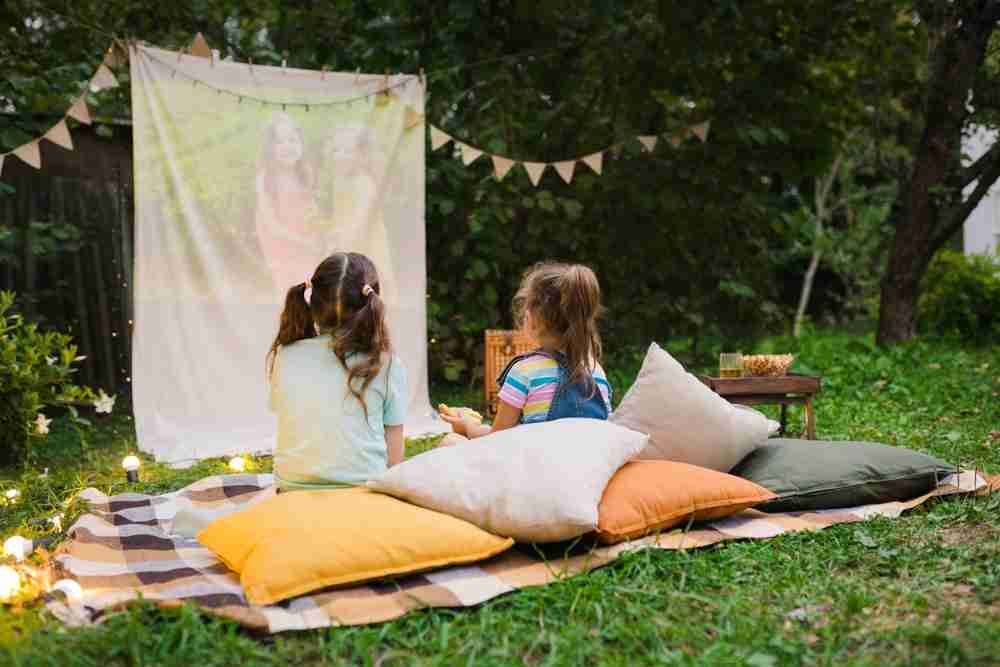 Final Thoughts
Creating your own outdoor movie theater may sound daunting, but there are many products and sources of inspiration to help you gather ideas, purchase what you need, and start planning your next outdoor movie night!
We recommend, first and foremost, purchasing a projector, like the Outdoor Projector with Wifi. You cannot have a movie night without a movie! Get creative with your screen, seating arrangement, and snacks; if you're looking for more fun family movie night ideas, head over to our website to find out more about hosting your own DIY outdoor movie night!