With home theaters becoming more popular, many people are buying their own projectors and discovering the challenges that come with them, including unwanted noise and overheating, and looking for fixes to these problems.
Enter the projector hush box. 
A projector hush box is an external barrier that softens the noise created by the internal fans of a projector. Like most large electronics, many projectors will produce a substantial amount of noise. People often choose to introduce a projector hush box when this noise starts to interfere with their viewing experience. Others, however, have to hush boxes to better cool off their projectors. 
Why Use a Hush Box?

There are a couple of reasons people choose hush boxes for their projectors. While the most common, by far, is noise reduction, projector hush boxes also improve cooling measures and reduce the risk of overheating.
Noise Reduction
Hush boxes have a foam lining that allows them to absorb the noise generated by a projector's fans. As an external cover, they're also responsible for keeping dust buildup at bay, preventing static, and protecting your projector from other outside problems that can lead to excess noise. 
There are also other means of protecting your projector that you can read about here. 
Cooling and Reducing Overheating
Projector hush boxes often come with two fans: one for intaking air to cool off the projector and another to flush out the hot air produced by the projector. As such, hush boxes have decent ventilation systems that can substantially reduce overheating.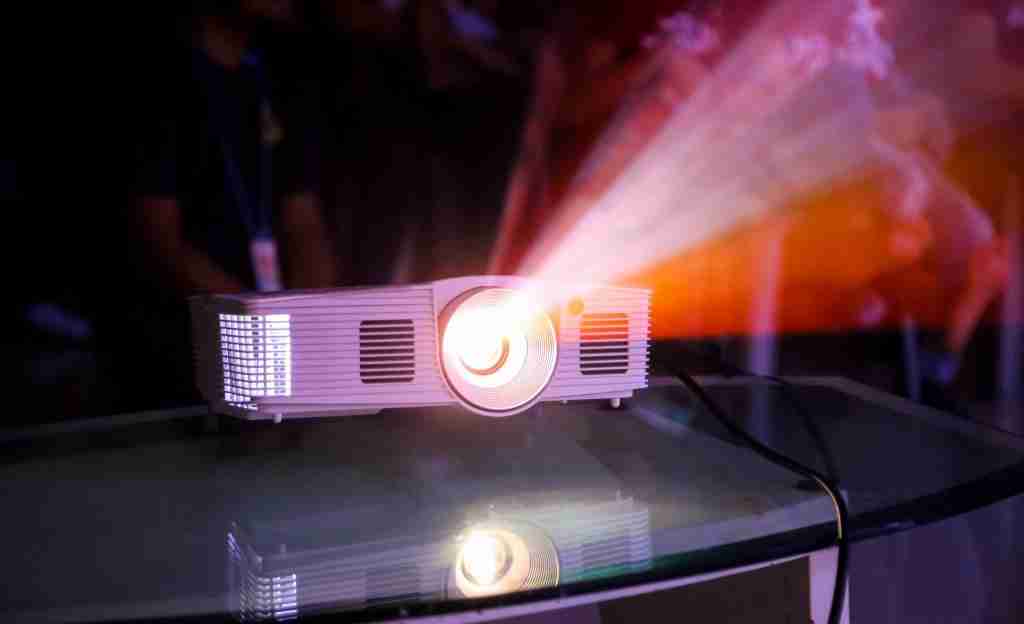 Components of a Hush Box
The Box Itself
The external component of a hush enclosure is generally made of wood. It surrounds your projector and prevents noise from escaping. While a wooden box is not a great insulator on its own, hush boxes are lined with insulating foam, allowing for much more noise absorption. 
When buying or building your projector hush box, consider the size of your projector and properly measure its dimensions before purchasing any materials or the hush box itself. 
Fans
A hush box needs fans to keep air circulating and cool off your projector. Without proper circulation, your projector could be at risk of overheating.
You should install one cooling fan near the projector intakes to draw heat away from the projector itself and another on the other side of the hush box to push the hot air out. 
While there are many different options for fans, many people choose to install larger ones. They're generally quieter and can move more air than smaller fans. Fans also need a power supply, so keep that in mind when buying or building your hush box. 
Buying vs. Building
If you're not particularly crafty, handy, or don't know your way around a drill, then buying a projector hush box might be better for you. That said, they tend to run on the pricier side, with decent ones starting upwards of $500 for a smaller projector.
If you can handle a drill and a woodcutter just fine, then it's probably best for you to build your own hush box. You can buy all the materials you'll need for much cheaper than most hush boxes run, and you'll also have a fun project to work on before your next movie night. 
When building your hush box, there are a few things to take into consideration:
Measurements
Ideally, the outer walls of your hush box will be 3 to 6 inches larger than your projector. The exact size will depend on your projector and its location. Outdoor projectors, generally speaking, can have larger hush boxes than their indoor counterparts. 
Since wood isn't the best insulator, it's a good idea to use a couple of layers. Make sure the wood you use is solid, smooth, and free of any shavings that can clog your projector. 
Insulating Foam
You can buy insulating acoustic foam online or at your local electronics store. Many large-scale retailers will also sell it in their electronics department, and larger hardware stores may have a small selection.  
Selecting Fans
Your hush box will need an airflow system to prevent overheating. Computer cooling fans are often a great choice, as they vary in size and reduce a substantial amount of heat. 
Which fan you choose depends on your hush box dimensions, the size of your projector, and how much noise you're willing to deal with. While larger fans are typically quieter and allow for more air intake, they let more sound from the projector escape. Smaller fans are louder by themselves but will reduce projector noise. 
Fans will also require a power source. There are a few different ways of supplying power, but many people opt for a 12v specs trigger. You can also connect your fans to a power adapter and then to a smart outlet that you can program to turn on with your projector.
Cover
Finally, a hush box should have a cover if it's going to be outdoors. The most popular choice for this is glass. Many people choose not to have a cover at all, especially if the hush box and projector aren't going to be left out in the open. 
Final Thoughts
Projector hush boxes are great options for noise reduction, preventing overheating, and reducing dust buildup. While they run on the more expensive side, a quality hush box can greatly improve your projector's function and allow for a more enjoyable experience. 
If you enjoy putting things together and are looking for a small, fun project that'll be useful to you in the long run, you can also make your own hush box. It may take a bit of practice, trial and error, and general handiness, but the finished product will be worth it—and an excellent addition to your own home theater.