A question that I am commonly asked by visitors to the website, is what's the best; an inflatable outdoor movie screen, or a standing one such as the DIY kits you can purchase.
The answer to the question is not a simple one, as it will be down to personal preference, the space you have, how you want to use your outdoor movie screen, and in some cases the cost.
Inflatable Outdoor Movie Screens vs. Standing Outdoor Movie Screens
If are not sure what you should choose, and I honestly don't blame you as it can be a complicated process if you are new to backyard movie nights, then take a read below of my views on the different screen types.
Once you've had a read through all of the information, go take a look at my recommended screens page. On there you can choose different outdoor screen types depending on the type you have decided to go with, plus the price that you want to pay. I have listed products to suit all budgets.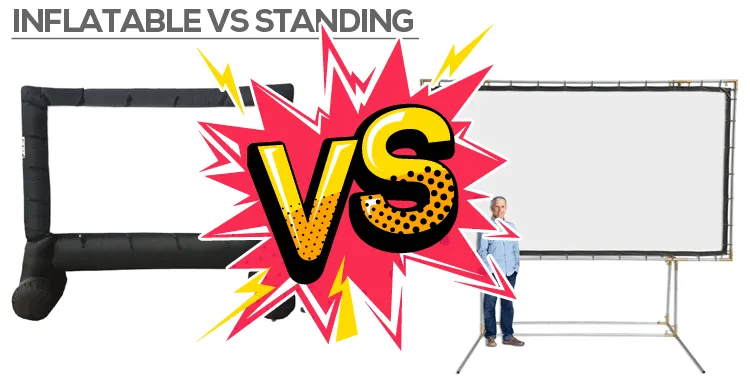 Why Choose an Inflatable Outdoor Movie Screen?
Inflatable movie screens have come a long way over the last couple of years. They offer a quick and simple solution for anyone wanting to watch movies or sports in their backyard.
All you do is connect them up to the mains, power on the fan blower, and it will inflate in sometimes as little as 60 seconds depending on how large a screen you bought. But, you will need to keep it constantly inflated with the blower whilst watching the movie. This can create a little bit of background noise, but providing you have decent speakers shouldn't be a huge issue.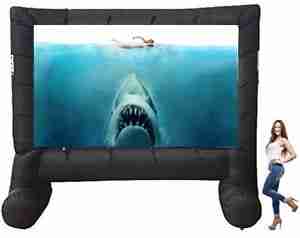 The great thing about them is that they are easy to move around, but once you have settled on a spot to put it up, you will need to tether it to the ground. If you don't do this, chances are that it's going to sway in the wind and move around… which will lead to a rubbish viewing experience.
The fact you have to tether to the ground brings up another factor that could put you off. You can't hammer tent pegs into decking or concrete, so you would have to find another way to secure it down – possibly using weights – but this never seems as secure as cord and tent pegs. Think about where it's going to be set up and whether you will have soft ground to secure it.
Whilst a little bit of rain won't harm an inflatable movie screen, you have to be very aware of the fact it is powered by electrics. You need to keep water away from the blower element, and I certainly wouldn't recommend leaving it out overnight.
Another possible downside to consider is the cabling. Because it needs power you might be limited as to where you can put it up, plus there will be cables running along the floor which add a trip hazard, as well as complicating your movie night set-up significantly.
From a price perspective, most of the time you can pick them up cheaper than standing screens in a frame, but overall the screen material isn't' always as good.
On a positive note, they are really quick to take down and store. You simply switch off the blower and then fold it all back up and put it away.
You Asked: What are the advantages in using an inflatable movie screen? Read the pros and cons to using this screen in the section below to help you choose the best product type for you.
Pros 
Easy to assemble in seconds
Tend to be cheaper than other screens
Easy to take down and store
Simple to transport from place to place
Cons 
Requires electricity to power the blower to keep inflated
Can move around and sway in windy conditions
Can be noisy due to the blower fan
Cannot be left out for long periods
Rarely tend to have rear projection capability 
Recommended Products
Why Choose a Standing Outdoor Movie Screen?
The alternative option would be a standing outdoor movie screen or a hanging one. You can buy DIY kits online that come with everything you need to put them together, but they will take a lot longer to assemble than inflatable screens.
So why would you buy a standing or hanging frame-based screen?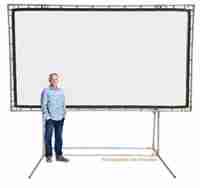 For me it comes down to four main factors; the viewing experience and quality of material, their portability, the lack of having to power with electricity, and you can leave them up once assembled with no real concerns other than weathering.
Most outdoor movie screen kits on the market will let you either hang or stand the frame. That means you have a far wider scope for where you place the screen, and you can move it around with ease, and position it pretty much where you like. Once you've set them, it's also possible to secure them a lot better, and generally speaking, they stand up better to windy elements compared to inflatable models.
However, setting them up for the first time, will take longer and can be complex. It might require some additional DIY skills, but above all, your time to assemble will be greater due to the separate components you will need to fix together.
But the great thing is, once you've set yours up, you can leave it there and not have to worry about packing it away once the movie is over. You can leave it hanging in place or standing in your backyard – as long as you have tethered and secured it well enough.
You Asked: What are the advantages to using a DIY outdoor movie screen kit? You can see my opinion in the pros and cons below which will help you in deciding what to choose.
Pros 
Easy to clean and maintain
Can be left in place for long periods of time
Require no electricity connection
Screen material tends to be of a better quality
Tend to be more robust and hardy
Can be hung up on a wall or pergola 
Cons 
Take longer to assemble and takedown
Can be more expensive than inflatables
Not as simple to take to a new venue 
Recommended Products 
Conclusion on What's Best 
There are advantages to both types of screen, and the one that you opt to choose really depends on your plans.
If you have aspirations for throwing multiple outdoor movie parties over summer at your home, then I would recommend you buy a standing outdoor movie screen, get it tethered and secured, and simply leave it up for a couple of months.
If on the other hand, you are just testing the water with backyard movie nights, then a cheap inflatable movie screen is probably going to be the best option. It's also a good move if you are going to be running movie nights at multiple locations, such as alternating the movie night from one house to another.
I wish you all the luck with your plans and would love to hear how you got on, and whether you feel you made the right choice or decision. Get in touch using the contact page.