There's a new inflatable movie screen on the market at the moment, sold on Amazon by a brand called Holiday Styling. With the summer fast approaching, I thought what better time to do one of my product reviews, so we can see how it compares against the competition.
First things first. They have 2 different-sized models, so before you even think about buying one you need to measure up properly to make sure you have enough room in your backyard. Once that's done, it's decision-making time, and I am going to make this as easy as possible for you. Here are the two models, with links to the latest Amazon deals on both:
What you have is the choice between a 16-foot diagonal model (the Huge screen), and the 19 foot diagonal larger version (the Mega Screen). They are both identical apart from how large the screen is.
You can see the dimensions in the product comparison table set out below.
| | Huge Screen | Mega Screen |
| --- | --- | --- |
| | | |
| Total Height | 10.3 ft | 11 ft |
| Total Width | 14.4 ft | 19 ft |
| Screen Width | 10.4 ft | 15 ft |
| Screen Height | 6.3 ft | 7 ft |
| Diagonal | 16 ft | 19 ft |
| Aspect Ratio | 16:9 Widescreen | 16:9 Widescreen |
| Weight | 18 lbs | 25 lb |
| Buy Online | > View on Amazon | > View on Amazon |
So would I recommend it?
Well, that really depends on what size you want to choose, let me tell you why.
You Could Save $100 and Spend Under $150 Instead
If I wanted the smaller version which has a 16-foot diagonal then you are going to be spending around $150. What I would do instead is buy a similar-sized product from the EasyGoProducts brand. It's cheaper at less than $150, and just as good.
By shopping with EasyGoProducts you could end up saving around $100. You can read my review of this similar-sized inflatable screen to see how much cheaper it is.
Please note though, the Holiday Styling screens do support rear projection, whereas the EasyGoProducts models don't. So depending on your backyard set-up, you might still want to purchase this brand. Having said that though, if you do a project from the rear, the large feet at the back could obscure the view somewhat.
Buy This Screen if You Want to Go Large
But, if you want to go large, and have the room for the 19-feet diagonal version which is the Holiday Styling Mega Screen, then I would have no issue in recommending this product. For the money, you pay there's nothing really comparable on the market.
Now, unfortunately, EasyGoProducts don't do a 19-feet model. If they did then I would recommend you choose them, but they don't so the option should be the Holiday Styling Mega Screen.
I don't want to take anything away from the Holiday Styling movie screen. They are both really good products, I just wish they competed on price better.
But the difference in price is down to a few key areas, where the quality of the product is actually very impressive.
For example, it is made from triple grade 600DD fabric, which offers a much more durable quality than most outdoor inflatable movie screens. Let's be honest, this can be a massive consideration as a lot of backyard movies might have people tripping into the screen. It should stand up to this type of punishment.
It also has Velcro backs which help to smooth out any wrinkles in the screen. This is a massive issue with cheaper inflatable screens, and it is one of the reasons why these products are more expensive than the rest.
Setting the Inflatable Screen Up
This is the acid test, as ideally, you want an inflatable movie screen to be as simple as possible to set up. Thankfully this is.
When it arrives, this is what you get:
Inflatable movie screen frame
Fabric screen
Tent stakes to tether to the ground
Air blower to keep inflated
All you do is unroll it and set it out on the ground. Then attached the cloth screen inside of the frame area. At this point, you can also use the Velcro tags which let you pull the screen material tight.
Next, you connect up the air blower that's included to a small cloth tube at the rear of the projector. that comes with it and then switch on with the mains power.
The screen should inflate inside of 2 minutes, but you will need to keep the blower on to keep it inflated.
Don't forget to tether it to the ground using the stakes, ties, and rings that come included with the product, and make sure to pull those tethers as tight as you can to ensure it's stable and won't move around.
The Movie-Watching Experience
The most important part, right?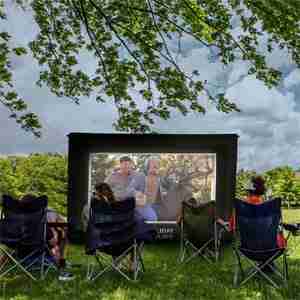 Your movie will be projected onto a material screen, which admittedly is a little thin. This means if you are watching before sunset then you are going to have issues unless you have a movie projector that has a very high lumen rating.
For the best viewing experience wait until darkness has fallen.
This issue isn't exclusive to the Holiday Styling inflatable movie screen, it's an issue with pretty much all inflatable screens of these prices, so don't let this put you off if you are still deciding whether to buy or not. It's not an unusual feature.
If you do want a movie screen that you can project onto during daylight hours you might need to spend in excess of $3,000 dollars, so for the money, this screen offers the viewing experience you would expect.
Taking the Inflatable Screen Down
It's as simple as turning off the air blower that comes included with the screen package. It will take just a few minutes to collapse completely, but you will need to squeeze any air out – in a similar fashion to those kid's inflatable paddling pools.
Another one of the good things about this screen is that you don't have to re-attach the screen once it's inflated. It's already built-in.
With that in mind, I tend to keep the screen attached for next time, and simply roll the whole thing up, and then tie it up into a roll. This saves me time in having to re-attach the screen every time I want to use it.
Pros
The screen is material, and can be pulled tight so doesn't wrinkle
It's sturdier and more robust than similarly priced alternatives
You can buy a large version (19 feet) at a very competitive price
Cons
It doesn't come with a carry bag, that's sold separately
The 16-feet model is more expensive than rival products
Want a Mini-Movie Screen for Kids or Camping?
Since writing this review, I've now noticed that Holiday Styling offers a very small inflatable movie screen that is ideal for kid's parties or if you want to watch a movie whilst camping.
Their small mini-movie screen is super cute, easy to travel with, and inflates within seconds. I thought it worth mentioning, as it's something I am seriously considering buying for our next family camping trips. You can check it out on Amazon.
Holiday Styling Inflatable Movie Screen Review
Frequently Asked Questions (FAQs)
Does it Support Rear Projection?
Yes, which is one of the elements that does set it apart from the competition. The screen is made from a cloth material which allows for light to go through it. There is no black backing on the screen, so you can set up your projector behind it. But you won't have a great viewing experience if watching from the rear, as the leg support protrudes out to the back.
Will it Work Indoors?
Yes, and in fact, I've seen people use it in gyms and school halls very well. You will need to weigh it down though – the best way to do this is to tie the tethers into weights to stop it moving around, as obviously you can't drive stakes into an indoor floor! Similarly, if you want to set this up on wooden decking or on a patio floor, you will need to use weights or heavy objects instead of the stakes (tent pegs).
How Much Room Will It Take Up When Stored?
After you've watched your movie you can easily store it as it's about two feet long when rolled up and tied. It's worth noting that it doesn't come with a bag, you have to buy that separately which is a bit of a shame. If you want something that comes with a bag for easy storing, then again, I would recommend that you look at the EasyGoProducts range – you can read my review of their models by clicking here.
Is it Waterproof in the Rain?
The inflatable screen is made from vinyl and fabric, so is fine in a short rain spell, but the actual blower fan is electrical so you would not want that to get wet. In very short spells of rain, I would ensure that the blower is covered, as this needs to operate all the time you want the screen inflated. If your screen does become wet, then do not roll it up and pack it away. Make sure that it's completely dry before you store it, as otherwise it might become marked with mold and damp streaks.
Is the Blower Fan Loud?
Not really. If you are sat right in front of the screen then you will hear a whirring noise in the background, but overall once the movie soundtrack is playing you shouldn't hear a thing. If all else fails, turn up the volume of your movie! When running a backyard movie night, many projectors you buy will come with built-in speakers, but I always recommend you also use an additional sound source such as standalone speakers.
Does it Come with a Projector?
No, and there aren't many on the market that does. You will need to buy a projector separately in order to watch movies, plus speakers and some form of media playing devices such as DVD, laptop, smartphone, hard disk, or tablet to actually play the movies from. You can find out what you need on the recommended gear and set-ups page where I lay out some options for you.
Will it Blow and Sway in the Wind?
Yes, if there are windy conditions, you are going to get some degree of movement. However, it has to be tethered to the ground with ropes and pegs, so if you pull those tight enough it should be relatively stable. If you are planning on using this in a very open space, then the tethering down is going to be one of the most crucial aspects, so make sure it's very tight and secure.
How Many People Can Watch a Movie at Once?
This entirely depends on how much room you have in your backyard or the outdoor area you are setting up in. I've had backyard movie parties of 30 plus people using a screen size such as this. You might want to consider placing it on a raised platform for very large parties.
Review Conclusion
Should you buy this screen?
It comes down to a few factors. If you want something that's large and at a reasonable price, then for sure, opt for the Holiday Styling Huge Screen with the 19 foot diagonal.
However, if price really is an issue and size isn't so important, I would instead purchase the 16-foot EasyGoProducts alternative which is better value for money in my view (buy on Amazon).
In terms of spec, they are very similar, but the price points are very different as you can see by comparing them on Amazon.
I am hoping that Holiday Styling looks to bring their prices down soon, as well as offering a bag as part of the package. Until they do that, it's not my preferred inflatable screen for outdoor movies on a budget.
But as a final thought, I can't say that you would regret buying this inflatable movie screen, as it truly offers reasonable value for money. The only issue is that you can buy cheaper brands that are just as good. It will last for years and is one of the more robust on the market. It might pay to shop around though, just to check that there aren't any better deals currently on offer.