Teenagers. They are a tough crowd.
But having said that, planning an outdoor movie night for your teenagers and their friends is one solid tactic I have used for getting them onside with me, even if it is just for one night only!
No matter how old you are, everyone seems to love a backyard movie party, and that's especially true with teenagers.
But there is one hard and fast rule I always apply when planning an outdoor movie night for teenagers which is below.
Once it's set-up, leave them to it and let them crack on with the party.
You need to give them their space and the responsibility to let the movie night run through with no interference from annoying adults unless of course, things do get out of hand!
My family has had outdoor movie nights for teenagers regularly down the years, including landmark celebrations such as 16th or 18th birthdays.
We have also let them watch movies in the backyard for college hook-ups, graduations, and simply just as something for them and their friends to do over the summer when they are stuck for things to do.
Now elsewhere on this website, you can see my guide to planning an outdoor movie night, but I felt it didn't really address the teenage demographic. Hence putting this quick article together.
So with that in mind, here is my guide to planning a backyard movie night for teenagers, including some tips on how you can make it a night to remember for them and their friends.
Why Have a Teenage Backyard Movie Night?
My view on the kids in my family is that most of the time they can be trusted, but they are always pestering me to let them have a party at our house. They want to invite their friends over, and the fact that I already have all the gear for outdoor movies means I get asked a lot.
But I don't want the place trashed, and the idea of having teenagers running around my house isn't the most appealing.
But with a backyard movie night, I know that I can keep them in a safe and controlled environment, whilst giving them just enough freedom to not feel like the adults are getting in the way.
What You Will Need
An outdoor movie projector (view recommended products)
An outdoor movie screen (view recommended products)
A media player to play the movie from
Speakers for sound
In terms of the actual projector you need, there's a guide here to read which will help you in choosing the right product to select.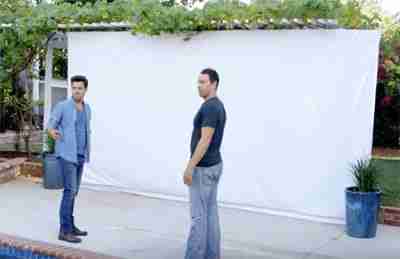 For the outdoor movie screen, you don't necessarily have to buy one. You could instead build one and I have put together some instructions on how to do so. It will require a little bit of DIY knowledge but should be easy enough providing you have all the correct materials.
For your choice of media player, most outdoor projectors can accept devices such as DVD players, smartphones, laptops, tablets, and even USB sticks or online streaming services.
And finally, I mentioned the speakers.
Your outdoor movie projector will probably have in-built speakers, but these are not going to be sufficient for a larger gathering, especially a gang of teenagers.
Any speakers that you can connect up to your media player should be fine, although I tend to prefer Bluetooth and wireless ones. This eliminates any loose cabling that could present a hazard, in particular in a backyard with high-spirited teenagers in attendance.
What Type of Movies Should You Supply?
My experience is that movies for teenagers at outdoor parties don't have to be particularly good ones and in fact the sillier the better.
In my day it would have been movies such as the National Lampoon's series. For a more modern update and depending on the age of the teenagers perhaps things like Scream, American Pie, or Ten Things I Hate About You.
Ultimately though, perhaps you should leave it up for them to decide, as long as it's age-appropriate and isn't going to cause you any problems with your neighbors or other parents.
Setting Up the Backyard Movie Venue
Teenagers are a law unto themselves, and in most scenarios, I recommend the use of chair seating for outdoor movies, as it's much more comfortable.
However, every single teenager who has attended a backyard movie at our place has sat in front of the movie screen on a blanket. I don't even bother placing chairs out now when it's just a teenage audience, it's a waste of time as they just want to lounge around with their friends at the ground level.
You should ask the teenagers coming to bring their own blanket and cushions, and ones which their parents won't mind getting dirty.
Let Them Play Music Afterwards
Once the movie is over, let them take advantage of the speakers by playing their own music and having a party for a while if they want to.
As long as you aren't disturbing your neighbors, I see no harm in this and lets them a little bit off the leash to have fun. You may as well let them do this, considering everything is already set up to do so.
Other than that, as long as they have snacks and drinks, just let them get on with it.
Final Rules for Teenage Outdoor Movie Nights
I opened up this post with the most important rule, which was to give them the freedom to get on with it, in the absence of any prying adults – within reason of course.
There are some other rules though, which I think are important when considering this type of event.
Have a cut-off point when they know the party is going to have to finish
Tell the neighbors well in advance that the event will be happening
Give them disposable plates and cups – no glass
Get them to bring their own blankets and cushions
I also wanted to mention, that if you have younger kids, then you might want to read my guide to making backyard movie nights more fun for kids. There are game ideas in there, as well as tactics to get them actually watch the movie and keep them engaged.
Want to Know More About What You Need?
Whether you are an experienced backyard movie fan, or just want to get started, you might find my recommended gear section very helpful. Dive into that on this link, and you can quickly browse through a selection of products including screens and projectors that are split into different price brackets.
The gear page has something for everyone and means you can order the most highly recommended technology you need to have the perfect evening.