There's nothing better than gathering friends and family for an outdoor movie night on a warm summer evening.
Watching movies indoors is great, but staying inside can make you feel cooped up and disengaged.
The fresh air, the stars in the sky, and the togetherness present while viewing movies outdoors make it a memorable experience full of family fun, whether you're watching a classic like the Mighty Ducks or Willy Wonka or something more recent like Black Panther or the Lego Movie.
Whether you plan on watching movies outdoors regularly or just on special occasions, we have you covered! 
Keep reading to find out what five things you need to have a perfect family movie night in your backyard with your kids.
What Are The Benefits of Backyard Movies?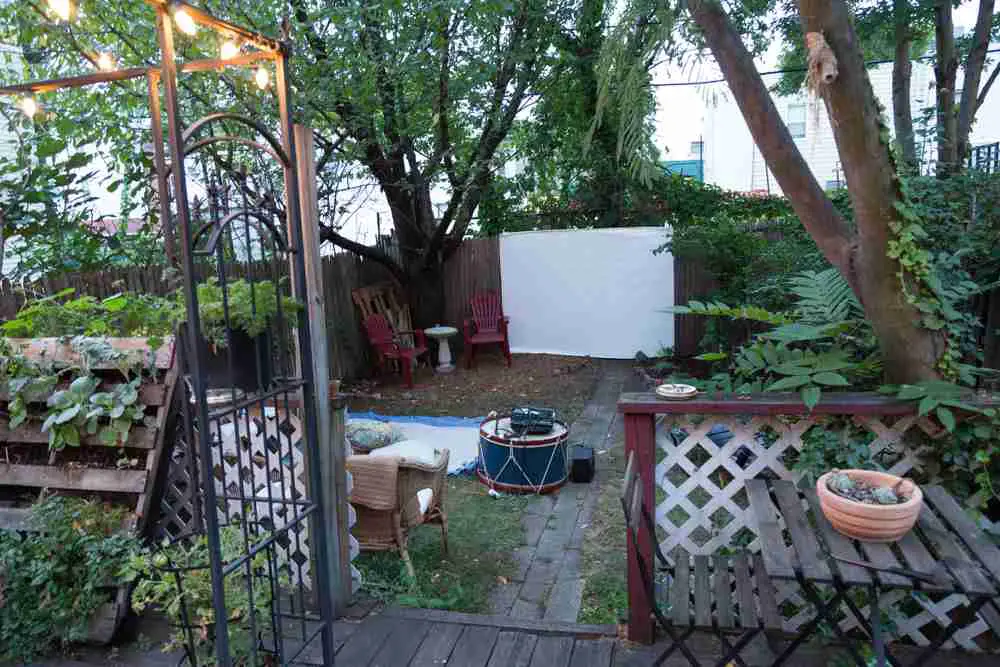 There are many reasons to love outdoor family movie nights, as you and your kids will benefit in many ways from the experience – here are just a few:
They're Affordable
All you need for a great movie experience is a projector and something to project onto, like a projector screen, and you're good to go!
No expensive tickets are necessary, and while a projector or mini projector and a screen may feel costly upfront, you'll realize these products can last several years with proper care.
In other words, it will pay for itself.
Enjoying Backyard Movies = Versatility
Whether it's a sunny day or a starry night, there's always time for an outdoor movie! It can be an impromptu occasion (once you have our 5 essential items that you need for a perfect movie night, of course).
All you need is some ambient light and the right supplies, and you can enjoy your favorite movie no matter what the occasion.
Most Importantly…they're fun! 
Everyone loves watching movies outdoors, surrounded by friends and family.
There's just something about it that makes the experience all the more enjoyable.

Rather than keeping your kids indoors or heading to a crowded theatre, the act of setting up a perfect backyard movie night together and enjoying a film under the stars will create lasting memories for all!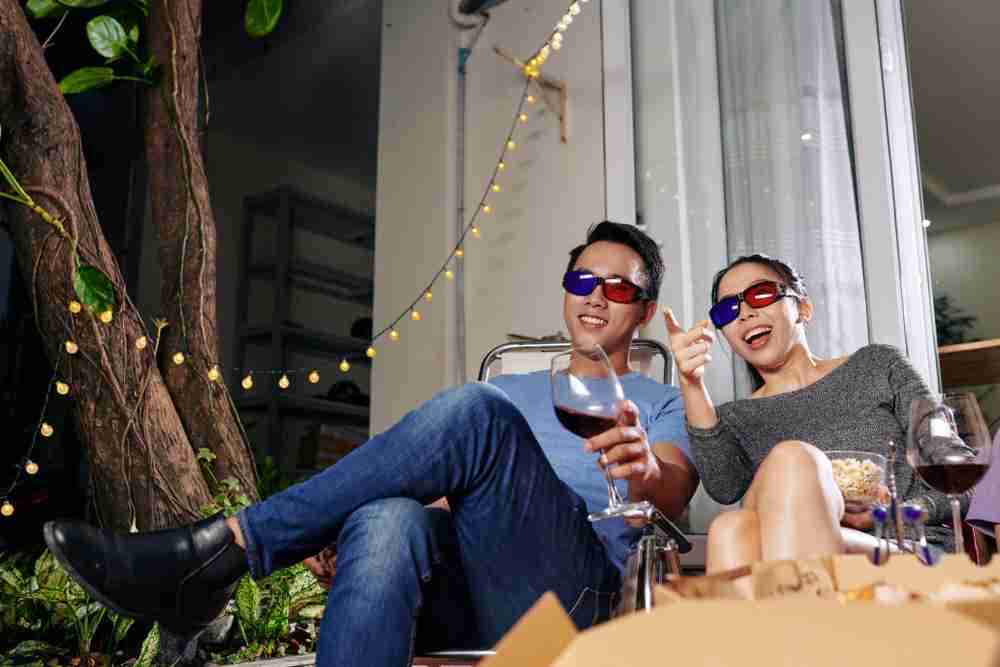 What Products Do I Need and Why?
While you can get creative beyond these recommendations, here are five products you need to have to create the perfect outdoor movie night for your kids:
1. A Projector 
A projector is essential, as you wouldn't be able to show a movie without one! There are plenty of budget-friendly options available that are compact and convenient, many of which have several connection options!

We recommend this 2022 Portable Mini Projector because it's compact and costs very little.
This reliable little projector has great sound and 80% noise reduction fans to keep it cool (but quiet), perfect for projecting movies onto a variety of screens. It is compatible with Mac, Apple iOs, Windows, Android, BluRay Players, and PS4s and has USB and HDMI ports. 
2. A Projector Screen
A wrinkle-free projector screen is also essential, as you want to be able to enjoy quality imagery with your movie. Investing in a projector screen doesn't have to be daunting; there are plenty of styles (more listed on our website), but we recommend this 100 inch 16:9 foldable screen:
The thick material of this screen makes it ideal for outdoor use; it's wrinkle-free and can easily be set up.
3. Speakers
While some may find their projector produces a great sound quality, depending on the size of your backyard and your surroundings, hearing the movie while being surrounded by outdoor sounds could be tricky.
If you have a Bluetooth-compatible projector, consider investing in a small speaker to keep near your seating area so you and your family can hear the movie. This will also allow you to control noise if neighbors are close by!
We recommend the JBL FLIP 5 IPX7 Waterproof Speaker as it can still be used if some light rain or humidity is present, and offers a fantastic 360-degree surround sound experience. Plus, it's inexpensive and available in a variety of great colors!
4. Comfortable Seating
Ensuring your family is comfortably seated during your movie is essential.
If you have little ones, ensure they're content and warm so that they can pay attention to the movie.
For viewers of any age, comfort is also important. Sitting on a lawn without padding isn't advised!
Consider purchasing from the Intex Inflatable Furniture line, as they are reliable and durable with several options.
The Intex Inflatable Ultra Lounge Chair With Cup Holder & Ottoman Set is a great option for anyone looking to get their hands on some inflatable, comfortable furniture to use during their backyard movie night.
It can be inflated and deflated easily and is fun for families of all ages.
It will be just as comfortable as the couch, but without being trapped indoors!
5. Snacks
Supplying your family with snacks while they binge-watch movies outdoors is essential!
When kids get hungry, they become restless. And, who doesn't love going to the movies and enjoying the food?
Because you're at home, you do have the option of preparing any number of dishes in your kitchen.
However, we recommend grabbing some easy snacks.
The College Crate Ultimate Snack Box is a product we recommend if you're looking to supply more than popcorn and soda to your hungry family!
If you plan to host several backyard movie nights throughout the year, this crate of 40 assorted, brand-name candies will cost you less than a dollar per item!
You'll have plenty of snacks on-hand anytime you decide to have a backyard movie night.
Final Thoughts
Whether you're looking to host your first of many outdoor movie nights in your backyard or already do so on a regular occasion, investing in a projector and screen as well as comfortable seating, sound systems, and snacks will provide warm memories and family fun. 
Pick the best family movies, like Toy Story, Monsters University,  or The Little Mermaid, or something life action, like Harry Potter, Mary Poppins, Princess Diaries, or the Parent Trap.
Or, you can go for classics like Peter Pan, Swiss Family Robinson, Jurassic Park, Star Wars, or The Princess Bride that appeal to older kids and parents alike.
For more inspiration and ideas on how to have the perfect family movie night with your kids in your backyard, visit our website!