Putting on your own backyard movie night or outdoor movie party has never been easier, with a wide range of easy-to-set-up products having flooded the market in recent years.
Deciding which projector to buy is probably one of the aspects which require most investigation. But when it comes to the actual screen, things get a lot simpler as the decisions become easier on what you should buy.
You either have to choose whether you should build a screen, buy a free-standing or hanging screen, or invest in an inflatable version.
Find Out Why I Consider it the Best
I am going to assume you've made your mind up on an inflatable movie screen already, and my recommended product brand in this area is EasyGoProducts. They have two large inflatable screens that don't cost too much and are extremely easy to set up.
All you need to choose is how large you go as they currently range a 14-foot (Mega) or 16-foot (Mega XL) model.
But should you buy one, and are they any good?
Here's my professional opinion based on my years as a consultant for outdoor movie screen set-ups.
For the money you pay, you won't get a better inflatable movie screen for the home and backyard at this price. The smaller version is available for less than $150, it's quick to set-up, and easy to take down again. 
If you are looking for a commercial solution, then this might not be for you as they are rather limited in size, but for someone simply wanting to throw regular backyard movie nights they are excellent.
You Can Purchase for Less Than $150
The two different models are listed below. Click the links to see the latest prices on Amazon, they are regularly discounted meaning you should not have to pay anymore than $150 if you want to get started.
What's the Difference Between the 2 Versions?
The only difference is the size. Fundamentally they are exactly the same product, the only difference being the overall dimensions. Below is a table that shows the size differences so you can make your choice – please measure up your backyard space before purchasing and plan how your entire set-up including projector and seating will appear.
| | Mega Screen | Mega XL Screen |
| --- | --- | --- |
| | | |
| Total Height | 9.5 ft | 12 ft |
| Total Width | 10 ft | 13 ft |
| Screen Width | 8 ft | 11 ft |
| Screen Height | 4.8 ft | 6.6 ft |
| Diagonal | 14 ft | 16 ft |
| Aspect Ratio | 16:9 Widescreen | 16:9 Widescreen |
| Weight | 11 lbs | 16 lbs |
| Buy Online | > View on Amazon | > View on Amazon |
Setting the Inflatable Screen Up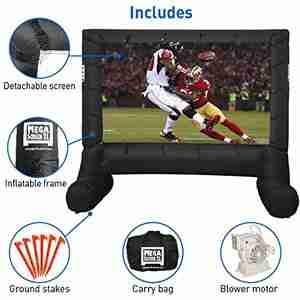 When it arrives, it's boxed up and weighs around 11 pounds in the Mega version, and 16 pounds in Mega XL. Once you've unwrapped the packaging you will be presented with only a few items, as the ease of assembly is relatively simple.
It contains:
Inflatable frame
Detachable screen (white front, black rear)
Blower motor (mains-powered, not battery)
Ground stakes
Tie-down strings and tethers
My advice is to lay everything out on the ground, and prior to purchase I would also measure up the space you have available so you have a rough idea of the floor plan and where everything is going to fit.
It might sound obvious, but you will also need an outdoor movie projector in order to use this inflatable screen – it's a common question asked of these products when reading online reviews.
Once everything is laid out on the ground, you need to attach the white screen to the inflatable frame – but you do this before you've inflated anything.
Be very careful not to let the screen get wrinkled. If there are any wrinkles present then pull the screen tight into the frame as you attach it. Don't worry if you see slight wrinkles, you probably won't notice them once the movie is playing.
The entire process of attaching the screen takes around 10 minutes, but over time you should be able to speed this aspect up.
Loosely Tether and Stake it to the Ground Before Inflating
Once the screen is attached tightly, loosely tether and stake the screen to the ground. Do this before you inflate as you don't want a gust of wind to blow it before you've secured it to the ground.
You can now power up the blower fan to inflate the screen which will only take two minutes. Once that is done it pays to tighten the tethers up, and possibly re-stake them into the ground to make everything as taut and secure as possible.
The EasyGoProducts inflatable movie screen stays inflated due to the fan and blower that comes pre-packaged with the product.
You will need a mains connection as the blower will need to operate for the entire duration of the movie – if you switch it off it's going to collapse down.
Essentially it works the same way that an inflatable bouncy castle does at a kid's party, with air having to be blown into it constantly. Thankfully though, it is a little quieter, and I will come onto that shortly with some common FAQs lower down the page.
Watching a Movie on the Screen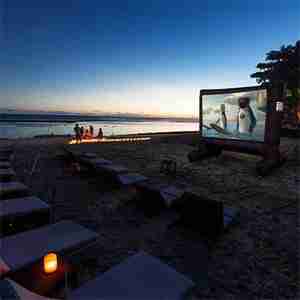 Providing that you have a projector and sound source (you can use the built-in speakers in your projector or media player) then it's now ready to use.
For the best viewing experience, wait until it is completely dark. You can watch movies at sunset or dusk, but it will depend on how good your projector is and the lumen rating.
The white portion of the screen is at a 16:9 ratio which is perfect for modern movies and has an overall size of 8 feet or 11 feet wide depending on which model you purchase the Mega or Mega XL larger version.
What I found was that the closer you are to the screen, the more you will hear a slight noise from the blower. Really though, this should not be a deciding factor given how low the price-point of the product is plus how easy it is to set up.
Taking the Screen Down and Storing It
This is where things get a little bit annoying, only because you have to get everything back into the bag that it comes with.
You turn off the blower and let the screen frame deflate. There is a zipper near the bottom next to the blower, unzip that and the air will come out a lot quicker.
Once collapsed you will need to detach the frame and un-tie the tethers before placing everything back into the bag.
The trick here is to try to not wrinkle or crease the screen if possible. The first time I did this I folded it all perhaps too many times, meaning I had a bit of a crease I had to flatten out the next time I used it.
The best way to store the screen is to actually roll it instead of the folding method. It should last longer this way, and will also mean you don't get annoying wrinkles next time you use it.
The only other aspect I would recommend is not to roll it up if it's wet. If you do it could get a bit marked with dampness and won't look great next time it's used.
And that's it. It really is that easy to assemble, use, and pack up again.
Pros
Easy and quick to set-up
Cheap and portable
Robust and durable
Cons
Needs to be staked to the ground so not ideal for decking or patios.
Can sway in the wind (needs to be tethered correctly)
Needs connection to a power supply to inflate with built-in blower
EasyGoProducts Mega Movie Screen Review
Frequently Asked Questions (FAQs)
Here is a short selection of questions that people have asked on YouTube since I first published this EasyGoProducts inflatable movie screen review.
Please don't be afraid to ask any questions as it can be confusing when first planning a backyard movie event. I want to make it as simple as possible for you.
Will it Blow Over or Sway in the Wind?
Let's be honest, if you have really high winds, then you are probably going to cancel the movie night anyway. In windy conditions, this inflatable movie screen will sway.
However, on a normal night with average weather conditions, you should be fine. This is because it comes with rings attached to the sides which let you tether the screen to the ground using the rope that's included when you buy.
It comes with ground stakes, tie-down strings, and tethers which should be ample protection. If you are up on a hill though or in an open space you might have sway problems, but in an enclosed area typically it performs well.
How Quiet is the Fan & Blower?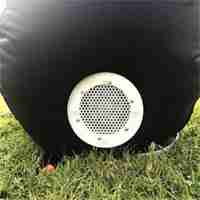 I've used inflatable movie screens in the past that have almost industrial-sized fans and kick out a lot of noise. If you've ever stood near a bouncy castle at a kid's party you will know the type of noise I am talking about.
Thankfully the noise generated by fan-operated inflatable movie screens is nowhere near as disruptive as it used to be some years ago, and this EasyGoProducts model is no different.
They advertise this as having a quiet blower but in truth, it's not 100% silent. However, it's quiet enough to mean that you can hear the movie's audio with no issues providing you have a decent volume.
If you are using a cheap outdoor projector with small built-in speakers as your only sound source, then you might experience issues – but generally speaking the projectors in the mid-range market of $300 and more tend to have speakers that will be fine when it comes to covering the blower noise.
If you are using an entirely separate sound system, then you will have no issues, apart from in quiet moments during the film when you will hear some quiet whirring from the blower.
To conclude, as long as you have a decent volume level or sound system, then there are zero problems with noise from the fan. It's akin to a whirring noise in the background.
Does it Support Rear Projection?
No, but for most backyard movie parties, this shouldn't be an issue. Most backyards I set up in a home environment will have the projector in front of the screen, projecting at an upwards angle.
I think that most people planning an outdoor movie night in their backyard or garden will automatically set their projector up this way anyway due to size restrictions so in most cases won't be a problem.
Will it Puncture or Tear?
The material is very strong vinyl. Of course, if you take a knife to it then it will tear just like anything, but otherwise, it's pretty robust.
The great thing about inflatable movie screens is that if you have rowdy guests who fall into them, then it should stand up to that type of punishment.
If you take good care of it, especially when storing it away then it should last for many years to come.
Is it Waterproof?
The EasyGoProducts inflatable movie screen is designed to be used in all weathers and it can stay inflated if it rains. It's manufactured from a heavy-duty vinyl material and the electric blower is housed inside one of the legs.
I've had a couple of short rain showers occur when using one of these, and my tip is to keep it inflated it's wet for just a few minutes – it will dry relatively quickly.
As it's inflatable and runs off the mains power (or you can use a generator), you won't be leaving it out for long periods anyway. I would recommend that you pack it away after use, as it could become moldy if left out collapsed down for long periods of time.
Ultimately though, if you get sustained rain, then the backyard movie night is going to be called to an end pretty quickly anyway, so in truth, wet weather is of no real consequence.
Do You Need a Projector?
Yes, this is just a movie screen and has no way of playing movies directly. Any film you want to watch will need to be projected onto it using an outdoor movie projector and media player of your choice such as a computer, smartphone, DVD player, etc.
If you are looking for a budget or higher-level projector then I recommend reading the reviews that you can find elsewhere on this website.
Do You Need Speakers?
Absolutely. As mentioned before, all you are buying here is the screen on which the movies will be projected onto.
There are no built-in speakers with the EasyGoProducts inflatable movie screen. Instead, you will need to either supply your own sound system or use the ones which come built-in to the projector that you are using – they should be ample enough sound for most backyard movies.
How Many Guests Can I Have?
Well, that's up to you. I've used the smaller Mega model screen at a party with 30 people, and all of the guests were perfectly able to see the screen with ease.
These two products aren't enormous screens by any stretch, but for most backyard movie nights, they will be perfect. Make sure you measure up the available space you have before purchasing and plan out how much room the screen will be taking up.
Ultimately this will depend on how well you arrange your seating plan, and the room you have in your backyard for your guests.
Is it Portable and Can I Transport It Easily?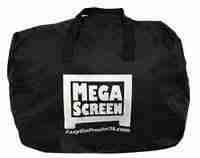 Once deflated, the entire package is still relatively large and is best stored in a garage, shed, or basement. In terms of space it takes up, it's similar to a large suitcase and weighs just 11 pounds if you choose the smaller model (the XL version is 16 pounds). It comes with its own bag, which you can see in this image.
You can take it to places, but you will need to put it in the trunk of your car. It's not something that I would advise carrying if you are walking to a venue, purely due to how bulky it can be when packed up.
Do EasyGoProducts Offer a Larger Version?
Currently no, which is a real shame because I love this inflatable screen. If you want to go larger, then my advice would be to look at the Holiday Styling mega model which has a 19-foot diagonal measurement (read my review here). It's very similar to the EasyGoProducts screen, just larger – you will pay a lot more money though.
Review Conclusion
Of all the inflatable movie screens on the market, this is the brand that I recommend. There are two models available in different sizes, but other than the size they are completely identical in terms of operation and storage.
You don't need any technical knowledge to set this up, as it's got easy-to-follow instructions and hardly any components to worry about.
It's perfect for those that want to throw a one-off backyard movie night, or if you are planning on having regular outdoor movies in your home.
For a cheap, no-frills option it's the perfect inflatable outdoor movie screen.