Whether you are throwing a backyard movie night for friends and family or planning a large-scale outdoor movie event, the seating will be key to your success.
Whilst you might have a romantic notion of just having blankets for guests to sit on, my experience is that many of them will want chairs, as it offers a far more comfortable viewing experience.
But that's not to say you cannot combine both to great effect.
In this short guide, I am going to show you some outdoor movie night seating ideas that I have collated from around the web, plus some of my own tried and tested methods.
The ideas will start off with ones to suit a small backyard movie night including some fun themes and will end up with seating plans for large, corporate, or public outdoor movie events.
Hot Tubs or Inflatable Paddling Pools
This themed idea for a seating idea is going to take a little investment, and participation from your guests, as you will need to tell them to bring their swimming costumes for this one.
I first saw the idea when in the UK on holiday. I attended a place called the Hot Tub Cinema.
The clue's in the name, but as you can see from the photo it's a really fun and innovative way to watch a movie with friends.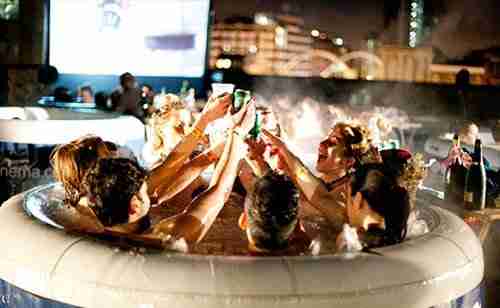 You might already have a hot tub in your backyard, but if not, you can buy a cheap inflatable one on a website such as Amazon.
If hot tubs are out of your budget range, then this outdoor movie seating idea can also work with those inflatable kid's paddling pools.
Recommended movies to watch with this seating idea? It has to be "The Hot Tub Time Machine" or "Jaws"!
Deck Chairs or Sun Loungers
Another idea from the UK again, with the Rooftop Film Club in London who set out deck chairs and sun loungers for their guests.
People can sit down, recline back, drink a cool drink and take the movie in. It's cheap, cheerful, and makes for a great event.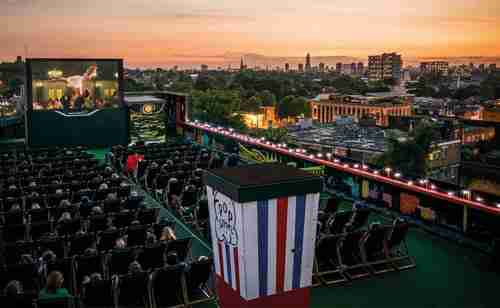 You might not want to hold a movie night on this kind of scale, but most people will have sun loungers in their backyard, so can provide some very comfortable seating for an outdoor movie experience.
Movies to watch whilst sitting in a deck chair could include two from Leonardo Dicaprio – "The Beach" and "Titanic".
Hay Stacks or Hay Bales
For that truly rural feel, how about sitting your guests on hay bales?
If you don't live near a farm, then don't ask me how you are going to get some and get them to your backyard! But if you can you could get something looking like this below: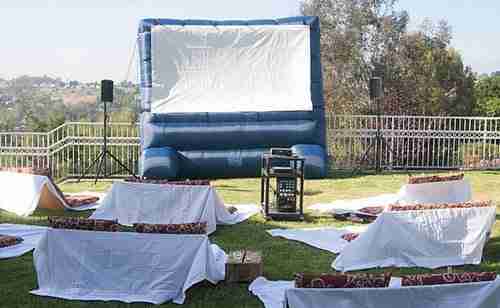 I have tried this one, it was good fun, but admittedly for the next week, I kept finding bits of hay walked into the house.
A great movie to watch whilst using a hay bale as a seat or chair idea would be "Babe" or "Blazing Saddles".
Cardboard Cars for a Kids' Drive-In
One of my personal favorites, as it brings back amazing memories from when my father used to take me to the drive-in movies.
All you do is make custom cars out of cardboard boxes for the kids to sit in. It's a great way to get them involved beforehand as well, as they will love customizing their own ride.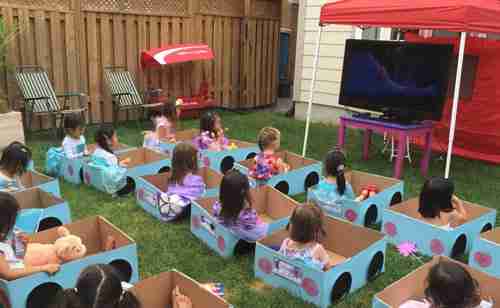 It's cheap, costs virtually nothing to do, and will keep the children entertained on movie night, and hopefully mean that they will sit still all night!
It doesn't matter what kids' movie you show, they will just love sitting in these!
Picnic Blankets and Bean Bags
Want something really cozy? Try picnic blankets (or any blanket really) as it offers a real outdoors feel.
Lay them out in front of your outdoor movie screen, and place all the food and snacks down for an amazing backyard movie night.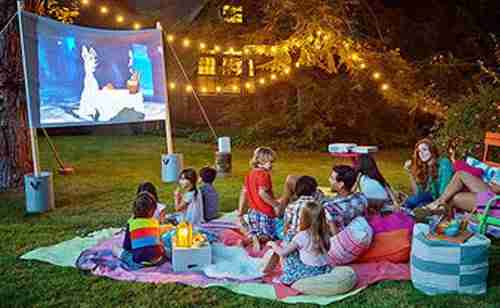 And for the adults, use some bean bags as chances your back and legs will start aching at some point, and the bags will offer some much-needed respite!
Stuck for movie ideas? Here are my top 10 outdoor movie suggestions.
Watch the Movie from a Swimming Pool
Earlier I spoke about those kid's paddling pools, but if you have an actual swimming pool in your backyard, then you can go the full monty and have a pool party. Just be careful of the electrics!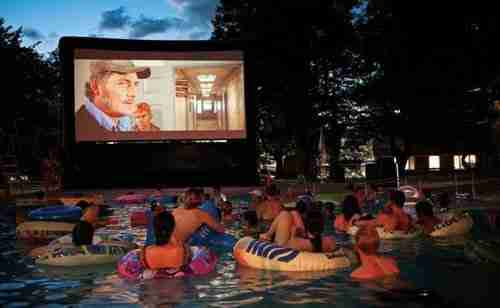 All you need are inflatables, swimming costumes, and some towels – and of course, be able to have a good view of the movie screen.
Suggested movies to watch from a pool would be "The Poseidon Adventure" and "Pirates of the Caribbean".
Air Mattresses or Air Beds
These can offer a really comfortable experience, especially if you can get the ones which you put up into a reclined position. Once set up, place some small serving tables in between the beds so your guests can easily reach their drinks and you're all set.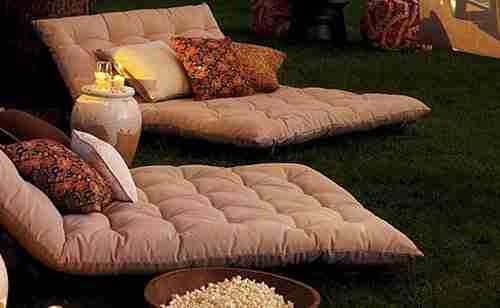 This seating idea works very well for a romantic outdoor movie night when there are just the two of you. Snuggle up under the stars and have a night to remember.
I've put a list together of my recommended romantic movie ideas to watch in your backyard this summer.
And Finally…The Best Seating Plan for Outdoor Movies
When you put your screen up you need to consider how well all of your guests are going to be able to view the movie. I always place blankets at the front of the screen if I have lots of kids at the movie night, as they will always be want to seated near the movie.
For the adults, I will then place chairs around the outside in a crescent shape. Don't go too far wide though with the crescent, as the people sitting near the edges might find it hard to see the projected image.
You can see a sketch below of how it works.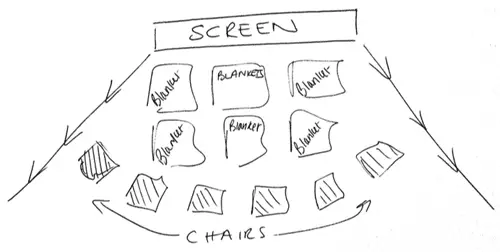 Do You Want to Organize Your Own Backyard Movie Night?
I hope that you have enjoyed these outdoor movie night seating ideas and that it gives you some inspiration
If you have never put on your own outdoor movie, then it's actually relatively simple to do. You just need the right equipment to suit your needs, and a little creativity if you want to make a truly special event.
I've put together the essential guide to planning your own night. Take a look at that, and if you are still stuck for ideas on what you will need to buy, take a look at this section.