The great thing about an inflatable outdoor movie screen is that you can set it up in no time at all, and be watching outdoor movies in minutes. They will last as long as you take good care of them, and are a great way of getting into outdoor or backyard movies.
Over the last decade, the prices have reduced significantly, with it now being possible to pick up a robust and large screen for less than $150 that will last you for years to come.
There are plenty of products on the market, but my recommended budget brand is currently EasyGoProducts Mega Movie Screens, and you can find out why below where I've gone into some detail.
If you want to buy this screen or check out customer reviews, then click here to see the latest prices on Amazon. You should be able to pick one up for less than $150, making it an affordable entry-level model that will suit most beginners.
Why Choose This Inflatable Outdoor Movie Screen?
It's all about price and simplicity.
Even if you have never put on a backyard or outdoor movie before, you can do so in minutes with this product. It only comes with 2 components you need to worry about; an inflatable frame and a screen that you have to attach.
To get started you simply attach the screen into the inflatable frame and then connect the built-in fan blower to your mains electricity to inflate it. It's important not to forget tethering it securely to the ground though, with stakes and ties also being included.
EasyGoProducts offer two different-sized models, and I've tested them both thoroughly. If you want an in-depth overview of what this screen offers then you can read the full review here, or take a look at how they both compare below.
| | Mega Screen | Mega XL Screen |
| --- | --- | --- |
| | | |
| Total Height | 9.5 ft | 12 ft |
| Total Width | 10 ft | 13 ft |
| Screen Width | 8 ft | 11 ft |
| Screen Height | 4.8 ft | 6.6 ft |
| Diagonal | 14 ft | 16 ft |
| Aspect Ratio | 16:9 Widescreen | 16:9 Widescreen |
| Weight | 11 lbs | 16 lbs |
| Buy Online | > View on Amazon | > View on Amazon |
Both products also come with a carry bag, so you can pack it back down after use, and store it away easily. They aren't heavy, and so you can take them to a movie night anywhere at any time.
Now it's worth mentioning that these aren't like the massive inflatable screens that you see in public and corporate outdoor movie showings – but there is no real reason why they can't be used in that scenario if you are happy with the size on offer.
You will get:
Inflatable frame
Detachable screen (white front, black rear)
Blower motor (mains-powered, not battery)
Ground stakes
Tie-down strings and tethers
How Large is This Inflatable Movie Screen?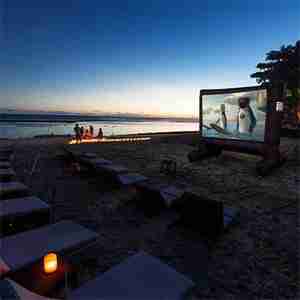 As you can see from the image where it's been set up on a beach, they are still very large in most people's eyes, and I've put on movie events with around 30 guests and these screens worked perfectly.
One thing to note is that they will need to be tethered to the ground. The package comes with ties and stakes, so you will be able to pin it into the ground to stop it from moving and swaying.
What this does mean though is that if you are planning on putting your screen on a patio or wooden decking, you might instead want to choose standing or hanging screen – you can get details on those too in my recommended screens section.
Want to Know More?
For more information on this product go take a look at my review of the EasyGoProducts Mega screens. My review contains a large selection of questions and answers, plus a run-through showing just how easy it is to set-up and start watching movies with.
The questions that people have been asking in my review include:
What's the difference between the two Mega Movie sizes?
How do you set the screen up?
Will it blow around in the wind?
Is the fan blower noisy at all?
Is it robust and sturdy or will it tear and puncture?
Does this screen allow for rear projection?
Is it waterproof or will it work in the rain?
Do you need a projector and speakers?
How many people can view the screen at once?
Is it easily portable?
Important Note
And finally; many people just starting out with backyard movies aren't entirely aware of what equipment they will need.
This is just your screen.
You will also need a projector and a media player from which to play the movies. Media players can be anything from a DVD player, smartphone, computer, tablet, or portable hard disk.
I've put together recommendations for everything you should need in my recommended gear section so take a look there if still unsure.