With the summer fast approaching it's a great time to start planning your outdoor movie nights. You might already have the basics and most of what you need to get started, but there are some other gadgets and products that can really make it a night to remember.
Here are 12 cool gadgets and product ideas for your outdoor movie party that you might not have considered before, all of which are guaranteed to make your guests want to keep on coming back time and time again.
Mini-Projector That Works Outdoors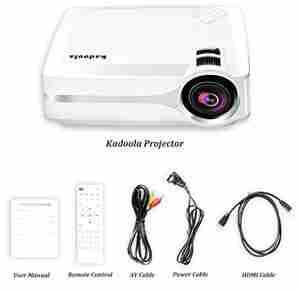 There are so many outdoor movie projectors currently available to buy. It's a market that has truly exploded over the last five years or so, especially since the demise of the drive-in movies (at least near where I live).
I've put together a list of recommended movie projectors that you can browse, but if you just want to get started with something that's cheap, portable, and easy to operate then go take a look at my review of the Kadoola Z495 mini-projector. It's not a bad product for the price and can usually be picked up for less than $100. 
Inflatable Movie Screen
When you're playing movies outdoors you can either project against a wall, a bedsheet, use a standing or hanging movie screen, or opt for an inflatable one. I recommend you always use a screen that's been built for your purpose, as you can then get the best viewing experience. But for pure fun, it has to be an inflatable movie screen!
I've extensively reviewed my favorite inflatable movie screen which is from a manufacturer called EasyGoProducts. Go read that review here and see what you think – I know that you will love it!
Portable Movie Screen
As I said, you don't have to opt for an inflatable screen, it's all down to personal preference and the layout of your backyard. If you would like something that is far easier to store and is actually a little bit more robust against the wind and elements then take a look at the hanging or standing models that are on the market today.
I personally love Carl's Place range of portable DIY outdoor movie screens. They are very simple to set up and take down again, and come at very affordable prices – you only need to read the online reviews to see how great they are.
Go take a look on Amazon for the different Carl's movie screens and choose one for your outdoor movie night this summer!
Waterproof Bluetooth Speakers
Almost all outdoor movie projectors will now come with built-in speakers. But honestly, they don't always cut the mustard in terms of sound, so my recommendation is to supplement your audio experience with additional speakers, especially for movie nights with more than 5 guests attending.
The AOMAIS Bluetooth speakers are a great purchase for this purpose and also have the added benefit of being waterproof. This should help to mitigate any bad weather – or even clumsy guests spilling drinks which is an occupational hazard!
With 30-hour battery life, you should be able to pack in quite a few backyard movie nights before you have to re-charge the speakers, and they offer a massive 30 watts of beefy sound – more than enough for smaller movie gatherings in your backyard. Go check them out, and you can also view the latest prices on Amazon – typically the AOMAIS speakers will retail at under $70 US dollars.
Portable Charger (Just in Case)
But what if those Bluetooth speakers do eventually run out of power? Never fear, because you can buy a portable charger with enough juice to keep you powered during the movie.
One of the better portable chargers is the Power Banks 22000mAh model with USB ports. You can also charge your smartphone and other devices with this pack, so makes for a sensible purchase if you are on the move with your movie nights.
Want to know more about this portable charger recommendation? Then go take a look at the latest Power Banks prices on Amazon.
Bug Spray or Insect Repellent
Yes, I know it's not strictly a gadget, but you will thank me for this recommendation. Backyard movie nights are often plagued with bugs and insects, and some like to bite humans!
They just can't resist the lights coming off your projector and screen, and will flock to it – just like moths to a flame. The answer to this common problem is to buy some bug spray. That way you can be well-prepared for an invasion of hungry insects on movie night.
Believe me, your guests will thank you once the biting and itching start!
USB Stick or Portable Hard Drive
You don't have to use a DVD player or laptop to run your movies. Many outdoor movie projectors now come with USB and HDMI ports meaning you can play media from a wide range of devices including smartphones and tablets.
I've often rocked up to a backyard movie night with just a small USB stick and mini-projector and been able to get the night up and running inside of just a few minutes.
Gone are the days when you would need to play movies from a DVD (or VHS video if you are old enough to remember!)
Extension Cables That Reach Your Equipment
Most outdoor movie nights will be set up using equipment that requires a mains power source. For example, if using an inflatable movie screen you will need to run the blower fan for the entire duration of the movie… and then there's the power you will need to run the movie projector and player.
Don't forget this core component of planning a successful movie night, which is the extension cables.
I once went to a backyard movie night run by a friend who set everything up, had the guests there, and then realized his cables were too short to reach the house. It's an easy thing to overlook so get extension cables so you have the freedom to place your set-up in the optimum viewing position and move your set-up around freely.
Subtle Outdoor Lighting
For a great effect that looks amazing, invest in some subtle outdoor lighting. It serves two purposes. Firstly it means your guests aren't stumbling around in the dark, and secondly looks great when set up in your backyard for when guests arrive.
I will often use string lights (view on Amazon) to illuminate pathways and routes back to the house, or those cool little lanterns that you can hang up or place on the floor.
Red Carpet Just Like the Oscars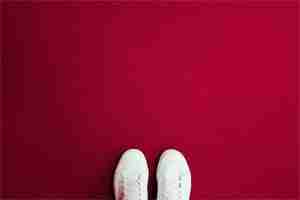 Make your guests feel like Oscar-winning stars with a red carpet leading all the way into your backyard. For a great theme, and to really make your night feel like a special event, then it goes a long way!
What I will also do is put a small DIY ticket office at the end of the red carpet, made from a cardboard box.
My kids stand in it, or by it, and take the invitations and homemade tickets from the guests as they reach the end of the red carpet before being accepted into the movie. It's a lovely idea that the kids love, and the guests really get involved with.
If your name's not down, you're not coming in!
Popcorn Machine or Popcorn Maker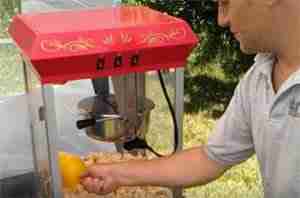 For that true movie experience, you can't go wrong with popcorn. It's expected!
But why not go the extra mile and actually have a popcorn stand set up? You can buy a cheap popcorn machine on Amazon that will mean your guests never go hungry and have a never-ending supply of popcorn (well, almost).
You can also purchase paper popcorn bags too which will help to give it an even more authentic feel at your backyard movie night.
Padding Pools on Hot Summer Nights
One of my favorite themes for our backyard movie nights involves those small inflatable kid's paddling pools for our guests to sit in. They are an awesome way for your guests to watch movies on a hot summer night – as long as the water is warmed up during the day.
Just make sure to tell the guests in advance so that they can bring their swimming costumes and towels, and then line up a water-themed movie such as Jaws or Titanic!
For more themed ideas for movie night, take a look at this recent blog post which contains seating ideas and the films each seating arrangement would suit.
Final Thoughts
If you are struggling to know what you need to put on the perfect outdoor movie night, then go take a look at the recommended gear section. You can do that here.
There are suggested outdoor movie projectors and screens to suit every budget imaginable. This hopefully means that you too can start to put on your own events for your friends, family, or neighbors.
Backyard movies are a great way to have fun over the summer, and I hope this list of gadgets and products has helped to give you some inspiration as to what could be possible!
I would love to hear how you get on! Good luck!