I recently had a small outdoor movie night at my in-law's house. It was the first time for most of those that showed up. They all loved it seeing moving on a big screen outdoor. They constantly commented on how clear the movies were.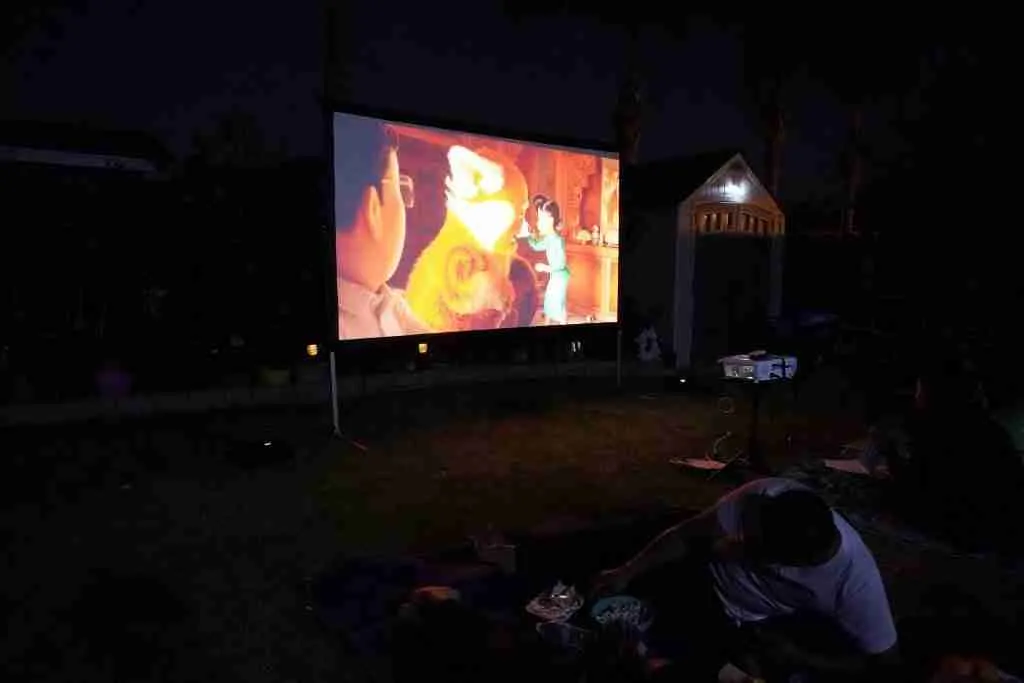 Below is a list of products that I used for the outdoor movie setup. I will try to break down the different components and how to connect them to each other. I hope this gives you some ideas on how you can have your own outdoor movie setup.
1. 120″ Projector Screen
Projector Screen and Stand 120 inch, JWSIT Upgraded 3 Layers PVC 4K HD 16:9 Outdoor Projector Screen, Portable and Foldable Video Projection Screen with Carrying Bag for Home Theater Backyard Movie
▶【Easy to Set UP】 The projector screen with stand 120" is ready for quick set-up in a few minutes. Just press the metal snaps around the portable frame to quickly fasten the projector screen to the one-piece frame flatly, detachable legs can be assembled easily with no tools required.
▶【Excellent Projection Display】1.1 Gian, Active 3D and 4K Ultra HD, decent size 16:9 aspect ratio, 160 degrees wide viewing angle, the movie screen is designed for providing sharp and high-resolution images, enriched colors, and supreme watching experience from the different viewing positions. Projector screen with stand, perfect for home theater, schools, offices, weddings, the church; can be used for PowerPoint presentations and other displays
▶【Convenient to Carry】The projector screen is made of lightweight but sturdy aluminum, the portable movie screen frame can be easily transported anywhere with included soft padded carrying bag and be well protected. The 120" outdoor movie screen folds super compactly than most 4K HD projector screens that making it easy to travel along with for family trips, camping, backyard movie night, etc.
▶【Stable Stand Wrinkle Free Screen 】Premium PVC Matte makes the projector screen wrinkle-free and easy to clean. And the frame is durable for freestanding in light wind for outdoor use. The Stability-Ensure Kit is included: 4 ground stakes, 2 rigging cords, and 2 support rings. You won't have to worry about the frame or legs bending or breaking in the wind.
▶【100% WORRY-FREE ORDER】The portable home cinema movie screen covers a 1-year manufacturer warranty, 100% satisfaction, Lifetime Technical Support. Just purchase this outdoor movie screen With stand freely! Any doubt or assistance please feel free to contact us.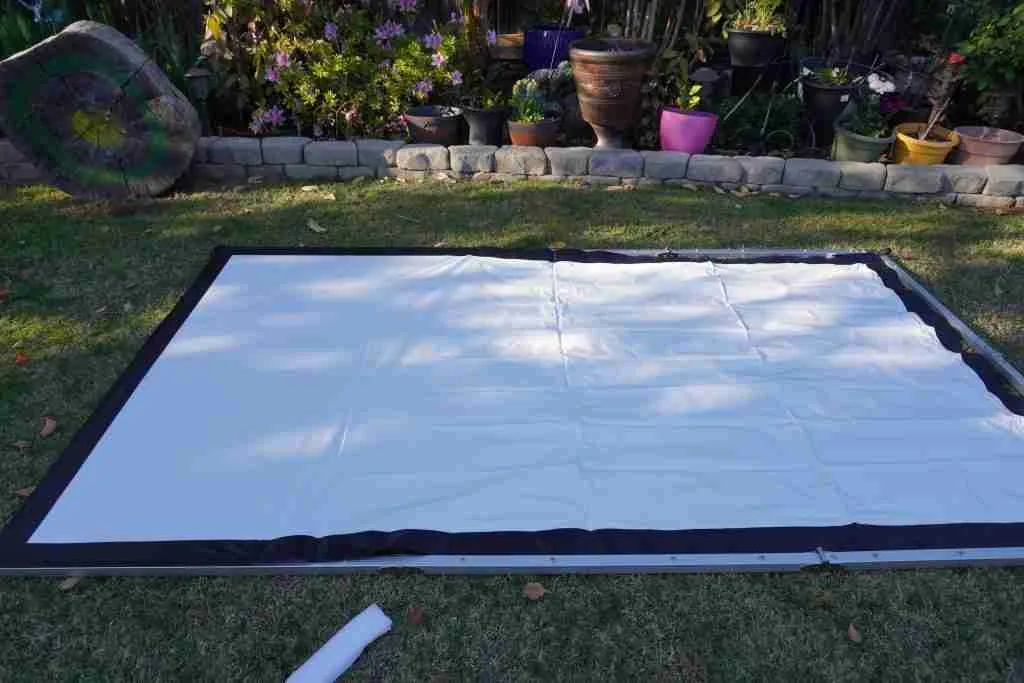 Read Full Review: 120″ JWSIT Outdoor Projector Screen Review
The first thing you want to do is set up a projector screen. I chose this particular projector based on its 5-star reviews on Amazon. This is a solidly built projector screen. Creases are non existent when you stretch and button down the screen to the Aluminum frame.
This is a 2 man job to setup the screen that should take no more than 5-10 minutes. You'll need one person to pull the screen while the other person buttons it down. I believe over time as the screen stretches, the projector screen setup can be done with one person.
I didn't need to anchor down the screen as there was no wind.
2. 100 FT Electrical Cord And Power Strip
Sale
Power Strip , Nuetsa Surge Protector with 12 Outlets and 4 USB Ports, 6 Feet Flat Plug Extension Cord (1875W/15A) for for Home, Office, Dorm Essentials, 2700 Joules, ETL Listed (Black)
【Power Strip with 12AC outlets & 4 USB】- Power strip surge protector with 12AC outlets & 4 USB charging ports (5V/3.4A, 17W), 6 Feet Heavy Duty extension cord(1875W/15A), surge protector (2700 Joules) with overload protection protects against spikes and fluctuations.
【12 AC Surge Protector Outlets】- The 3 level complementary Surge Protector Circuit which composed of TVS (transient voltage suppressor), MOV (metal oxide varistor), GDT (gas discharge tube), with minimum 2700 Joules energy absorbing capacity, could protect your devices much more quickly and reliably than other brand's 1 level MOV Surge Protection Circuits.
【USB Power Strip 】- 2 Special design widely spacing AC outlets (2 inches) for large adapters with 10 standard spacing outlets, 4 USB ports total 3.4 A/17W, each USB A port features 2.4A Max output. Built- with smart technology, detecting charging devices and deliver optimal charging speed automatically, compatible with Kindle and most USB devices.
【Safety and Certificate】- ETL safety certified, with extension cord and other major components certified by UL. The over current protection switch limits the power strip's working current to certain setting, so it will not get hot during usage. Environmental protection and fire-resistance PC shell with flame retardant at 1382℉ makes it more durable and longer lifetime.
【What You Get】- Nuetsa Power strip, Maunal, 30-day return, our worry-free 24-month, and reliable customer service will respond to you within 24 hours.
You'll need a 100 ft electrical cord that can provide power from your nearest outlet to where you will put your outdoor projector. Try to position the cords in away from foot traffic as much as possible. People will often get up for different reason and you don't want them tripping on the cord in the dark.
Invest in a good power strip. You'll need to be able to plug in your projector, Your streaming stick like a Roku stick, The Bluetooth transmitter and any other Blu Ray player you might use.
3. Projector Stand
Sale
Universal Laptop Projector Tripod Stand - Computer, Book, DJ Equipment Holder Mount Height Adjustable Up to 35 Inches w/ 14'' x 11'' Plate Size - Perfect for Stage or Studio Use - PylePro PLPTS2
UNIVERSAL PLACEMENT: The cool Pyle foldable device stand supports laptops, recorder, projectors, music notes, books, sound media equipment, etc. It can be used by musicians, DJs, performers, engineers, teachers, and students
ADJUSTABLE HEIGHT: This heavy duty portable tripod floor stand features an angle/tilt adjustable device holding tray with a plate size of 14 inch x 11 inch . Its height is adjustable from 22 inch to 35 inch for your convenience
VERSATILE USE: The thin folding computer table can be used for a variety of tasks such as for presentation, recording, reading, and speeches. With the stand's quick and easy setup it is perfect for home, on stage or in studio, indoor or outdoor use
GREAT FOR TRAVEL: The flexible professional projector mount stand is easy to travel with as it conveniently folds for storage and transport. The foldable tripod leg base and easy telescoping height adjustment makes this stand extremely portable
COLLAPSIBLE FRAME: The slim, light weight and ergonomic desk stand is collapsible and locks in place once set to the desired height. It is made from rugged and durable metal construction while its plate is made from ABS plastic
I went through about 3 different projector stand til I found the right one that works for me. The 1st one I bought was a projector tray that you can screw on to a camera tripod. I've found this setup works only for cheaper LED projectors. It didn't work for my projector as it sat too high and I didn't feel like the tripod leg was wide enough to give the projector stability.
The 2nd one I bought was made by Amazon. Its heavy duty and I like really like but it didn't work for outdoor projector as again it sat too high while my outdoor screen starts at 24″ from the ground. The stand could only til up but now down. I need a projector stand that sat really low.
This projector stand made by Pyle did the trick as it was low enough to work for an outdoor projector screen and I felt it was stable enough to put my projector on. Your able to tilt it up or down depending on the height of your projector screen.
Tips: add some type of strap to hold down the projector to the stand for more stability.
4. Outdoor Projector
BenQ HT2150ST 1080P Short Throw Projector | 2200 Lumens | 96% Rec.709 for Accurate Colors | Low Input Lag Ideal for Gaming | Stream Netflix & Prime Video,White
UNPARALLELED PICTURE QUALITY:: Native 1080p Full HD image quality with 2200 ANSI Lumens, 15, 000:1 contrast ratio, 6x RGBRGB color wheel delivers rich colors and crisp details that are calibrated for movies and gaming.
VIDEO GAMES ON THE BIG SCREEN: superior short throw projection enables you to project 100 inch screen from just 3 Feet letting you fully immerse into your games. Project up to 300 inches
LOW INPUT LAG: The specialized low input lag and unique game modes ensure gamers an ultra-smooth and comprehensive gaming experience
INDUSTRY LEADING WARRANTY : 3-year limited parts and labor coverage makes you rest easy that our us-based customer service team is here when you need it
AWARD WINNING PROJECTOR - Best Overall - Best Projectors for Gaming 2019 - IGN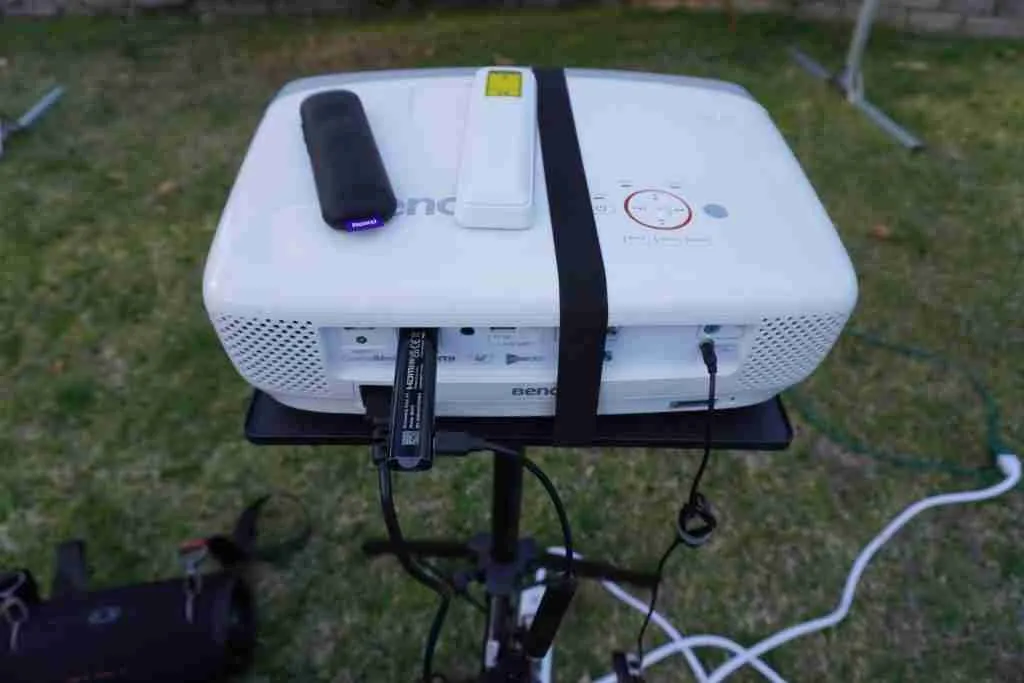 You'll want to place the projector onto the projector stand and strap it down.
This is a short-throw projector meaning it can project a large image from a short distance. In my opinion, this is an excellent outdoor projector.
The only thing I dislike about this projector is that it does not have Bluetooth. So you can't connect a Bluetooth speaker without a Bluetooth transmitter.
5. Bluetooth Transmitter
Bluetooth Transmitter Receiver, Aisidra V5.0 Bluetooth Adapter for Audio, 2-in-1 Bluetooth AUX Adapter for TV/Car/PC/MP3 Player/Home Theater/Switch, Low Latency, Pairs 2 Devices Simultaneously
【Universal 2-in-1 Bluetooth Adapter】 In TX mode, the Bluetooth transmitter is plugged into non-Bluetooth devices such as TVs, PCs and MP3 players via AUX/RCA jack and transmits audio to Bluetooth headphones/speakers/soundbars; in RX mode, the Bluetooth receiver can be connected to wired speaker/earphones and to receive audio from smartphones via Bluetooth.
【Stable connection, stereo sound】 Equipped with latest mature Bluetooth chip and well-design software, the Bluetooth adapter is an up-to-date audio adapter, not only helps to upgrade your old audio devices to Bluetooth capable without replacing them but also promises you a CD-like auditory feast.
【Seamless streaming, never miss a beat】 With low latency encoder applied, the audio delay has been minimized to approximately 40ms, the Bluetooth transmitter will present fully synchronized audio and video. Note: Bluetooth headphones/speakers are also required to support low latency technology.
【Dual connection, share your joy】 Being able to pair with two devices simultaneously, Aisidra Bluetooth transmitter can fulfill your thoughts of watching movies together with your love one using Bluetooth headphones, or to volume up music with two Bluetooth speakers playing concurrently.
【Working while charging, nonstop fun】 Installed battery could support the Bluetooth adapter to work for 10 hours per full charge. When in the low battery status, the adapter could be plugged into power to get charged while working at the same time.
This Bluetooth transmitter works. You'll need to power on the Bluetooth transmitter by connecting to the power strip. Then connect to your projector using the the AUDIO OUT.
Heres how to easily connect to your Bluetooth speaker.
Power on your Bluetooth speaker and press the Bluetooth icon on your speaker.
Power on your Bluetooth Transmitter by pressing the power button for 3 Seconds.
Double tap the power button again to have your Bluetooth transmitter find and connect to your speaker.
When the movies over and your are putting everything away. You can press the power button for 3 seconds to turn it off.
When you are ready to use it again, you can turn it back on and it should automatically connect to your speaker again.
The bluetooth transmitter can go 10 hours on a full charge. I recommend you keep it plug in as to not have an disruption.
I forgot charge the bluetooth transmitter one time and had a small get together for an outdoor movie.
I let it ran without plugging it in and halfway through the movie the sound cut off.
The transmitter ran out of battery.
I tried connecting it to a power source and it would work and then shut off within a minute. Apparently the power supply is to charge the battery to power the bluetooth transmitter only and not to directly power it.
Luckily I had a corded speaker as back up and the movie ended without any other problem.
6. Bluetooth Speaker
Sale
JBL Xtreme 3 - Portable Bluetooth Speaker, Powerful Sound and Deep Bass, IP67 Waterproof, 15 Hours of Playtime, Powerbank, JBL PartyBoost for Multi-speaker Pairing (Black)
POWERFUL JBL ORIGINAL PRO SOUND: Four drivers and two JBL Bass Radiators effortlessly deliver dynamic, immersive sound with deep bass and plenty of detail. You'll get lost in the music wherever you are.
PORTABLE DESIGN: The included carrying strap with built-in bottle opener makes it easy to bring your speaker wherever you go.
15 HOURS OF PLAYTIME: The fun doesn't have to stop. Packed with an incredible 15 hours of battery life, JBL Xtreme 3 lets you party all day and into the night.
WIRELESS BLUETOOTH STREAMING: Wirelessly stream music from your phone, tablet, or any other Bluetooth-enabled device.
P67 WATERPROOF AND DUSTPROOF: To the pool. To the park. In the shower. JBL Xtreme 3 is fully waterproof and dustproof, so you can bring your speaker anywhere.
Sale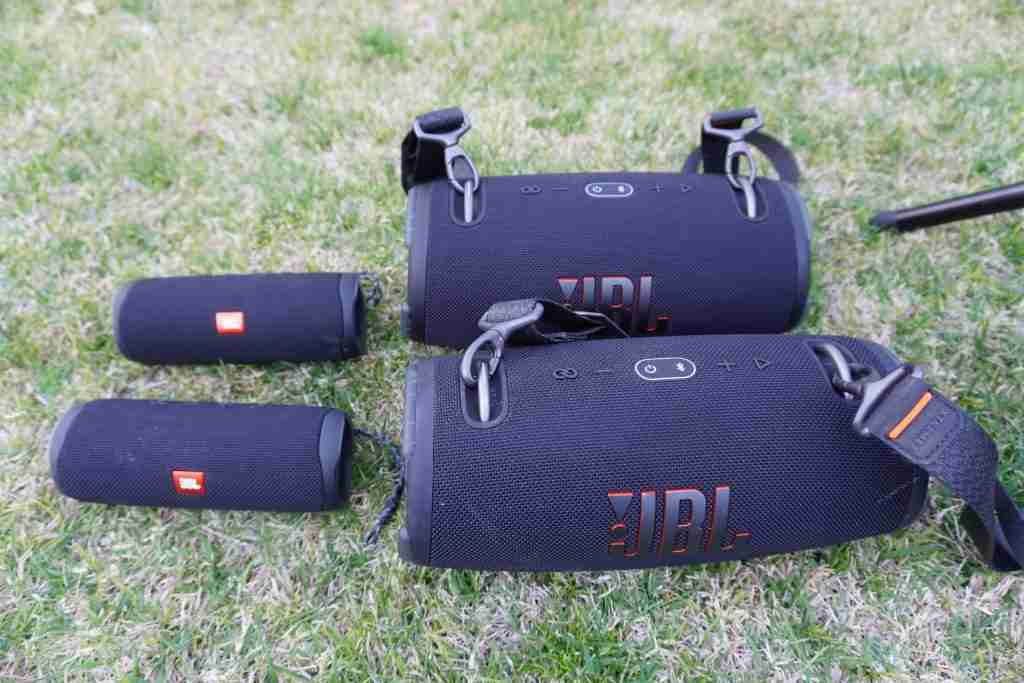 I used TWO JBL Xtreme 3 bluetooth speakers and TWO JBL Flip 5 bluetooth speakers. I position the Xtreme speakers in the fronts and the two smaller Flip 5 speakers in the back.
The sound is amazing!. Did you know you can pair up to 100 JBL speakers as long as they have "party boost"
To easily pair all 4 of my JBL speakers. All I did was press the "party boost" on the speaker that is connected to the bluetooth transmitter and then press "party bost" on the rest of the other 3 speakers and they are all connected.
You really don't need to have 4 speakers like me. If can get away with just one speaker if you have just a few friends over for an outdoor movie night. I recommend either just one Jbl Xtreme 3 speaker or TWO JBL flip 5 if you want the stereo sound.
You'll want to make sure your bluetooth is fully charge before using it.
7. Streaming Device
Sale
Roku Streaming Stick 4K 2021 | Streaming Device 4K/HDR/Dolby Vision with Roku Voice Remote and TV Controls
Hides behind your TV: The all-new design plugs right into your TV with a simple setup
Super-fast startup: Start streaming channels like Disney+, Prime Video, HBO Max, Apple TV+, Netflix, Sling, and Hulu in a snap—just turn on your TV
Long-range Wi-Fi: Enjoy fast, smooth TV streaming in any room with a strong Wi-Fi connection, now up to 2x faster
No more juggling remotes: Power up your TV, adjust the volume, and control your Roku Streaming Stick with the Roku remote
Voice search & control: Quickly search, play entertainment, and control your streaming device with the voice remote
I have a roku streaming stick to stream all the movies to the projector screen. Just connect it to the power strip and attach the the roku stick to the HDMI outlet. I have subscriptions to Netflid, Disney+, HBOmax, Paramount+, and HULU
If for some reason your projected image is small, you'll need to go into Roku "Settings" then "Display Type" and then select "1080p TV". Do not select "Auto Detect" as you'll it will sometimes auto select 720p and give you a smaller projected screen.
8. Picnic/Beach Blankets
ZAZE Picnic Blankets Machine Washable, 80''x80'' Extra Large Waterproof Sandproof Foldable Compact Beach Blanket, Oversized XL Outdoor Mat for Spring Summer Camping, Park, Travel Grass(Blue and White)
【80*80 Oversized for 4-6 Adults】ZAZE Picnic blankets unfolded size is 80''x 80'', it's large enough to fit for 6-8 adults for siting or 4 adults of lying, giving your children and pets a large area to play.
【Soft and Durable with 3-Layers】Made of 3 layers, our picnic mat has thickened and sturdy fabric on the top, soft cotton for middle and durable fabric backing. Perfectly suitable for siting or lying on grass, beach, floor or any kindly of surface, giving you soft and comfortable feelings.
【Easy to Clean & Machine Washable】Outdoor picnic blanket is super easy to clean due to its durable and waterproof backing, easily shake & wipe off dirt, mud, wet grass, and beach sand. And you could put it into washing machine to save your time and free both hands.
【Easy to Fold & Lightweight】 XL picnic blanket can shrink down to a very portable size of 15''x 5''. With the help of the velcro, it will not loose easily and take too much space. The weight of the mat is only 2.3lbs, you can fold it with simple steps, carry or store it anywhere you want.
【Widely Used for Outdoor& Indoor】Extra large picnic blankets is not only designed for outdoor occasion,such as the park, the beach, family picnics, camping, travel,etc, but also prefect for your indoor activities such as family dinners and baby plays. Meet your different needs for all seasons.
Lastly you'll need several blankets to spread around the projector so you can sit and watch. For those who don't want to sit on the blankets you can have chairs setup behind the blankets in a semi circle facing the projector screen. For more seating ideas you can go here.
What's the Best Time to Start an Outdoor Movie?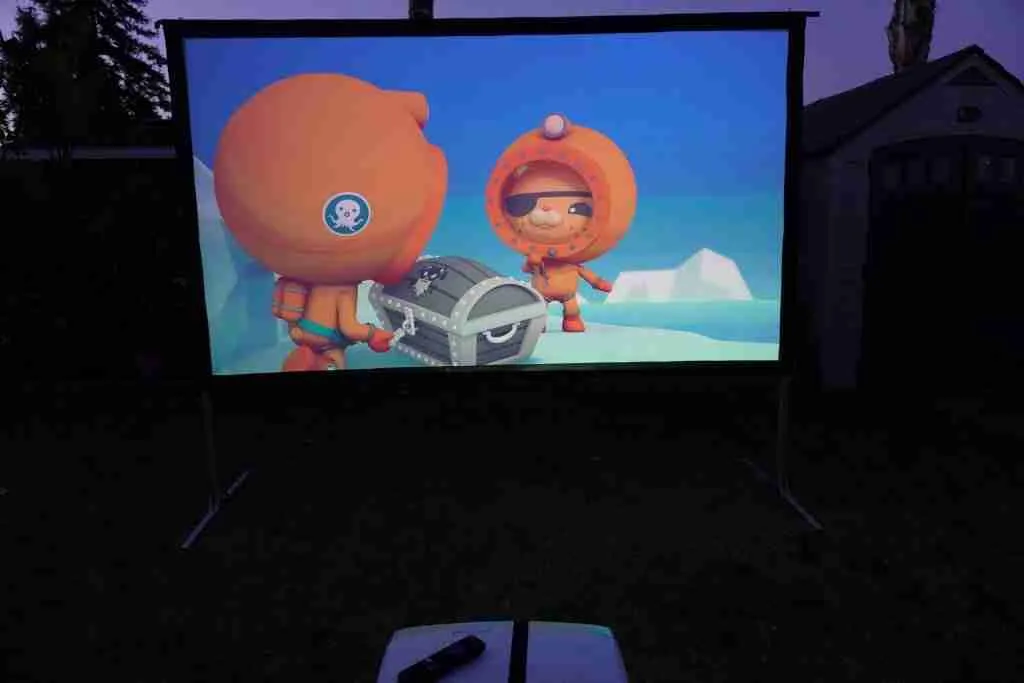 Thats pretty much it on what you need for an outdoor movie setup. I like to do an outdoor movie once a week with friends and family during the summer months. Its been great and plan on continue far into the future.