As I was perusing through Costco, I discovered the Ion Pathfinder 320. Having had the ion pathfinder 280 before, I wondered if this was the upgrade I've been looking for. Would ion finally make a speaker that would be in sync with my projector? Below is my Ion Pathfinder 320 review.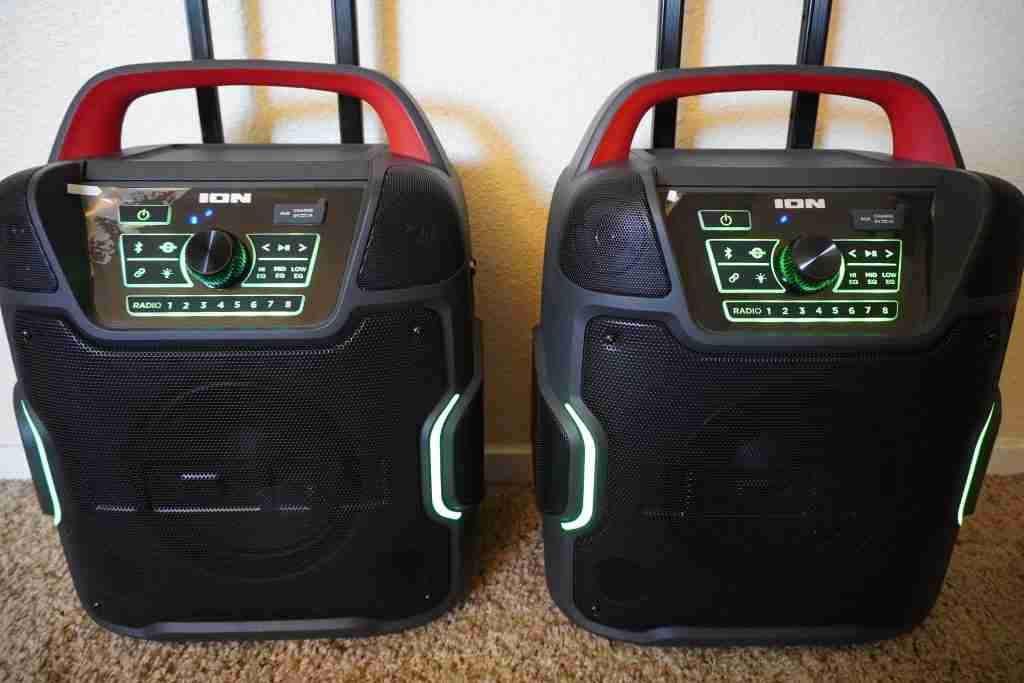 The Ion Pathfinder 320 Bluetooth speaker is an upgrade to the ion pathfinder 280. With the upgrade also comes the upgraded price. The speaker cost twice as much as the Ion 280 at Costco.
Just like the 280, the ion 320 can easily connect to any Bluetooth-enabled device.
My Ion Pathfinder 320 Review
Why I like it:  The ion pathfinder 320 is just as loud, durable, and has a clear sound as the old ion 280. The Battery lasts as long as up to 100 hours. Unlike the ion pathfinder 280. The 320 syncs to each other flawlessly with no mishaps.
Key Features:
200 Watts & Up to 100-Hour Battery Life
It's rated IPX5 Water-Resistant, so you can use it outdoor.
You can download the Ion App to control the Audio & Lighting Effects on your smartphone.
It has a Built-In Bottle Opener. I've never used this; nice to have if you ever need it.
It has 320 Degree Wide Range Sound from 5 speakers.
Can sync two Ion pathfinder 320 speakers together for a stereo sound that works well.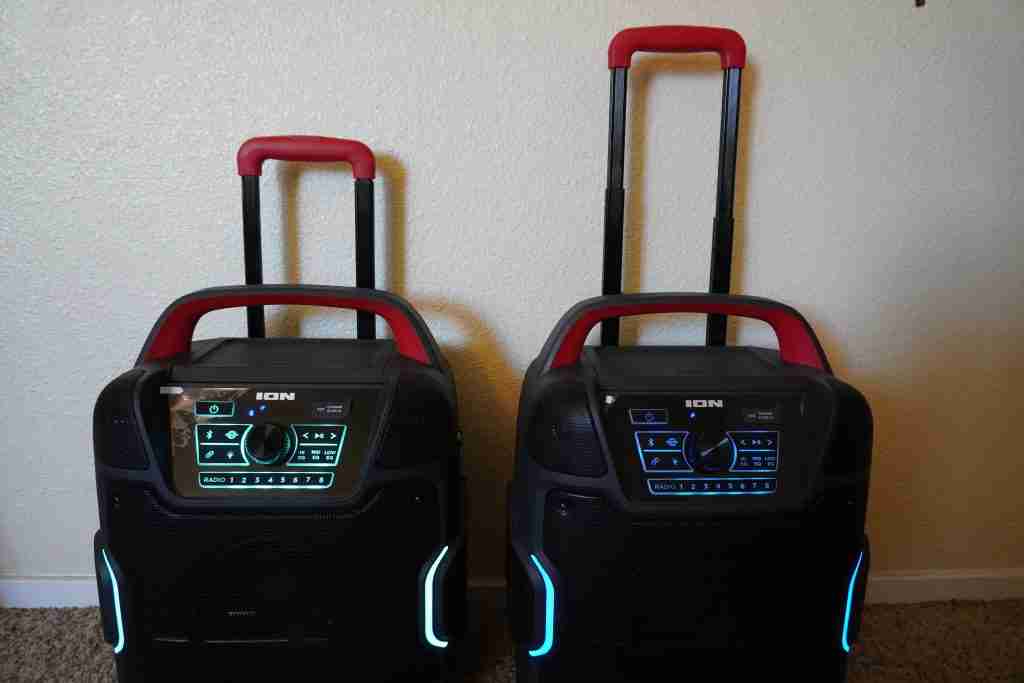 Pros and Cons
Pros
+ Battery Last up to 100 hours.
+ Has a built-in easy-grab handle to pick it up and move it around quickly.
+ Has built-in wheels and pull-out handle for easy portability.
+ Has 5 Speakers (8″ woofer, two 1″ tweeters, two 3″ drivers). Sounds amazing!
+ Has Lighting effects that pulse differently depending on the music
+ Has a bottle opener that you may or may not use.
+ Has a small water-resistant storage area for your phone keys or wallets.
+ Inside the water-resistant storage area, they included an aux and USB port so you can hook up your devices and leave them in the storage area.
+ It has two built-in USB charge ports and can charge your phone or other mobile devices inside or outside the storage area.
+ It has a "BOOM" button that can crank up the bass and volume when pressed.
+ It has a "stereo-link" button so you can easily connect 2 Ion Pathfinder speakers. Links flawlessly, no echo.
+ It has an "FM" button to listen to the radio
+ It has 16 built-in preset buttons to save your favorite radio station. There are only eight buttons available by pressing the radio button. You'll get FM1 and FM2 giving you a total of 16 preset buttons.
Cons
– It's a little Bulky and Heavy weighing in at 22.7 lbs.
– The ion pathfinder 320 cannot connect a microphone to the speaker as it does not have a mic input, so there is no Karaoke
– When using it with a projector, the voice doesn't sync up with the characters talking (lip-sync issue). If ion can fix this issue, they would be a perfect Bluetooth speaker for the price.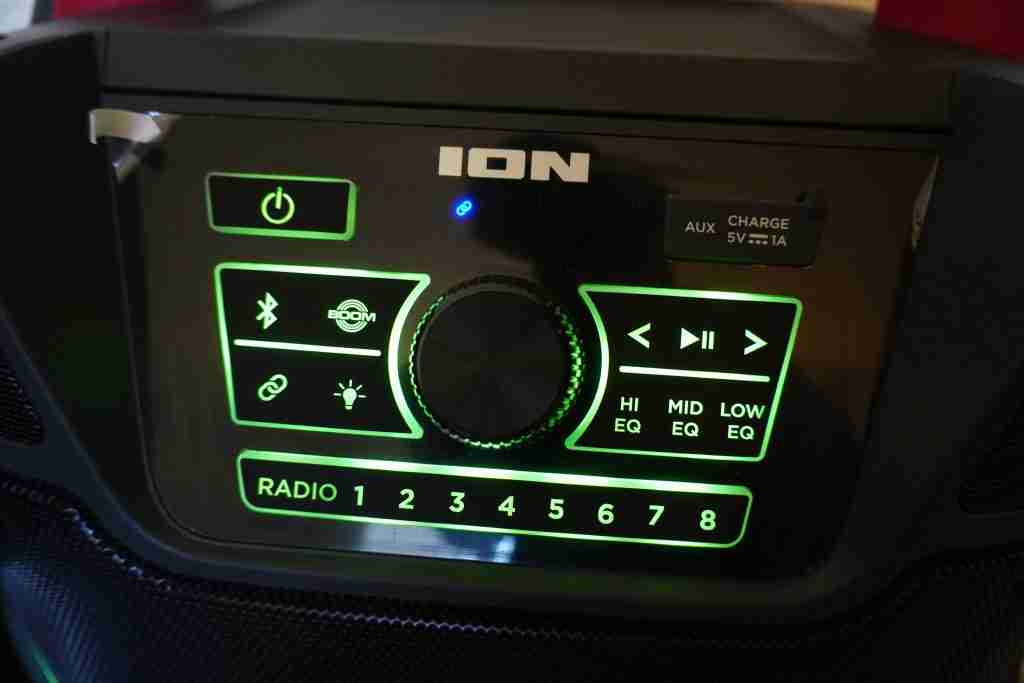 My Experience With The Built-In FM Radio.
The radio works excellent, with no static. It has eight presets so that you can save your favorite stations. If you press radio again, it will take you to FM2, where you can save another eight preset stations giving you 16 preset stations you can save.
If you are using this to listen to music, I highly suggest getting a 2nd Ion Pathfinder 320 for the "stereo" sound. It's fantastic you won't regret it. Syncing with a 2nd Ion Pathfinder 320 is very easy as all you have to do is press the "stereo-link" button on both speakers, and that's it.
My Experience With Connecting To Echo dot or other smart devices To Play Music
Very easy to connect to another Bluetooth device as the Ion Pathfinder 320 speaker has a "Bluetooth" button.
Once connected to the echo dot, you can tell Alexa to "connect speaker" or "disconnect speaker" easily.
I use echo dot to play music through the ion 320 daily.
My Experience With Connecting To A Projector.
Connecting the projector to the ion 320 through a Bluetooth transmitter was easy.
Here's where the problem arises. Lip-sync issues. If you're watching cartoons, lip-sync issue is not a problem as you can hardly tell. Where the problem comes into play is when your watch live shows. The voice will not sync up to the character's lips on screen. You'll feel like your watching a foreign movie dubbed into english.
If you are looking for a quality Bluetooth speaker that will work flawlessly with projectors, look at my recommended speakers for projectors.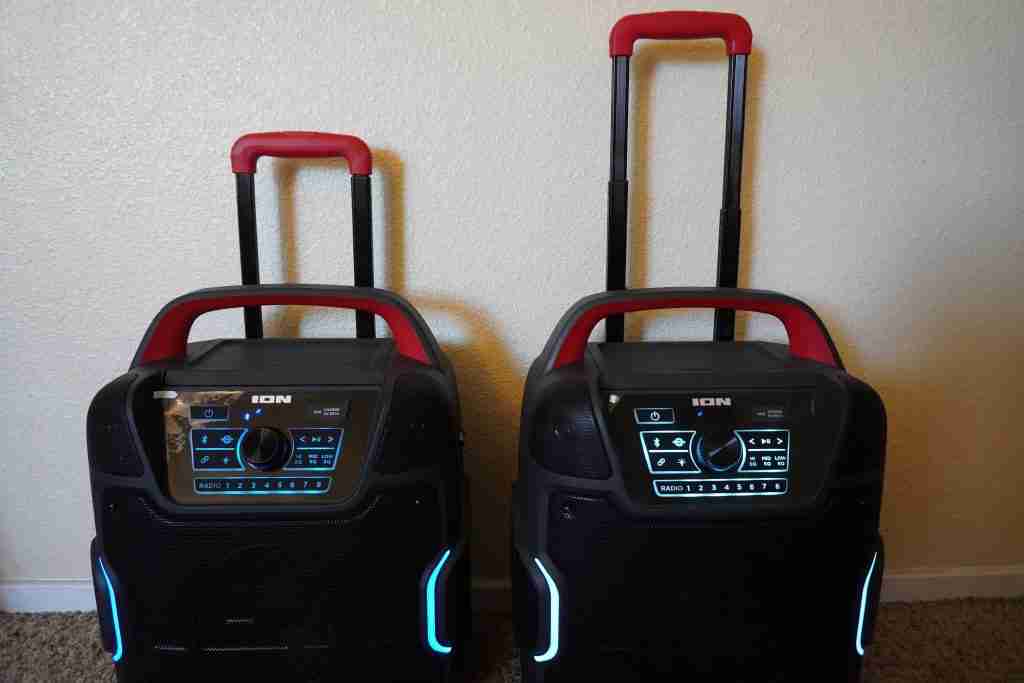 Frequently Ask Questions (FAQs)
Are ion pathfinder 320 speakers worth the upgrade from the ion pathfinder 280 speakers?
The ion pathfinder 320 is an excellent upgrade to the 280 speakers even though it is more expensive. You're getting improvements with more speakers, more watts, and a more compact design. Also, the 320 works flawlessly when hooked up to a 2nd 320 speaker, Whereas the 280 doesn't work as well and has echoes when hooked up to a 2nd 280.
Ion Pathfinder 280 VS Ion Pathfinder 320. A side-by-side comparison.
Specifications
Ion pathfinder 280
Ion Pathfinder 320
Release Date
2021
2022
Cost
Costco: $79 (prices may vary)
Costco: $149 (prices may vary)
Output Power
120 Watt
200 Watt
Weight
25.1 lbs
22.7 lbs
Dimensions
(width x depth x height)
14.8" x 10.6" x 17.6"
15.1″ x 10.4″ x 19.4″
Speaker
Tweeter: (3) 3" / 76.2 mm
Woofer: 8" / 203.2 mm
Tweeters: (2) 3" / 76.2 mm;
(2) 1" / 25.4 mm
Woofer: 8" / 203.2 mm
Water Resistance Class
IPX5
IPX5
Battery Life
Up to 100 hours
Up to 100 hours
Recharge Time
Up to 10 hours
Up to 10 hours
Aux Input
3.5 mm (1/8")
3.5 mm (1/8")
Charge Port
(1) Under rubber cover: 5V, 1A
(1) In compartment: 5V, 2.2A
(1) Under rubber cover: 5V, 1A
(1) In compartment: 5V, 2.2A
Is ION Pathfinder 320 loud?
The ION pathfinder 320 is extremely loud. You can use this speaker for a house party or backyard parties. I recommend getting a 2nd to sync both speakers together for more sound. The music isn't degraded as you increase the volume.
Can You Connect A Microphone To Ion Pathfinder 320?
You can not connect a microphone to this speaker. The speaker does not have a Mic Input.
Can ion Pathfinder 320 do karaoke?
The ion pathfinder 320 does not have a microphone input. No microphone input means no Karaoke.
If you're looking for an Ion speaker with a Mic input so you can play karaoke, you'll need to look at these two Ion speakers:
How many ion Pathfinder 320 can you Link together?
You can link up to 2 for stereo sound.
How do I connect two ion Pathfinder 320 speakers?
All you need to do is press the "stereo-link" button on each speaker, and they will automatically link up.
Is the ion Pathfinder 320 waterproof?
The Ion Pathfinder 320 is IPX5 WATER-RESISTANT. IPX5 ratings mean it will be protected from low water pressure streams from any angle. You can leave it near the pool.
How long does it take to charge the ion Pathfinder 320?
It will take up to 10 hours to charge.
Where are ion speakers made?
The ion pathfinder 320 speakers are made in China.
Conclusion
All in all, this speaker is still a bargain for what you get. The sound is excellent, and with 100 hours of playtime, you rarely need to charge it during a party.
I highly recommend buying two if you are planning on getting one. Sync them together, and you won't be disappointed.
The Ion pathfinder 320 is great if you only use it for music.
That being said, I don't recommend if you are planning to use this ion pathfinder 320 Bluetooth speaker for movie projectors as they don't sync up with the mouth of the character talking.