With summer fast approaching, you might be considering putting on a backyard party night. It's a great way to get your friends and family together in the privacy of your own backyard whilst you watch a movie under the stars.
"But it's complicated and expensive isn't it?"
Erm… actually no.
"But surely I need to look into renting an inflatable outdoor movie screen? After all, they are really expensive and require specialist help in setting them up, so I should rent and hire?"
Wrong again.
You can buy an inflatable movie screen for less than $150.
Don't believe me? Go take a look at this recent review I posted which shows you a cheap inflatable movie screen that you can pick up for cheaper than that price.
"OK, so I can buy the screen cheaply, but it's going to be complicated to set-up isn't it?"
No. All you do is find a space for it in your backyard, set your projector and speakers up, and then plug the blower fan in on the screen. Within 60 seconds the screen will be inflated, so all you need to do is invite your friends over and wait until it's dark to get started.
Reasons to Not Rent an Inflatable Outdoor Movie Screen
If you are still considering renting one, then let me tell you a little bit more. I promise you it's a better decision to actually buy your own. It's something that you won't regret. Here are my 11 reasons why you should not hire a screen, but buy your own instead.
You Will Save Money… Potentially a Lot of Money
You Can Use it Again and Again
You Won't Get Stung for Damages or a Deposit
You Don't Need to Be Technical to Set an Inflatable Screen Up
They are Simple to Clean, Store, and Transport
You Aren't Reliant on the Hire Company Having Stock
You Can Pick and Choose When You Have an Outdoor Movie Night
If It Rains You Won't Lose Your Deposit
You Aren't Limited on Time or a Screen Return Date
You Don't Have to Have Random Strangers Coming into Your Backyard
You Won't Need to Sign a Contract
1. You Will Save Money… Potentially a Lot of Money
With the average price for an inflatable outdoor movie screen rental being around $240, it is actually cheaper to buy your own. Factor in renting an outdoor movie projector as well, and you could be spending upwards of $500 before you've even bought the popcorn.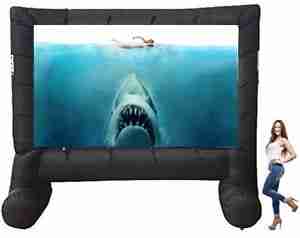 Crazy isn't it.
And what happens when you decide to rent again?
Yep, you have to spend out on their ridiculous prices again.
Lower down this page I've put a list together of how much a rental hire near you will cost on average in your state for a 12-feet wide screen – scroll down to see those prices.
2. You Can Use It Again and Again
This website is dedicated to helping people plan backyard movie parties, as well as pointing them in the right direction if they don't know what to buy.
Over the years I've helped thousands of people just starting out, many of whom are only considering putting on a one-off party. I have lost count of how many of them emailed me after their movie night, telling me that they were now planning on the next one.
It's an addictive hobby, I promise you. Once you start, you might find it hard to stop.
So, with that in mind, imagine how much you will end up spending if each time you want to throw a backyard movie night you have to pay expensive inflatable movie screen rental prices.
It soon stacks up to a lot of money.
3. You Won't Get Stung for Damages or a Deposit
Another reason not to rent an inflatable movie screen is another monetary consideration. I have had people contact me in the past who have been ripped off by the company that they hired their screen from.
This is by no means common, and most inflatable movie screens hire companies are very honest, with great reputations. Other than their high prices, there's no need not to trust or use them.
However, there are some sharks in the industry.
A few visitors to this website have sent me emails saying that they never had their deposits returned, and were also charged exorbitant costs for the slightest of damage and marks on the screen.
Let's be honest, outdoor movie nights can be raucous affairs, and things can get marked and damaged, especially if there's alcohol involved.
One of my regular readers left a scuff mark on the inflatable movie screen he hired. He believes this happened when the screen scraped up against the fence in his backyard.
The rental company he hired from stung him with a $100 charge to clean up the scuff mark.
It could have been worse, imagine if he had torn the screen – he would have been charged for an entire replacement, and I can guarantee it would be a higher price than the product actually costs to buy once the hiring company marks up the cost.
4. You Don't Need to Be Technical to Set an Inflatable Screen Up
There is so much information available online now about outdoor movie nights. Some websites keep things simple, such as this one, but others are populated with enthusiasts who talk about lumen ratings, throw distances, aspect ratios – all complicated stuff.
But it honestly doesn't have to be that way, as watching a movie outside is very simple in reality – you just need 4 core things; projector, movie player, screen, sound.
If you are worried about the tasks involved in the gear required, then there are plenty of help guides on this website to give you guidance – just use the search function in the navigation bar at the top.
Inflatable movie screens are actually the simplest component in the whole package.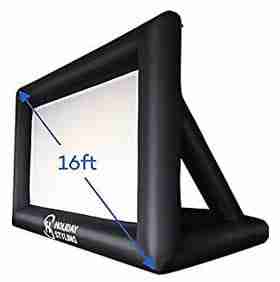 The ones that I recommend, and you can see those in my inflatable movie screens section, are literally plug-and-play products.
All you need to do is make the space in your backyard, connect the blower element up to your mains electricity, and switch them on. Typically, you are looking at 60 seconds for a 12-foot long screen to inflate.
You will need to keep the blower on inflatable movie screens are similar to kids' bouncy castles – they will need a constant flow of air to keep them inflated.
Once the screen is inflated, you will need to secure it to the ground using cords and stakes which come supplied with the product. Pull those tight and you're good to go. If used indoors or on a hard surface, you can weigh them down instead. It's all very simple.
And that's all you need to do!
You don't need to pay an expert more money to come to your house and set it up.
5. They are Simple to Clean, Store, and Transport
Due to the material that most of these screens are made from, you can clean them very easily, most of the time just by wiping them down.
Other reasons to buy, other than the money-saving and prices aspect is how simple they are to store and transport.
The products I recommend are all reasonably lightweight and come with special bags to store them in.
Once you've finished watching your movie, just cut the power, remove the blower, and watch them deflate. You might need to squeeze the last bits of air out of them, but once you've done that you can roll it up, pack it away, and not think about it again until it's time for your next outdoor movie party.
6. You Aren't Reliant on the Hire Company Having Stock
If you choose to buy your own screen you aren't reliant on the hiring company having stock. The inflatable movie screen rental companies near me in my local area only have around 20 screens in total.
That's not a lot.
Now imagine how much of that stock gets rented out during the summer months when the weather gets better?
I can tell you now if you don't book a long time in advance, you aren't going to be able to hire one for your chosen date. This could be a deal-breaker if you are planning on showing a backyard movie to celebrate a special occasion such as a graduation or birthday party.
7. You Can Pick and Choose When You Have an Outdoor Movie Night
This brings me on nicely to another benefit to owning and not renting… you are in complete control of when you throw your movie night, and how regularly you decide to do so.
When you call up the rental hire company to make your booking, chances are they aren't going to have anything available on your chosen date.
By buying and owning instead of renting, you decide when you want to invite your friends and family over… and you can even make that decision on the spur of the moment and on the same day if needed.
As a result, you can be up and running in minutes. It's simple, just get it inflated, set the movie up, and call your friends. The party is just about to start!
8. If It Rains You Won't Lose Your Deposit
Take a careful look at the contract that you sign when hiring an inflatable movie screen.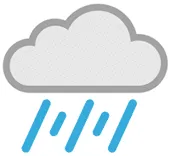 The rental company probably doesn't care whether it rains. But you will, as it means you are going to have to cancel your party night. They might be concerned about whether or not their equipment stays dry, but believe me, they won't be worried if you have had to cancel people coming over due to bad weather.
Potentially this exposes you to financial risk and loss of money with nothing to show for it.
Why spend hundreds of dollars on a rental, if there's every chance you are going to have to cancel the event due to rain or bad weather?
9. You Aren't Limited on Time or a Screen Return Date
Owning your own inflatable movie screen means you aren't constrained on time and hours.
The rental companies hire their screens out by the hour or by the day. You could have a situation where you want to watch a movie again the following day, or you need to change the time of your movie party due to unforeseen circumstances.
The hire company doesn't care. They just want your money and their screen returned on time, so they can rent it out again. That's how all businesses like this work. It's not their fault, it's just how it has to be.
If you own your own inflatable movie screen then you can go on for as long as you like – heck, why not have movie nights every evening?
10. You Don't Have to Have Random Strangers Coming into Your Backyard
Owning your own screen instead of hiring and renting comes with an extra bonus too; no strangers coming into your house or backyard!
Whilst I have nothing against the guys who run and work for these companies when it comes to my place, I don't particularly like people I don't know coming in.
If you do decide to rent, you could have two guys turn up, traipse through your house if that's the only to get out back and be on your property for sometimes up to an hour – especially if you get the ones who love to talk.
And then they are going to be coming back afterward to pick it up! If you had a few too many drinks at your outdoor movie night then there's nothing worse than having a hangover after a party and having to make small talk with strangers is there?
That's not for me, and you might feel the same.
11. You Won't Need to Sign a Contract
If you own your gear, then there is no need to sign a contract with potential hidden clauses in the small print.
Now as I have said, most inflatable movie screens hire companies are reputable, are trustworthy, and you won't have any problems with them.
But if you choose the bad apple in the bunch, signing that contract could end up being a bad mistake, particularly if you don't take the time to read the small print.
If you are happy with the inflatable movie screen prices you are quoted, then please read the contract and small print. Look out for things regarding cancellation policies, damage, deposit returns, or late return of the equipment.
Also, make sure that the hiring company has the proper insurance in place as they are going to be coming onto your property. If they damage something will you be covered, or if they slip over will you be protected from a personal injury claim? 
Inflatable Movie Screen Rental Prices Are Just Crazy
As I've already touched on, I don't believe that rental prices offer good value for money considering you can buy your own screen for a cheaper price than the average inflatable movie screen rental near me.
It's probably the same near you too.
To save you the time in doing your own search for a competitive hire company with great prices, I've researched every state in the United States. In the table below you can see data showing the average inflatable movie screen rental price for a 12-foot wide screen – which is the most popular for backyard movie nights and parties.
| State | State Code | Average Inflatable Movie Screen Rental Prices |
| --- | --- | --- |
| Alabama | AL | $350 |
| Alaska | AK | $300 |
| Arizona | AZ | $230 |
| Arkansas | AR | $300 |
| California | CA | $400 |
| Colorado | CO | $300 |
| Connecticut | CT | $470 |
| Delaware | DE | $300 |
| Florida | FL | $350 |
| Georgia | GA | $240 |
| Hawaii | HI | $320 |
| Idaho | ID | $300 |
| Illinois | IL | $260 |
| Indiana | IN | $310 |
| Iowa | IA | $300 |
| Kansas | KS | $280 |
| Kentucky | KY | $300 |
| Louisiana | LA | $240 |
| Maine | ME | $300 |
| Maryland | MD | $260 |
| Massachusetts | MA | $240 |
| Michigan | MI | $290 |
| Minnesota | MN | $260 |
| Mississippi | MS | $280 |
| Missouri | MO | $280 |
| Montana | MT | $240 |
| Nebraska | NE | $220 |
| Nevada | NV | $230 |
| New Hampshire | NH | $380 |
| New Jersey | NJ | $390 |
| New Mexico | NM | $230 |
| New York | NY | $480 |
| North Carolina | NC | $230 |
| North Dakota | ND | $240 |
| Ohio | OH | $230 |
| Oklahoma | OK | $280 |
| Oregon | OR | $300 |
| Pennsylvania | PA | $240 |
| Rhode Island | RI | $270 |
| South Carolina | SC | $270 |
| South Dakota | SD | $280 |
| Tennessee | TN | $280 |
| Texas | TX | $300 |
| Utah | UT | $210 |
| Vermont | VT | $380 |
| Virginia | VA | $260 |
| Washington | WA | $410 |
| West Virginia | WV | $290 |
| Wisconsin | WI | $310 |
| Wyoming | WY | $300 |
| | | |
Expensive isn't it?
So hopefully you can now see why I recommend that you buy instead of rent. To see my suggested brand and product that I have used time and time again for my own events then click here for a cheap screen.
Inflatable Movie Screens That You Don't Need to Rent
Over the last few months, I have reviewed different inflatable screens. Click the links below to read those reviews in full. Each review has pros and cons, links to the lowest available online prices, and questions that are commonly asked before people decide to buy.
You can also read my set-up process, as I take you through exactly how easy each one was to set up and get started with. Read those reviews now to see if there's something in there you like: