Inflatable movie screens offer a great solution for anyone wanting to watch movies, sports, or play computer games in their backyard. There are plenty of inflatable movie screens on the market, all of which come with their pros and cons (which I will come onto later).
As an inflatable movie screen, the 12 foot Gemmy Deluxe is one of the most popular and best-selling products that you can buy. It's not the cheapest, and you will have to look at the different prices on Amazon – but historically this inflatable movie screen has retailed for less than $200 (see latest prices on Amazon).
But it is any good?
Yes, for the price it is excellent, but there are some considerations you will need to take into account before buying, all of which I've outlined in this review.
I've used it now for 4 outdoor movie parties, so feel I've got a good handle on it and can offer an unbiased review of it. I am not affiliated in any way to the manufacturer, and review products all the time on this website – some of which I like, and some of which I hate. I really like this one though.
Without further ado, let's get into my review of the Gemmy inflatable outdoor movie screen where I take you through setting it up, using it, and any negatives and positives.
Setting Up the Gemmy Inflatable Screen
It arrives in the post all packed up and compressed down. That's fine for the delivery guy, but what it means for me and you is that there are going to be some creases and wrinkles in it before you use it.
What I did was lay the screen part out (which is detachable from the main inflatable frame) and let it lie for a couple of hours. This helped remove some of the wrinkles, but in truth, if I had just inflated the frame and hung the screen, that probably done the job a lot quicker.
In terms of setting up though, this is what you get once you've unpacked it all.
Airblown inflatable frame 12 foot wide
The detachable screen that measures 123 x 70 inches
Tether stakes
Base stakes
Nylon tethers
Spare fuse
Storage bag
To get started, I made a space in my backyard, connected an electricity extension cable to the blowers (there's a powerpoint on the frame), and turned it on.
This was the fun part, as for me and the kids watched the Gemmy deluxe screen slowly start to grow and inflate – this process took around 2 minutes.
Tether and Secure It
Once it was inflated, we then had to use the stakes and tethers to secure it into the ground. We pulled the tethers really tight, as it did bend a little bit at our first attempt – once tight though, all seemed good.
The total set-up time was around 20 minutes (which we got down to 10 minutes the next time we used it. Most of the set-up time was taken up by securing and tethering. We were pulling the cords tighter and moving the stakes around the grass to get the best result.
On the day, there was a mild wind. Now I won't lie, there was a little bit of movement to the screen, but not enough to mean the viewing experience was going to be negatively affected.
Now back to the wrinkles and creases.
The screen gets attached to the interior part of the inflated frame. After about an hour, those wrinkles had actually disappeared. And on the night of the movie itself, once dark, and projecting against the screen we couldn't see any creases at all.
How the Blowers Work
And the blowers?
These need to be running constantly, if you turn them off, the Gemmy deluxe inflatable movie screen is going to start coming down.
It uses 400w blowers (a pair of them), which are reasonably quiet I would say, and certainly not loud enough to ruin a movie experience – I go into a little more detail on the noise in the FAQs listed lower down in this review.
The Deflating Process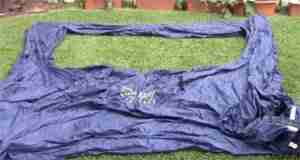 At the end of our movie night, we took the screen out first, because I wanted to roll that up, rather than fold it into the supplied carry bag. Once that was done, we turned the power off and watched the whole frame start to deflate.
Now, this is the slightly painful part.
Deflating took around 20 minutes. At the end of our movie night, I just wanted to get indoors and go to bed, so to go through this process was a little irritating.
That's why you might want to consider a standing frame movie screen instead of an inflatable one. I've reviewed a free-standing movie screen recently, which you might want to consider – read that review here. You can leave these ones up in all weathers and not worry about rain or electricity.
Once it was completely deflated, I had to push some of the last bits of air out of it, and then get it back into the carry bag. This again was a little tricky. You have to really fold it tightly and make sure there is no air left in it if you are going to get it back into the bag.
This took another 10 minutes!
My advice would be to ignore the bag altogether, and instead fold the Gemmy inflatable movie screen up into a large plastic box. That's what we started to do as we just find it a lot quicker and easier to store it that way.
As mentioned, I roll up the detachable movie screen, so that no creases or folds appear in it. You should definitely do the same if you want to keep your screen in a good condition.
What Projector Did We Use?
I've got around 4 outdoor movie projectors that I am currently using and reviewing. For the Gemmy inflatable outdoor movie screen review, I used an Epson VS350 projector with 3,300 lumens. You can read my review of the Epson VS350 here.
There's really no reason why you can't use any outdoor movie projector with this screen. All I would say is that you need something that has at least 3,000 lumens.
Having that lumen rating will mean you can watch outdoor movies at night. Anything lower, and the projected image or video will be negatively affected by ambient light sources coming from street lights, houses, traffic, and other artificial light.
If you are stuck for an outdoor movie projector, take a look at my recommended products all of which are listed with prices for different budgets – view projectors here.
Who Will This Screen Suit?
If you're just starting out with outdoor movie nights, then it's a product that should last a few years at least, providing that you take good care of it. It's affordable and competitively priced.
For most backyard movies, it will be ideal for parties with 30 people, but I even used it at a larger event with around 100. It's 12 feet wide so as long as everyone has a clear view on the screen, it's absolutely fine.
The dimensions of the actual screen part are 123 by 70 inches. This is a 16:9 ratio which is the correct widescreen ratio format that not only movie projectors are made for, but also modern movies, live sport and streaming TV formats. Due to the screen ratio, you won't get any annoying bordering of your image, either top, bottom, or on the sides.
However, if you are planning on regular backyard movie nights, you might instead want to choose a standing or hanging screen. These are not inflatable products and can be left outside in all weathers with no need for a power supply. You can read a review of an excellent standing and hanging screen kit here for my latest product recommendation.
And what about the positives and negatives to the Gemmy deluxe inflatable movie screen? Here are my pros and cons to the product.
Pros
Easy to set-up
Good value for money
16:9 aspect ratio for widescreen viewing
Portable and lightweight
Cons
Slow to deflate
Hard to pack away
Can't be left up overnight
Interested in the Gemmy Inflatable Movie Screen? Check latest prices on Amazon now.
Gemmy Outdoor Inflatable Movie Screen Review
Frequently Asked Questions (FAQs)
Buying an inflatable movie screen can be complicated, and honestly, no question is too silly. Because of that, I have put together a list of common questions below which should save you some time if deciding whether to buy this screen or not.
Does the Blower Fan Have to Run Continuously?
Yes, it does. If I can compare it to anything, it's like a kid's bouncy castle in the way that it works. You need to plug the fan blower in and leave it running to keep the Gemmy screen inflated.
Once you turn it off, the screen will start to deflate and collapse down.
Is the Blower Loud and Noisy?
It depends on what you consider noisy to be. If there's a quiet section to the movie playing, then you will hear a low fan-type noise as the air is pumped through the screen.
However, in most backyard movie environments, this isn't an issue, especially if you have speakers set up to play the audio of the movie through. The trick with any inflatable movie screen is to have the speakers positioned near the screen, facing outwards towards your audience. This helps to mitigate any noise issues.
Can You Project Against the Back of the Screen?
No, it's not a rear projection screen. The rear of the screen is a black material, and you can't project movies or games onto that.
If you did want to project onto the rear of it, then a solution would be to buy Carl's blackout screen material kit (view on Amazon) and then attach it to the rear. Carl's movie screen material is designed to be used outdoors.
What's the Best Movie Projector to Use with a Gemmy?
There are hundreds of products on the market that will work really well. I've put together a list of recommended projectors you can consider, all of which come at reasonable prices.
When I have used the Gemmy screen, I have had an Epson VS350 (read my review here). That's worked really well and offered an amazing picture.
How Easy it is to Transport?
It comes with a carry bag and weighs around 21 pounds once all packed up. It's kind of like a large duffel-type bag. That makes it simple to take to friend's houses if you want to put a backyard movie party somewhere else.
If you were planning on taking it on vacation, then you should be able to get it into a suitcase easily enough but might need to pack the fans at the bottom of the case. It's really not that heavy though, and certainly isn't bulky.
Is it OK to Use on a Windy Day?
I wouldn't recommend it during strong winds, as it will blow around and not keep still. In mild wind, as long as you have tethered and secured the Gemmy, it should be fine.
The key is to plan your outdoor movie party whilst keeping one eye on the weather forecast. If it looks like it's going to be a windy evening, then I wouldn't bother inflating it.
Can it Be Used Indoors?
Yes, and in fact, you might not even have to tether it to the floor if you do. It stays up steady if there is no wind to blow it around.
I've seen these used in schools, colleges, and gyms absolutely fine. You just need to make sure that you have the room to inflate it and an adequate power supply. 
What Else Will I Need to Watch Movies Outdoors?
The inflatable screen is just one element required in planning a backyard movie party. You will also need a media-playing device, speakers, and an actual movie projector.
Your media player can be as diverse as a DVD or BluRay player, laptop, smartphone, tablet, USB device, or more – I would assume that you already have something like this, so the additional purchases you will need to make would be an outdoor projector and also speakers.
How Easy is it to Store Away After Use?
My tip here is to only put the inflatable frame and blowers in the carry bag that it comes with. I don't place the detachable screen inside the bag, because I don't want it to crease it too much.
Instead what I do is detach the screen and roll it up, keeping it separate and outside of the bag. This means I don't get heavy creases and wrinkles on the screen whilst watching movies, sports, or playing games.
Is the Gemmy Inflatable Screen Waterproof?
If it rains, I advise deflating it and making sure that the blowers are taken back indoors, as they have an electrical connection and you could get a shock.
A little bit of rain will not harm the screen, but you should make sure that it's completely dry before you roll it up and store it. That way you can protect it from developing mold or mildew.
Definitely do not float this screen in a swimming pool. It's kept inflated using fans that constantly need an electrical connection. You are at risk of electrical shock and death if you even attempt to do this.
Does the Screen Support 3D?
You can watch 3D movies on it, but you will need a 3D projector in order to do so (as well as 3D movies obviously).
I've previously written a guide on what you need to know to watch 3D movies outdoors. You can read that here, if you need more information on what best to do for the optimum viewing experience.
What's the Best Way to Clean It?
If used outdoors, it's probably going to get some marks on it, think of pesky birds as an example, so you may need to clean it from time to time.
The Gemmy inflatable movie screen is made from a tough vinyl material so can be cleaned using soapy water and sponge – but not abrasive cleaning materials as this could scratch the screen material.
How Many People Can Watch it at One Time?
The number of people I have ever had viewing a movie on the Gemmy inflatable screen is 100. It really depends on the layout of your backyard though.
If you have more people than that, it would be worth raising the screen up onto a platform possibly and being strategic about your seating plans.
Does it Come with Speakers?
No, it's just a screen. All you can do with this is project images and video onto the white screen material using a projector. There are no audio or video connections on the screen.
To watch movies properly you need an outdoor movie projector, a media player, and some speakers. This is just the screen part of the whole equation.
Review Conclusion
At this price, it's a good deal. In fact, I would say it's the best screen in this price bracket.
For your money, you get a mammoth 123 inches wide and 70 inches high (10.25 feet by 5.8 feet) – which gives a 16:9 aspect ratio so perfect for modern widescreen movies, TV, and live sports.
However, it's not the best outdoor movie screen in terms of the packing down process. This can take time and in truth, the carry bag that it comes with doesn't really cut it. That should not be a deal-breaker though, as like I did, you can simply roll the screen, and pack the rest in a box.
In terms of inflatable movie screens, it's one of the best on the market.
All you have to do is look at the average review score it has on Amazon to see for yourself, in fact, please go and read the outstanding Amazon reviews now to get even more insight into whether or not this is a good purchase for you.