I frequently recommend Epson products on this website. Not because I have any affiliation towards the company but purely due to how reliable and good their products are, and the Epson VS350 projector is no exception to that rule. But will it be suitable for outdoor movie use? That's the main question and one I will address in this product review.
You can buy this projector on Amazon for less than $500 – check the latest prices
So to start off, this projector has both negative and positive points to it, and I am going to be as fair as I can with the review. It's not my top recommended outdoor movie projector at this price of less than $500, primarily due to the speakers could be louder and the aspect ratio. But, it still ticks plenty of boxes and is great for indoor use.
If you want a projector that is truly designed and optimized for outdoor use, then take a look at my recommended outdoor projectors.
Read on to find out more with my in-depth review of the Epson VS350 XGA projector.
Epson VS350 Projector Review
Let's start off with my main gripe first: the sound and aspect ratio.
I buy projectors so that they can be used for backyard movies or outdoor movie party events. I am used to hooking up additional sound sources, so will always use speakers anyway, but for someone just starting out who doesn't have this experience, it might be a bit of a surprise at how lacking they are.
If you are going to buy this to use at a backyard movie, then you should really also make sure you have an additional sound source. This could be something like a soundbar or portable Bluetooth speakers. If you don't have additional speakers, your guests might struggle to make out all of the sounds in the movie, if you are relying on the in-built audio alone.
Having said that, I always recommend that backyard movie nights have additional speakers so this aspect doesn't really disqualify this projector for outdoor use. It's a similar scenario with a lot of similar products on the market so don't let that sound issue put you off if you have a set of speakers you intend to use with it.
What might further put you off for outdoor movie use, would be the aspect ratio of 4:3. That's not widescreen so means if you have an outdoor movie screen with a 16:9 aspect ratio, you will get the pillar-boxing effect with borders on both sides of the projected image. You can see what I mean with the diagram shown below.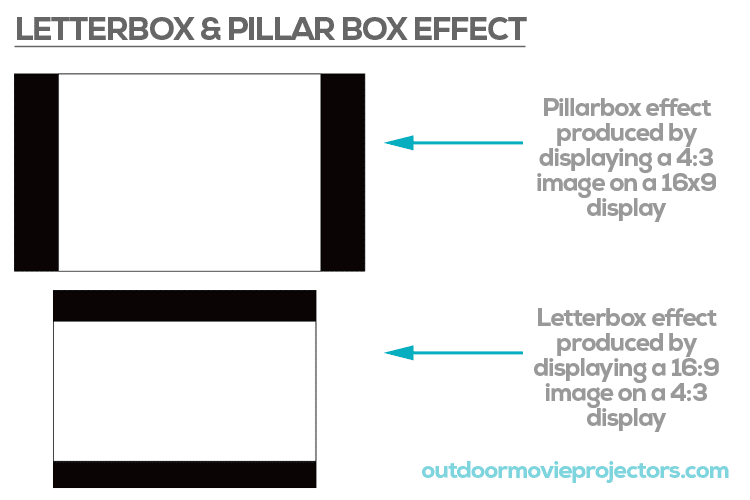 But, if you are just buying this for indoor use, say for example in a business for corporate meetings, then the speakers and ratio will be just fine. It's only an issue where you want a beefier sound such as at an outdoor movie night.
Setting-Up the Epson VS350 for the First Time
Now the sound and aspect ratio issue is out of the way, let's get into the bulk of the review including unpacking and setting up for the first time.
Firstly it's very simple to use and get started with – this is one of the major pluses points to buying the Epson VS350 XGA projector.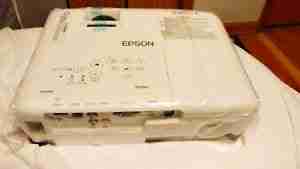 I unpacked it and connected it to my laptop using an HDMI cable. (It's worth mentioning here that the HDMI cable is not included, you will need to supply that yourself.)
Once the cable was plugged in, I pressed play on a movie I had lined up on my laptop, and immediately the audio started playing through the built-in speakers. I wasn't getting a picture on my screen yet though – but that was simple to set up too.
What there is, is a Source Search button on the Epson VS350. I pressed that button and it did its magic by finding the movie via the HDMI input, which then started projecting out onto my screen in seconds. The entire time spent from connection and powering up to watching the movie was 30 seconds in total!
To sharpen up the image, all I had to do was adjust the focus and zoom to get the crispest picture possible. This again was simple and was done using a small and simple knob on the casing.
Of all the movie projectors I have reviewed over the last few years, this was, without doubt, the easiest one that I have ever set up for the first time. It truly is a little plug-and-play miracle due to engineering and intuitive controls.
Watching Movies Outdoors
Now in terms of brightness, it has a lumen rating of 3,300 lumens. For indoor use, I had lights coming into the room, and the image on the screen was as clear as day. That's why I think this would work so well incorporate or home movie environments inside a room.
How those lumens translate into the outdoor movie-watching experience is a little different though. You will want the sun to have set a little bit before using it, but there is absolutely no reason why you can't start your movies before it gets pitch black which does set it apart from cheaper models on the market where the lumens won't be so high.
PS: If you are unsure on what lumens are, then please read this explainer guide to lumens.
Also, the 3,300-lumen rating means you can go large with your outdoor movie screen as it will comfortably project onto a 16×9 foot screen at its maximum – although it won't completely fill the screen as I explained earlier.
One thing to note though would be the aspect ratio of 4:3. This isn't a widescreen ratio of 16:9 so if you are expecting the image to completely fill a widescreen movie screen outdoors, then you will be a little disappointed – you will have some bordering on the sides also known as a pillar box effect as demonstrated in the earlier diagram.
I watched a movie on the projector that evening, and after around 2 hours, the Epson VS350 was getting very hot. Not hot enough for me to be concerned that it might overheat, but hot enough for me to want to let it cool down.
The cool-down period lasted for around 10 minutes before I was comfortable enough to switch it back on again. That's a quick cool-down period in my view and compares very well against other models in this price range.
Compatible Media Players
In terms of media player, my test was using a laptop via the HDMI port, but you can also plug in other media sources such as:
Computer / PC
DVD players
Games consoles
Portable hard drives
Tablets
Smartphones
Firestick
There is a USB drive too. If you have a movie in a .avi format you can simply plug the USB in and start watching the film immediately. Easy peasy, lemon squeezy!
Another thing to note is that this isn't a high-definition HD projector, so the resolution won't be as good as the ones you would get on the higher-end range of Epson. But for most people, the image quality is more than acceptable and certainly works fine for an outdoor movie environment.
Great for Indoors, and Can Be Used Outdoors Too
I guess the point here is that this is a multi-functional projector. If you buy it predominantly for indoor use, you can use it for outdoor or backyard movies as it will suffice, it's just not going to be the best product to buy if you purely want something for the outdoors.
For outdoor or backyard movies, you are never going to get the most optimum image as compared to indoor viewing, so for me, the lack of HD isn't that important in this case.
Pros 
Ridiculously easy to connect and get started with
Intuitive menus and simple to operate
Offers a very clear picture
Lightweight and portable
High lumen-rating for the price
Great multi-purpose projector
Cons
No 3D video capability
It's not widescreen but is a 4:3 aspect ratio
Does get hot after 2 hours
Doesn't come with a protective case
Internal speaker not that loud for larger gatherings
Interested in this projector? Check out the latest prices on Amazon.com
Frequently Asked Questions (FAQs)
The Epson VS350 XGA is frequently purchased as an outdoor movie projector as well as being for indoor use. There are always so many questions about this product, so I thought it best to compile some of the more commonly asked questions into one section, as it might answer the one you are already thinking about.
Can You Use it for Gaming or With a Console?
Yes, you can, and it works very well. It has the ports on the back meaning you can plug in Sony Playstation or Xbox console straight into it. Gamers love a sharp and crisp image, and this offers just that. We've had games evenings outdoors using this projector, but most of the time it's in my son's bedroom where he projects against a white wall.
How Long will the Bulb or Lamp Last?
Obviously, I have no way of testing this, but the manufacturer states that the bulb's life is 10,000 hours. To put that into perspective you would need to have it running for 416 days continuously before you even began to consider replacing the bulb. You can buy replacements on Amazon, or via the Epson website. Non-official bulbs can cost around $50 so it pays to shop around rather than direct from Epson, or with Epson-branded bulbs.
Is it Portable and Easy to Carry?
I've taken this to friend's houses for backyard movie parties with no problem. The unit size comes in at just under 12 inches wide and just over 9 inches deep, with a height of 3 inches. It weighs in at 5.5 pounds. So, in simple terms, yes, it's portable and can be carried in a bag easily – it's worth mentioning that it doesn't come with a carry case, but will slide into a backpack very easily.
What are the Speakers Like for Sound Quality?
The Epson VS350 comes with a built-in speaker and it's fine for use indoors with a small crowd. For outdoor movies, I would recommend you run audio via additional speakers or a soundbar if you really want a good experience. There is no audio out, only audio in – this means you will need to connect additional speakers to the media player you use such as laptop, DVD player, console, or tablet.
Can it Be Mounted or Attached to a Ceiling?
For indoor use, you can mount it to a ceiling. The product comes with the right connections on the casing to do so, but you will need to purchase a separate mount accessory to complete the job. You can buy the mounts on Amazon.
Does the Epson VS350 Support 3D Video?
Unfortunately not, and this is one area where it does let itself down a little due to the increase in popularity in people wanting to watch 3D movies in their backyard. If you want to watch 3D movies outdoors or inside using a projector, then a different product to consider at a similar price would be the Epson 2040 projector (see on Amazon).
What's Included
Epson VS350 XGA projector
3,300 lumens bulb
Power cable
VGA cable
Remote control
Review Conclusion
The Epson VS350 is a reasonably priced product and does offer a clear and crisp image. It's compact, portable, and one of the easiest projectors I have ever had the pleasure of setting up. Genuinely it shouldn't take you any more than 5 minutes to get up and running.
With a 4:3 and 1024×768 resolution, it will playback movie content in the pillar-boxed format… so it's not truly designed for outdoor movies, but can work for that purpose with no major issues at all other than you will want to boost the sound.
Would I buy it as an outdoor movie projector?
Me personally no… and I would encourage you to check out my recommended projectors for outdoor movies instead.
But if you want something that you can use for all scenarios, with the main focus being on indoor use, then it is a great buy.
I think it would have to be 16:9 for me to really want to use it for backyard movies regularly. I can overlook the sound as most backyard movies will need additional speakers, but the aspect ratio element is the main part that would turn me off.