Do you want to be able to watch movies or sporting events outdoors with your friends and family? If so, you need an outdoor pull down projector screen! 
No matter how much space you have in your yard, having a durable outdoor projector screen makes it simple and fun to gather with loved ones.
Just pull the movie screen down and enjoy your projected entertainment under the stars and in the fresh air on the big screen.
With all of the different outdoor movie screen options available, how do you know which one is right for you? In this article, we discuss everything to consider before buying a projector screen for outdoor use.
What is A Pull Down Projector Screen?
There are a few different types of projector screens. While some are flat like a sheet, pull-down models are often mounted to a wall or ceiling and tucked away neatly (rolled into a top unit) when not in use.
The screen can be pulled down manually (or electronically for some) when you want to watch a movie!

Once installed, these are hassle-free projector screens to use as they require minimal setup time.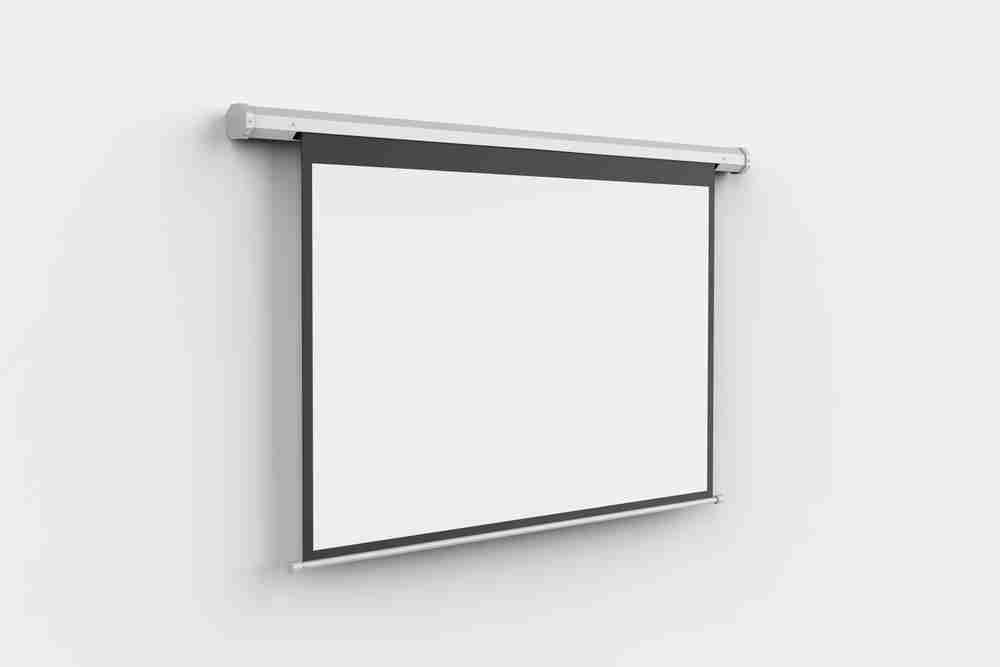 Considerations To Make When Purchasing A Pull Down Projector Screen
When choosing an outdoor pull-down projector screen, there are a few things you will need to take into account:
Screen Size

The size of the screen you ultimately choose will depend on the space you have available in your backyard and how far away from the projection surface you will be sitting.
A 16:9 aspect ratio is usually recommended, as this is a common widescreen aspect ratio for films to be viewed in.

Size-wise, some projectors measure at 100 inches-120 inches across–some are smaller or larger– so you must grab a measuring tape if you need help visualizing how your screen will fit in your outdoor settings!
For outdoor screens bigger is always better.
Material
The next thing to consider is the screen material.
Outdoor screens can be either PVC or fabric, and each has its advantages and disadvantages.
PVC screens are durable and weather-resistant, but they can be a bit stiff and difficult to fold up when not in use.
Fabric screens are more flexible and easier to fold up, but they are not as durable or weather-resistant as PVC screens.
Consider the climate in your area; if it may be humid or precipitating when you use your screen, perhaps a PVC material would prove beneficial for you!
Mount
The third thing to consider is the type of mount you will need.
Most outdoor screens come with a mounting kit, but you will need to ensure that the kit is compatible with your projector and the surface on which you will be mounting the screen.
Some pull-down projector screens come with a stand rather than a mount.
Price
Finally, you will also need to consider the price of the screen. Outdoor pull-down projector screens can range from around $50 to over $200, so it is important to find one that fits your budget and requirements.
Other Considerations
Along with the above suggestions, consider how often you plan on enjoying movies on your projector screen; if this is a permanent venture, then mounting a screen to a surface in your yard will be worthwhile!
If this is just a one-time event, then perhaps consider an easy-to-assemble option!
Our Top Picks
Elite Screens Manual B 100-inch Manual Pull Down Projector Screen
The Elite Screens 100-inch Manual Pull Down Projection Screen is perfect for outdoor movie night. This screen is made from PVC and has a 16:09 aspect ratio; the screen is also made for a 4K projector.
It comes with a mounting kit (L brackets)that is compatible with most projectors.
HYZ Projector Screen with Stand 100-inch Indoor Outdoor PVC Movie Projection Screen
This 100-inch screen is easy to clean and even simpler to assemble, as it comes with a sturdy tripod stand (an optional wall mount is included) that you can reinforce with ropes for windy nights.
It offers a 160° wide viewing angle and a 16:9 aspect ratio; its black backing ensures no ambient light will affect your image quality.
Elite Screens Manual Series 80-inch Pull Down Manual Projector Screen
Our third pick is the Elite Screen Manual Series 80 inch screen with auto-lock, meaning your screen will stay secure!
This outdoor screen is made from fabric and has a 16:9 aspect ratio.
It comes with a mounting kit compatible with most projectors and is a budget-friendly, space-conscious option.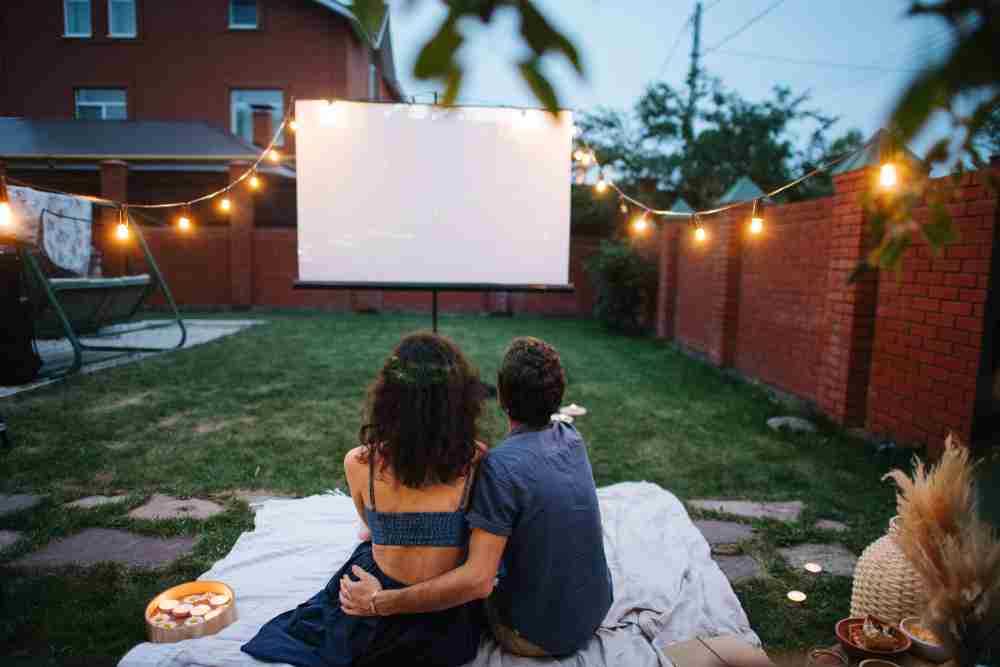 Final Thoughts
So, which one is right for you? It depends on your needs and budget.
All of the screens we recommended are high-quality and will provide a great outdoor viewing experience.
But if you are looking for the best value, we would recommend the Elite Screens Manual 80-inch Pull Down Projection Screen.
It is durable, weather-resistant, and affordable. Additionally, if you haven't got a lot of space, an 80-inch outdoor screen is ideal as it allows for clear, bright picture quality and can be seen all around a yard while leaving enough space for you and your guests to have an enjoyable viewing experience.
We hope this article has helped you choose the perfect outdoor pull-down home theater projector screen for your needs and requirements.
If you're on the hunt for projectors or other outdoor movie-related items, visit our website to read more and see what other products we recommend!

Enjoy watching movies and sporting events outdoors with your friends and family!