So, you've spent days, or perhaps even weeks planning the perfect movie night. The event comes and goes, and is a roaring success… so what now?
Can you keep your portable outdoor movie screen up until the next time, or should you collapse it down and store it away until next time?
This was a question I received a few weeks ago from Dan based in the United States. This is what he had to say:
I own a Carl's Backyard Theater DIY projection screen. On the official website, they do say that you shouldn't leave it out in the weather, but I want to know if anybody has left there's up for the whole of the summer? 

It's a bit of a drag to pack everything away, and I am planning on hosting backyard movies every few weeks, so would rather just keep it up. 

Where I live we get a bit of rain now and again, and warm summers. 

I would love to know what you think?
Thanks, Dan for the question.
I have left a DIY projector screen out in the rain before, and out in hot summer months.
I won't do it again though, as I quickly learned from my mistakes, and here's why.
There are a few issues with leaving your outdoor movie screen up on a permanent basis.
For a start, their weight and construction mean that they are very open to being damaged by winds, and in some cases, can even become free and fly away.
If you do decide to leave your outs in the open over a long period, I would advise that you at the very least tether it securely. Below is an image of how I have done this in the past, but even then, I wouldn't recommend it as a long-term solution.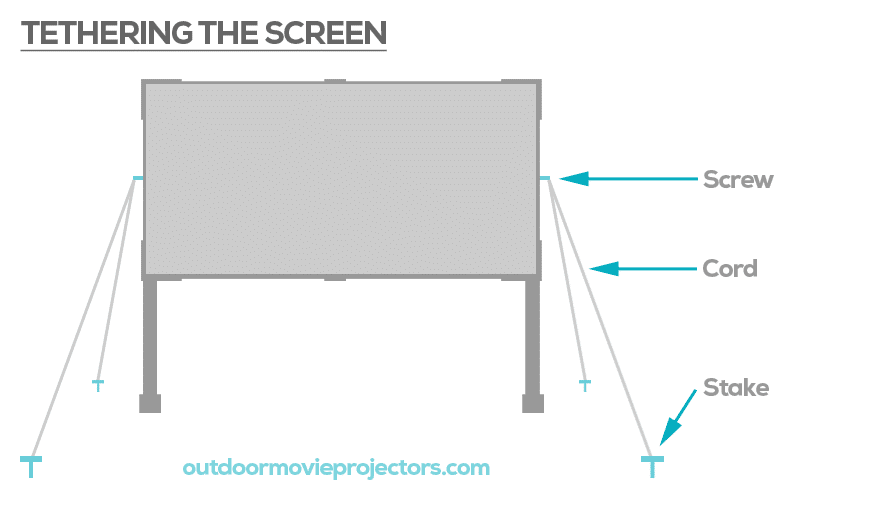 In addition to the fact that high winds are going to present you with problems, you also need to account for the sun.
If your screen has exposure to ultraviolet light, then it will degrade over time, leading to a pretty poor viewing experience.
Another factor to think about is how moisture will affect your projector screen.
I've seen screens such as Carl's DIY kits be left out for a couple of weeks, typically due to laziness by the owner.
After a short while, it's almost inevitable that mildew will start to appear on the screen. It's a polymer surface so will be prone to oxidation issues and becoming dirty.
If you do decide to leave your movie projector screen outside and leave it there for long periods of time then it will start to wear, tear, and ultimately fall to pieces when you factor in sun, wind, and rain.
If you aren't too worried about replacing your screen every 12 months or so, then, by all means, leave your out full-time, with full exposure to the elements.
Leaving a Carl's Screen Out Long-Term – What the Experts Say
To follow up on this post, I also reached out to a couple of people I know who are currently using Carl's FlexiWhite DIY standing screens in their backyards.
I asked where it was possible to leave them standing outside over summer in all weather such as rain and sun.
This is what my contacts had to say on the matter.
The Carl's screen is made from very hardy vinyl. I've had mine up for long periods in rain and shine, and it has not so far affected the screen. I do get bird's messing on it occasionally, but that's easily cleaned up with a hose.
In my view, it's safe to leave outside over short-periods, let's say a week or so at a time. I would not leave it up for any longer than that though as chances are mould and mildew will start to grow on it.
As you can see, some split opinions there.
In my view though, I keep to my original advice which is to always take it down again and to not leave it up for more than a few days to protect it from the rain and sun.
Handy Hint: For more in-depth information on the Carl's standing projector screen kits, read my review.