You've lined up a movie, you have the projector ready, a screen put-up, and seating arrangements are complete. All you need now is a selection of friends and family to turn up and you should be ready. Or are you?
One thing that is often overlooked when planning a backyard movie night, or outdoor movie party is the food. The food can be your chance to put a great touch on the event, with a snack selection that will keep your guests wanting to come back for more.
Now the great thing about backyard movies is that you aren't constrained by the limits you might have such as in a movie theater or cinema. It's also not like going to a public outdoor movie where there's only so much food you can take in your car, carry with you, or order from the available food outlets.
In most cases, your kitchen should only be a short distance from your backyard, meaning you can provide food and snacks that are not only unexpected but also offer a truly unique experience – possibly even being themed to the movie itself.
Movie Theme Food Ideas Work Very Well…
As an example, you could theme the food depending on the type of movie you are watching. Not sure what I mean?
Well let's say you are watching Charlie and the Chocolate Factory, then candy should definitely be on the agenda. Jaws could mean a fish-based theme and plenty of anchovies on those pizzas. Or how about The Shawshank Redemption, it's got to be bread and water surely?
Ultimately though, you can be a lot more creative than simply just serving popcorn. Yes, popcorn will certainly add to the movie-watching experience in your backyard, but we can do better than that if we are within easy reach of the kitchen.
So, without further ado, here are my top ideas for food and snacks to serve at a backyard movie party – and yes, it does start with popcorn.
01: Popcorn Machine and Bar
Microwaveable popcorn is ok, but we can do better than that.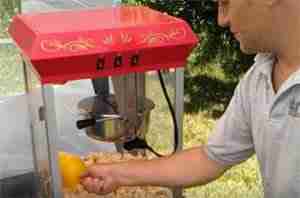 Why not go fully immersive and buy your own popcorn machine (buy cheap on Amazon) then create a popcorn bar in your backyard where people can continually come back and re-fill at their own leisure?
It's really fun and adds a great element to the party which your guests will remember for years to come.
But what would they re-fill their popcorn into? How about your own branded and designed popcorn bags, which have a message on them which celebrates that party night with a personal message? That's possible too as you can see from the second idea.
02: Printable Pop Corn Bags
Yes, I know popcorn is so obvious, but we can still make it more creative by handing popcorn out in your own bespoke designed popcorn bags.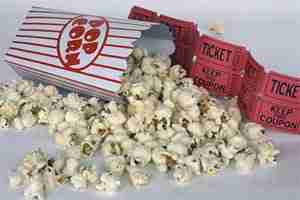 All you need to do is buy some blank white paper bags on a website such as Amazon, then download a popcorn bag logo (just search on Google for one), and then print your own message.
Not sure what I mean? Take a look at this blog post describing the process. All you need is the bags, a printer, and a little creativity.
If printing designs onto paper bags sounds like a lot of trouble, you could print the logo and message onto stickers and then stick them on. See how they do this on the Kitchn website.
The easiest alternative is to simply buy some popcorn bags that are ready-made. Again, these are very cheap and you can get them on Amazon – click here for popcorn bags.
03: Chocolate Fondue Set
I got a taste for chocolate fondue when living in Switzerland. Did you know that the Swiss eat more chocolate on average than any other people in the world?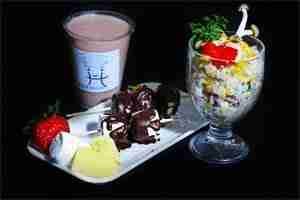 Putting that useless statistic to one side, a warm chocolate fondue set is a great food and snack idea for an outdoor movie night.
You can set the fire pit up, get warm and cozy, and dip marshmallows in chocolate fondue set all night long.
Definitely, a great option if you have guests who have a sweet tooth – kids certainly love this idea! You can also buy these on Amazon.
04: Outdoor Pizza Oven
Bring the authentic smells and taste of Italy straight to your backyard movie night with an outdoor pizza oven.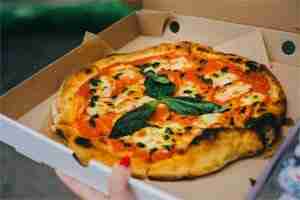 Making your own pizzas in an oven doesn't need to be expensive either, with plenty of cheap options available on the Amazon website – click here to view Amazon prices.
You can pick one up today for less than $200 and be churning out pizzas on-demand in no time at all with as many custom topping requests as you like.
A word of warning though; if you are planning on being able to watch the movie yourself then be aware: Once your guests get a taste of your homemade pizzas you are going to be kept very busy with a very long queue of people that evening putting in requests for repeat orders!
05: Portable Mini Candy Bar
I can't take the credit for this, as saw this idea on the excellent Oh Happy Day website again.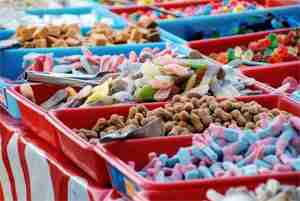 Go take a look at their website post for the idea in full and see all of their photos. It goes something like this though.
You create a tray with candy and chocolate on it, and all are arranged just like one of those old-fashioned candy sellers in movie theaters would wear. Carry the mini-candy bar around to offer sweet snacks to your guests.
This looks even better if you can buy a classic cinema concierge and assistant uniforms. I am sure you could pick one up on eBay to really add an authentic touch to your backyard movie night.
06: Fire Pit Grill Eating (& Warmth)
For a rustic and true outdoors feel, how about fire pit BBQ eating? We've set a fire pit and grill up in the past in a central area. It keeps the guests warm when things get a little chilly, as well as letting us BBQ food as and when required.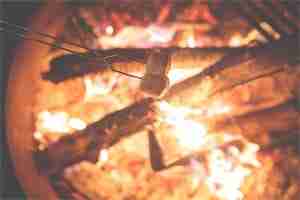 Fire pits are simple to set up, and you can also use them all year round to keep you nice and cozy whilst sitting outside.
I've got one in my own backyard. You can view some on Amazon if you don't already have one.
It's a great touch for the romantics amongst you, as nothing beats keeping warm with a loved one whilst watching a backyard movie. In fact, I've also put a list of romantic backyard movies which can help make the night even cozier with your partner.
07: Vegan Movie Snack Ideas
Veganism is becoming more and more popular, and there's every chance you might have to accommodate for this at your backyard movie? But what to make people on a vegan diet who have come to your movie night?
I'm not an expert in vegan food so thought it best to refer you out to someplace else where you can get some great ideas.
My recommendation for ideas here would be to go check the One Green Planet website.
They have an awesome list of 25 vegan snacks guaranteed to rock any party including ideas such as chipotle cauliflower buffalo bites, beet sliders, sesame ginger tofu skewers, and BBQ pulled carrot rolls – everything on there looks delicious!
08: Hot Dog Maker
Yes, there is such a thing, and our friends at Amazon sell them. Get one of these amazing pieces of kit, add in fried onions, mustard, and ketchup, and away you go.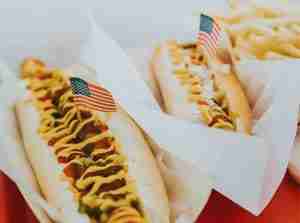 If you don't want to spend money on a hot dog maker, then something that works equally well (some might say better) is simply to steam the hot dogs in a slow cooker and then bring them out when ready to really get the movie party started. I have to say, hot dogs are probably my favorite party food.
See how the guys over at Simple and Seasonal do it, with their easy-to-follow instructions on how to cook 60 hot dogs for a crowd using a steamer.
But My Guests Are Thirsty?
But what about the drinks?
I am not going to cover that in today's recommended snack ideas for a backyard movie night, but will create a new post soon with cocktail ideas for an outdoor movie party – it will include both alcoholic and non-alcoholic ideas so keep visiting back to see when those ideas are published.